After you've arranged your everything for a globe-trot or a short to medium-length vacations, the next and necessary step is how to pack your suitcase and make sure to keep your travel stuffs clean, tidy and organized. Then as a essential travelling companion, a good toiletry bag is playing an important role in storing all your favourite makeup and skincare, especially if you don't want to arrive at your destination and realize you forgot to pack your sunscreen or other skincare products.
  
Then seems that it is pretty necessary to understand the best toiletry bag 2021 in advance. So that, whether you are more of a minimalist or like to carry your entire ten-step skincare routine with you, both can choose a suitable cosmetic bag in a short time, and don't have to be struggle in choose any more.
  
Here are best toiletry bag 2021!
 
 
Women's Multi-Functional Waterproof Canvas Toiletry Bag

I believe that you will love it after getting the Women's Multi-Functional Waterproof Canvas Toiletry Bag! Its lightweight is much easier for you to take during traveling, and its hook helps a lot in the hotel bathroom or anywhere you need to use it. it is really a great choice for business and weekend travel.

This toiletry bag is ideal for those need to wear their makeup during traveling as its built-in heavy duty hanging hook, it can be easily hung and accessed on towel rack, coat hook and other places. There is another advantage of this cosmetic bag is to make your toiletries and cosmetics displayed well for easy access all your beauty essentials, and its carrying handle is convenient to carry as well.

It is features two mesh zippered compartments in almost same shapes and sizes that give you a good viewing to easily see where everything is, so that can minimize you time spend in rummaging your travel stuffs. Other than that, there are also two zip side pockets for keeping your keys, lipsticks and other smaller items, it is a great choice for traveling.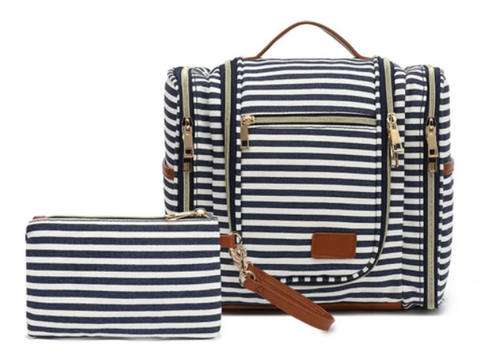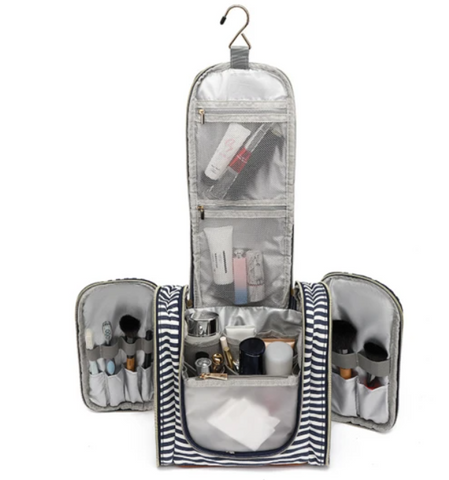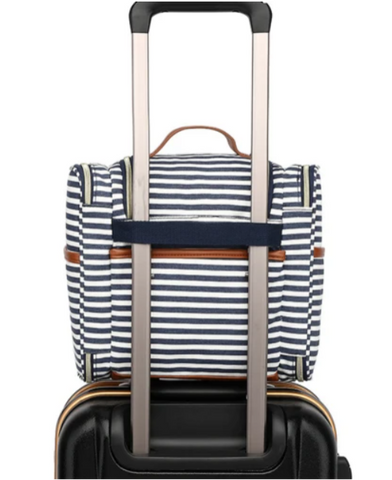 Women's Casual Waterproof Toiletry Bag

Another practical design, the Women's Casual Waterproof Toiletry Bag is the best toiletry bag 2021 for the traveller who wants to easily access all their essentials. The main compartment is large enough to store a towel and your toiletries and skincare products. As its good shape and handles, you can pack this fairly flat if you don't pack too many products and can easily use it for carryon travel!

Apart from that, the outside of the bag features one more front-zip storage pockets for quick access to the necessities you frequently reach for. There is another advantage that have to be mentioned, there is a black and thick elastic on the bag's back side which is helpful for you to keep the toiletry bag upon the luggage.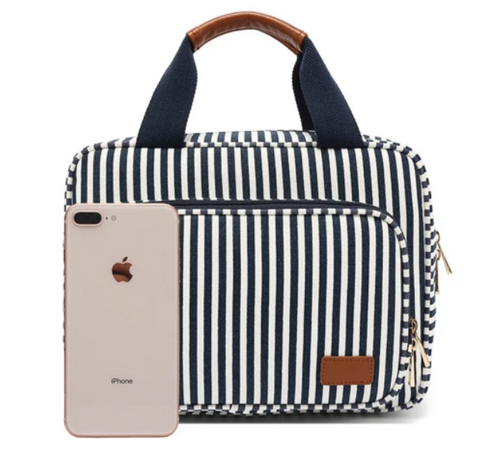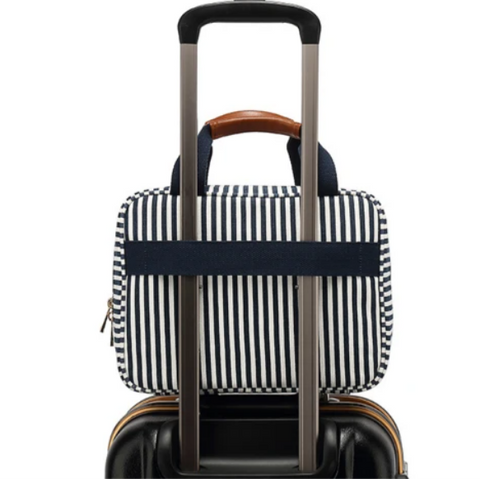 Small Casual Ladies Waterproof Canvas Toiletry Bag

The Small Casual Ladies Waterproof Canvas Toiletry Bag is made of waterproof canvas which can protect your all your stuffs inside from getting wet in the bathroom or in a rainy day. And the main body of it is large enough to organize your full-size makeup products very well.

Its multi-function design, making it one of the best toiletry bag 2021 for travelling. First of all, its multiple compartments and side pocket: there is one back pocket, one side pocket and two different size front pockets, which is for packing small, travel-sized items. After that, there are two extra compartments in the bigger front pocket which fit everything from toothbrushes to toothpaste tubes. The last but not the least, it is also with a handle which is made of finest-quality PU leather, so that you can also take it just by your hands.

There is a question might cross your mind: since this bag can hold so many things, will it take up a lot of space in the luggage? The answer is: no! This cosmetics bag doesn't take up much precious space when being packed in your suitcase as it still can retain its shape when you pack it full. It is absolutely a great choice for your long or short-term travel! Buy it here: mybosidu!