If you are still lugging around a handbag, a tote, and an additional case for your laptop and documents during commuting, it is time to scout work for the best work bags to carry all your daily essentials in style.
Thankfully, the days of sacrificing style for functionality have gone, and with just one click, it is readily easy to find a personalized work bag that combines both. Your best work bag should include a few key factors:
First, it should have compact storage and functional designs to help you store your work essentials and daily necessities. Laptop and documents? Check. Pens, business cards, and chargers? Check. Tissue, umbrella, and cell phone? Check. Lunchbox and water bottle? All check! Some white collars also need extra storage for workout clothes and a small number of toiletries.
Secondly, your office-appropriate bag should be stylish enough to carry around without embarrassment. Modern women have their unique ways of interpreting beauty. Whether dressed in a casual T-shirt or an evening gown, they can always show their most personalized fashion style. As one of the fashion accessories, your work bag should give you confidence from lunch errands to happy hours.
Last but not least, it should offer you the best user experience. Your work bag should be commute-friendly and doesn't add an extra burden to your body, making you carry it with comfort even all day long. And its durability is the key, too. Its material and designs should be able to hold up all your essentials but also stay with you for years to come.
Six Fashion Work Bags That Get the Job Done
MICHAEL Michael Kors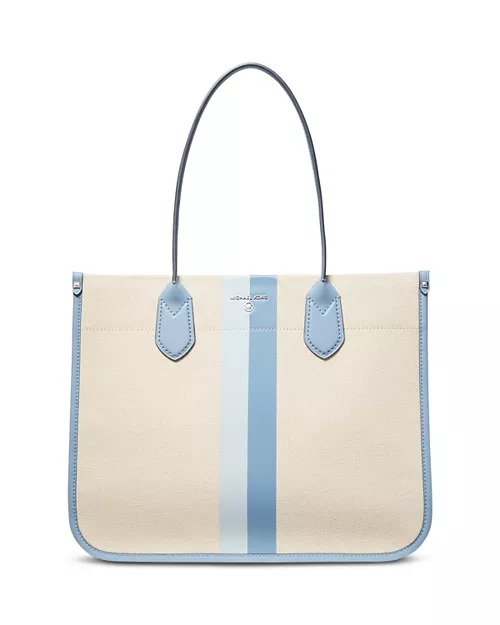 $178.8 AT BLOOMINGDALE'S
Dimensions: 17.5 × 12.75 × 5.5
What We Love:
1. Lightweight
2. Eye-catching color combo
If you are a bold dresser or have a unique understanding of color matching, this extra-large work tote bag that features a large open compartment is your must-have.
Waterproof Large Capacity Classy Business Tote Bags for Women
Dimensions: 16.8 × 5.8 × 13 inches
What We Love:
1. The roomy compartment can fit a 15.6-inch laptop.
2. Adjustable shoulder strap
A black leather laptop tote bag for women will never go wrong whether you work in a casual environment or a formal office.
Celia Quilted Tote Bag - Black
$76 AT CHARLES & KEITH
Dimensions: 11 × 21 × 15.5 cm
What We Love:
1. An adjustable and detachable shoulder strap
2. Exquisite Designs
If you prefer texture and delicate details, this vegan leather tote bag for work is for you.
Large Topstitched Tote Bag
$179 AT & OTHER STORIES
Dimensions: 50 × 26 cm
What We Love:
1. 100% leather
2. Minimalist but stylish
To keep all your office essentials in one place, this carryall handbag features a roomy open area.
Water Resistant Canvas Women Briefcase for Work, Business, Travel
Dimensions: 16.5 × 4.2 × 11.5 inches
What We Love:
1. Extra protection for your laptop with foam
2. Multiple compartments and pockets help you organize.
You shouldn't miss this pink laptop tote bag if you want something professional to transport your laptop safely on the road.
Away Latitude Tote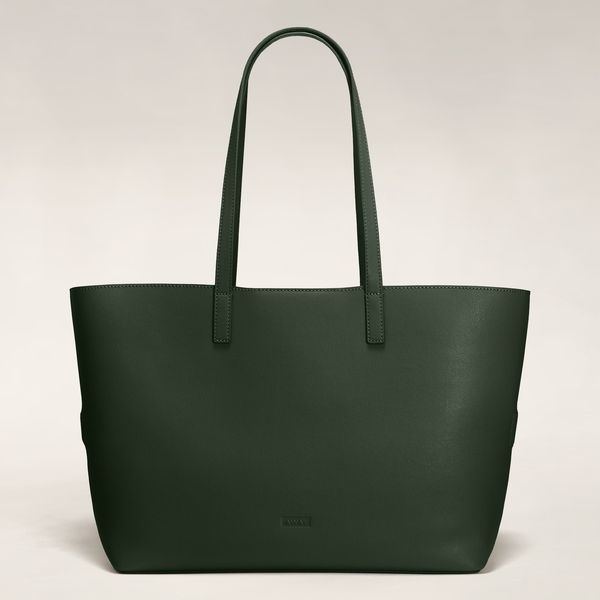 $195 AT AWAY
Dimensions: 14 × 5.7 × 11.4 inches
What We Love:
1. Magnetic top closure
2. Capacious storage
Looking for a leather tote bag that is suitable for work and travel? This one is your savvy option.