So, are you one of those folks who hate the glimpse of shoes and clothes in the same compartment? Well, well! Don't worry! You'll never have to be concerned about it again because we're about to reveal everything you need to know about the travel shoe bags. Continue reading to find out more about these superb bags.

- The Need For Travel Shoe Bags

Such bags have been vital for nearly any voyage. So whether it's the travel by air or your usual road trip, these space-saving bags will accompany you. They keep your garments from becoming filthy while also saving space. With these simple traveling shoe bags, you can protect your valuables from being squashed by the cruelty of your shoes.

- Choose the Travel Bags with Shoe Compartments
Just before the invention of the superb bags with separate shoe compartments, life was never better. So, buy a shoe storage bag and wave farewell to filth and odor. Don't worry, we'll help you choose the best.

- Best Duffle Bags for Men with Shoe CompartmentsHey, don't forget to check out these. Trust me, you'll love yourself for choosing one of these.

1. Large Capacity Canvas Travel Duffel Bag with Shoe Compartment: It is compact yet highly spacious. The bag is precisely stripped on the top, giving it a perfect and unbeatable outlook. It is simply perfect for a mini-vacation or an air journey. Did you know? It's the only bag with a ventilated shoe pocket, and guess what? You'll never have to worry about your filthy laundry as it is easily transportable. The bag is all lightweight yet fashionable. Isn't it just right for you? We're sure it is!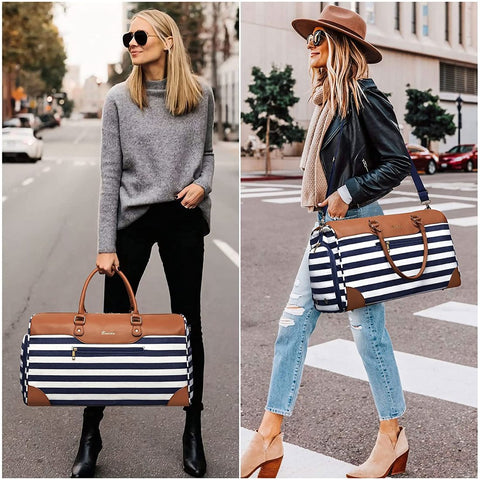 2. 3-Way Sports Duffel Bags for Men with Shoe Compartment & Wet Pocket: This unique D-shaped bag has a two-way zipper, and Guess what? A perfectly sophisticated appearance. Perfect! Isn't it? It also has a waterproof feature and is made of the finest Oxford fabric. The quality fabric makes it all light and easy to transport. Hey, what if I told you that it has a one-of-a-kind shoe compartment and a special pocket for carrying your water bottle and the cellphone. So, make your gym and sports trip the best with this superb bag. What are you waiting for? You can have it now!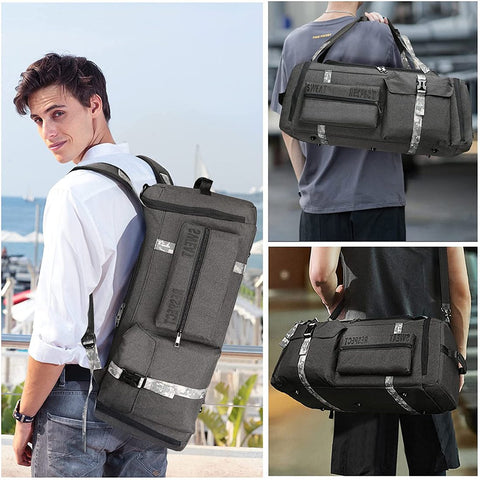 3. Leather Garment Travel Duffle Bag with Shoe Compartment: Well, Who can resist the sophisticated elegance of a great leather bag? The bag with a separate shoe compartment, which is fully waterproof so, you'll never have to think before placing your wet and soiled shoes. Hey, don't worry! Your clothes and other belongings are all safe and secure. It's all robust and worth buying because of the unique and stylish all-around zipper and anti-scratch feature. Hey, don't put it off any longer! Buy it right now!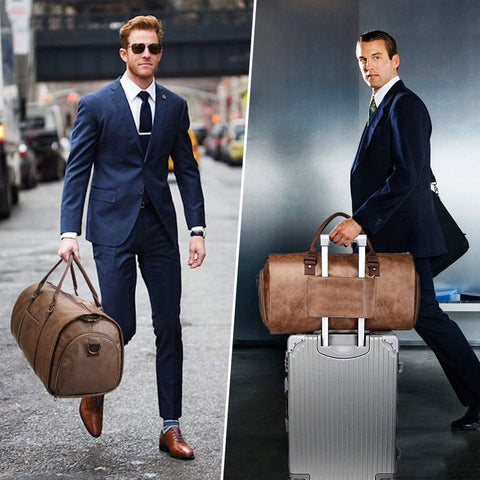 4. Waterproof Genuine Leather Travel Weekend Bags with Shoe Compartment: The bag comes with a cool detachable shoulder strip that perfectly complements its look. The huge capacity and multiple compartments make it ideal for your vacation. Remember, it will accompany you as a fantastic travel companion. The soft, resilient, and high-quality leather makes the purchase worthwhile. So, whether you're going on a work trip, an athletic event, or simply a one-day weekend getaway, pack your belongings and have a great time. Hey, we only have a few items left, so hurry up! You'll regret it otherwise.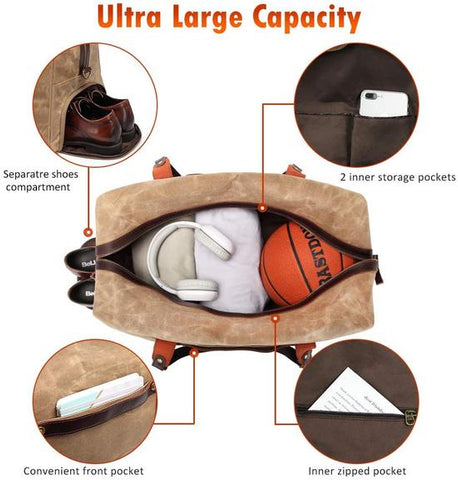 Hey, did you know? Taking the right decision at the right time is all that matters. So what exactly are you waiting for? Choose one of thementioned shoe bags. You'll consider yourself lucky enough the next time you'll pack your stuff in them. Hurry up because time is running out. Buy it here: bosidu!