Organization makes life easier — especially when it comes to travel. Because spending an excruciating amount of time rummaging through all the pockets, crannies, and nooks to search for your item is a waste.
A travel cosmetics bag is a worthy investment. It will do much more than provide you with an area to accommodate your entire beauty collection. A clear zip makeup bag will ensure you to immediately locate your favorite lip gloss, while a large makeup bag with brush holder gives you separate storage to keep your makeup brushes tidy and prevent them from breeding bacteria. A small makeup bag is perfect for travelers who want to travel light. But simply stuffing your foundations and palettes in a makeup pouch with only one pocket is never the best solution. We still need compartments and dividers to help us organize our dozen of lipsticks and keep eyeliner pencils stay neat and sharp.
So, if you are a product maximalist who needs a small, lightweight, and has multiple compartments makeup bag to help you embrace the minimalist lifestyle, we have pulled together a list of the best small travel cosmetic organizers. Happy shopping!
New Ladies Fashion Canvas Handbag
Dimensions: 10.2 × 4.7 × 6.3 inches | Material: Canvas | Color: Blue and White Stripes
What We Like:
1. Decent-sized yet compact
2. Waterproof materials
3. A sturdy handle
If you want a portable cosmetic bag that is small enough to stash in your travel bag yet has multiple compartments and pockets so you can quickly locate anything to freshen up, this is it! It incredibly comes in two different size compartments and two exterior outside pockets to sort your contents. The waterproof canvas can easily deal with damp environments, which means you can use it in the bathroom for convenience.
Anya Hindmarch Nylon Pouch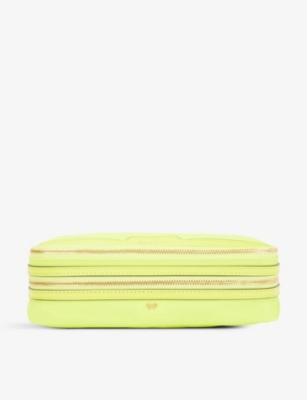 $235.00 AT SELFRIDGES
Dimensions: 7 × 20.5 × 13.5 cm | Material: Nylon | Color: Yellow
What We Like:
1. Separate brush holders
2. 100% premium nylon
Crafted from 100% nylon, this nylon makeup bag features a rectangular silhouette. It offers two compartments, one for storing your beauty products and the other for makeup tools. Inside it also has a zipper pocket that can fit small items, such as your eyeliner, concealer, and bronzer. Remember to use a clean, dry cloth to wipe the bag if it is stained.
Large Capacity Waterproof Travel Leather Toiletry Bag for Men
Dimensions: 11 × 4.7 × 6.3 inches| Material: PU Leather | Color: Black
What We Like:
1. Lightweight and durable
2. Dry and wet pockets
3. Multiple compartments and pockets
This men's travel kit bag is a reliable organizer to keep all men's grooming products in one place. It has two zipper compartments that include a mesh pocket and brush holders. Clearly, it is the coolest option for men.
Beauty Bag
$35 AT GLOSSIER
Dimensions: 9.5 × 7 × 3 inches | Material: Cotton | Color: Pink
What We Like:
1. It is tall enough to keep beauty products standing upright.
2. It is made out of coated cotton.
Organization is guaranteed because Glossier's designer cosmetic bag has four interior pockets. The spillage and splashing water can not annoy you anymore since the coated cotton can keep belongings dry inside. It can be slipped into your handbag for a quick beauty fix.