Having a travel toiletry bag and always keeping your travel supplies well organized in it is a very time-saving way. Whether you plan to go on a well-planned long-term journey or a business trip on temporary notice, it will keep you "ready to go" at any time. If you are looking for a fashionable and pragmatic toiletry bag for women, keep reading and trust me, you will find your best option. Already have one? Never mind, maybe you can find a better one than your old bag. But before the recommendations, let's clear up some questions to ensure we are on the same page.
Does Toiletry Bag Have to be Clear?
When it comes to air travel, some travelers might worry about they can not going through the checkpoint because their bags are not apparent. I'll tell you: don't worry! TSA (Transportation Security Administration) had officially stated that as long as the toiletry bag is the approximate dimensions of a quart-sized bag, you will be good to go through the checkpoint. This means that TSA does not specify that toiletry bags need to be clear, but using a clear bag helps you quickly go through airport security without further inspection.
Why These Recommended Bags are Worth Purchasing?
All travel makeup bags I'm going to introduce to you are all with built-in hooks, and most importantly, they are foldable. You might ask, "Why are they better than other bags?" Well, first of all, a fold-up carry-on bag is extremely useful when you have heavy loads to travel with. It provides you with multiple compartments and pockets for all your travel toiletries but saves you a lot of space when completely folded up. On the other hand, the built-in hook helps a lot when your hotel room is small and has not enough room to place the toiletry bag. You can keep the bag wide open by hanging it on a shower curtain rod or a door handle which makes it easy to see through all items inside and quickly access what you want.
4 Top Picks for Foldable Travel Toiletry Bag
Top 1: The Best-Selling Hookup Bag
The bag can work well in storing 1-3 peoples' toiletry supplies. Even if we are surprised by how large the capacity is when zippered, it looks incredibly handy so it can save much space for other stuff. The fabric of this foldable travel bag provides a protective barrier for packed items, keeping them neat and secure. And there are 6 colors to choose from to fit your different styles.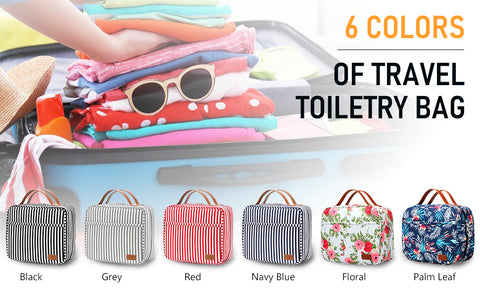 Buy It Now: Large Capacity Cosmetic Travel Toiletry Organizer for Women-Palm Leaf
Top 2: Toiletry Bag with Handle
This bag has a durable handle made of soft PU leather, which can avoid your hand from getting hurt even though you have to carry it all day long. Also, the scratch-resistant canvas helps protect your belongings securely and safely in the bag. Best for weekend and business travel. This option is great for those travelers who like to overpack or use their full allowance.
Buy It Now: Fashion Women's Striped Toiletry Bag
Top 3: Canvas Cosmetic Bag with Hook
This bag has a built-in hook which is quite convenient for you to hang in a shower rod when you have a crowded bathroom and all of the shelf and countertop space are taken. The material is so soft and cozy, you can make full use of every nook and cranny and comfortably carry it without adding extra weight.
Buy It Now: Women's Multi-functional Waterproof Canvas Toiletry Bag
Top 4: Chic Foldable Tote Bag for Travel
It is no doubt that this bag is an ideal option for travel. The large capacity and multiple compartments for plenty of storage keep your toiletries and cosmetics in place and make you travel comfortably to have all your necessities in one bag. And the clear pockets inside allow you to easily find and quickly access what you need. You can use it in your hotel bathroom thanks to the water-proof interior to prevent leakage.
Buy It Now: Large Waterproof Fashionable Striped Travel Toiletry Bag for Women-Plaid