A long plane ride, a short weekend getaway, or a two-week vacation is all so much better and easier if you have a nice toiletry bag to keep your cosmetics and toiletries organized and accessible. Since we are sure you will never want to get to your destination and only find your items covered in charcoal activated toothpaste or makeup smears and spills.
Based on your needs, travel destination, and length of stay, the best toiletry bag varies from person to person. But whether you are looking for a hanging toiletry bag, a status splurge that looks like it was made for royalty, or a family-size toiletry bag to keep tons of beauty products separate, we have come up with several recommendations for you.
1. Washbag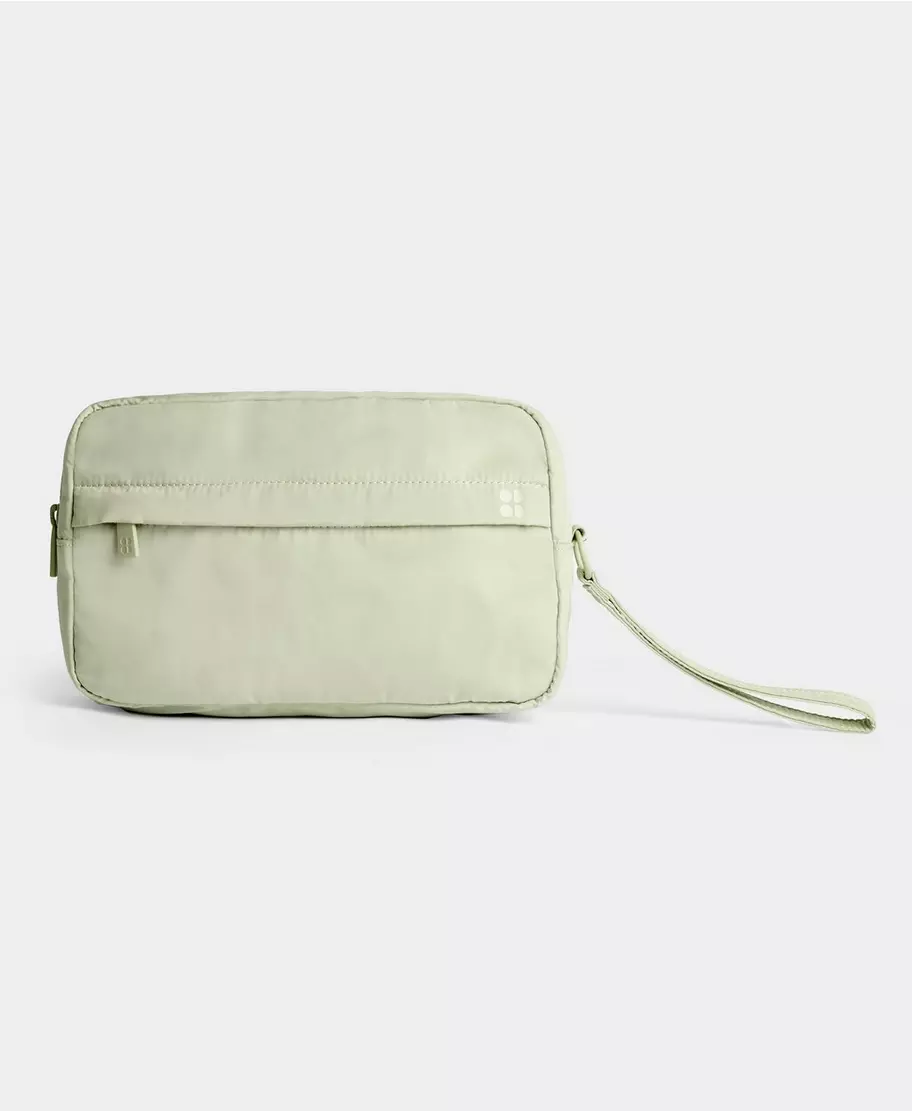 $19.60 AT SWEATY BETTY
Taking along this toiletry tote bag to keep all your beauty products sorted would make your hard workout or an overnight stay much more enjoyable. Its all-nylon construction makes this Dopp kit bag sturdy, lightweight, and durable. It has a front zip pocket and an internal slip pocket to keep your items organized. If you plan to further embrace the minimalist lifestyle and just carry a few must-haves, this is a great option.
2. 4-Piece Train Case Set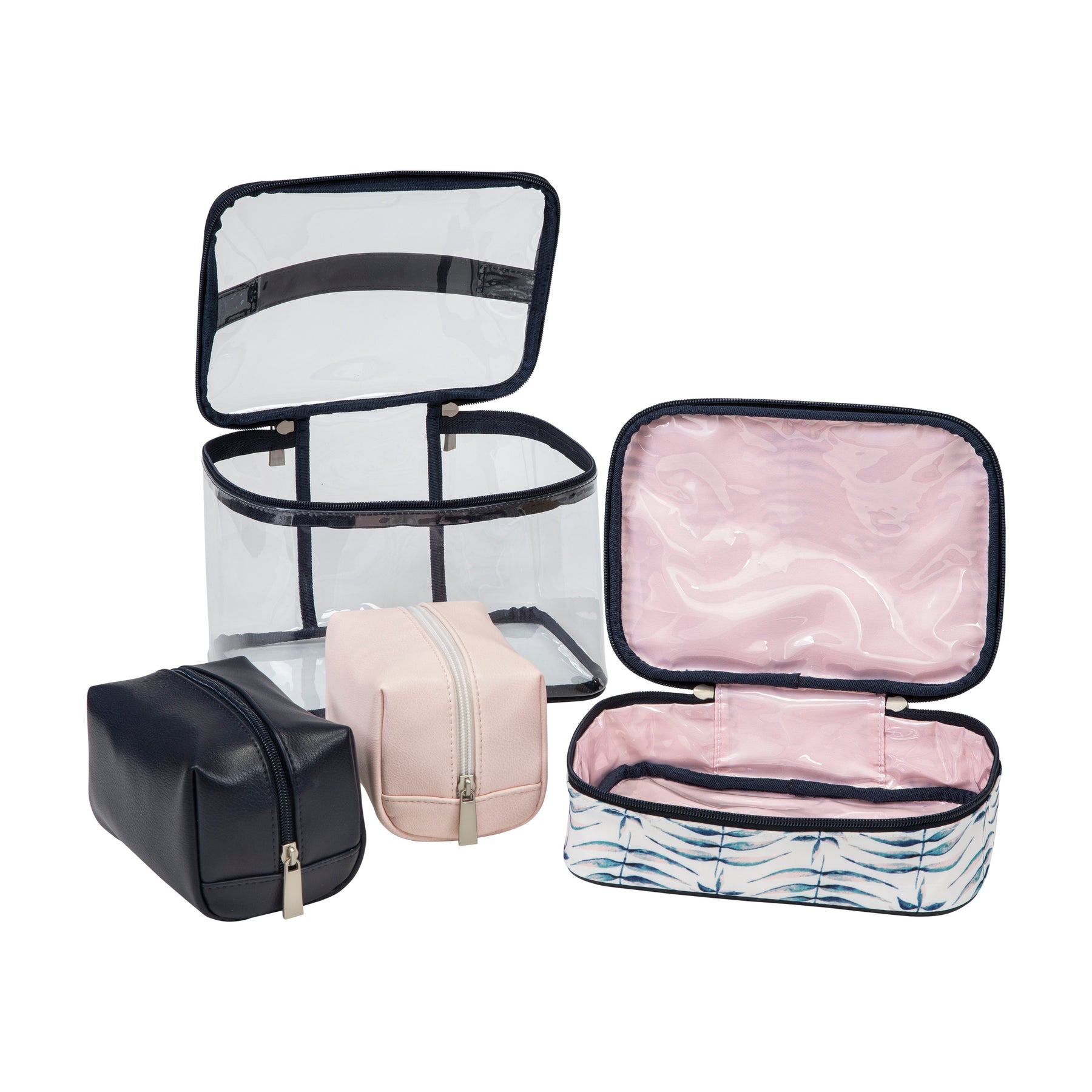 $49.99 AT RICARDO BEVERLY HILLS
Your eyes do not deceive you. You can get four good toiletry bags at only $49.99! With this portable cosmetics set, you have more options to carry one or all of them depending on the length of your journey. And we recommend using the smaller ones to store your makeup tools and the larger ones for your toiletries and cosmetics. 'I love this set because it easily fits together, allowing me to organize my toiletries and make-up in an easy-to-pack cube that only takes up a quarter of my luggage,' a five-star review said, 'This leaves so much more room for my clothing and shoes- it's awesome! Not to mention, the material is easy to wipe down when the inevitable happens: the dreaded shampoo explosion.'
3. Large Waterproof Fashionable Striped Travel Toiletry Bag for Women-Plaid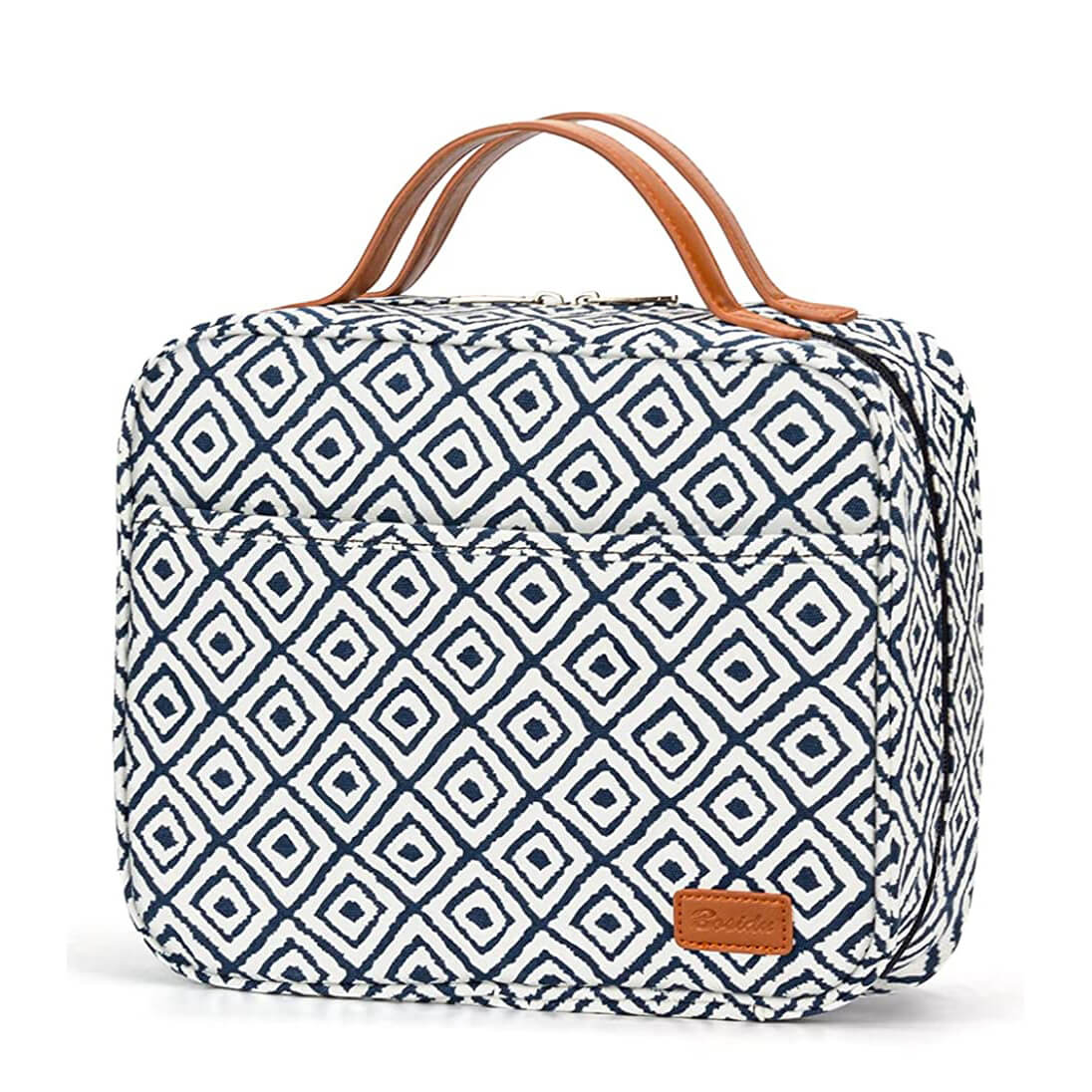 It is simple, but what this carry-on toiletry bag can offer you will definitely surprise you! It provides you with four internal transparent compartments with a sturdy built-in hook, which means you can hang it from your hotel bathroom to easily see and grab your items just at a glance. And the best part? Offering you all the spacious storage, it can be packed incredibly small when you zip the bag, so you can simply stow it into your carry-on luggage and you are good to go.
4. Ophidia Large Cosmetic Case
$490 AT GUCCI
If you are thinking of splurging on a luxury toiletry bag, then it is worth considering this big toiletry bag in GG Supreme canvas with brown leather trim from Gucci. The iconic double-G monogrammed logo and the combination of the signature motif with the Web stripe give the bag a luxe, timeless look. Its large zip storage can hold everything from your lotion bottles to your essential makeup brushes to your favorite eyeliner.