We all might be there: We enjoy creating a new look with beauty products, but after the ten-step skincare routine or complete makeup, our dressers are cluttered with liquid eyeliners, makeup brushes, and lipsticks. Keeping our entire makeup collection is always stressful, right?
So one of the most indispensable beauty purchases every makeup wearer should have is makeup organizer bags or cosmetic cases. They are a vital part of storing and organizing your beauty products for everyday storage and are ready to grab for last-minute trips or on-the-go makeup sessions.
For this reason, investing in the right portable cosmetic bag is crucial. Not only does it provide you with space to take stock of all your products and keep them sanitary and tidy, but it saves you time when you need your favorite gloss lip.
Stop stuffing your cosmetics in the drawer and leaving a mess anymore. Ahead, find the best designer cosmetics bag to keep your glam stash organized — from chaotic to condense.
Our top pick is the new arrival from Bosidu. This hang-up travel makeup bag has an adorable, stylish look. It is conveniently compact but actually pretty spacious than it looks. With two main compartments and two flat areas, this cosmetic bag for traveling can hold all those things you like to have at the ready. Elastic straps keep your goods safe and sound on planes, trains, and automobiles. The PU leather material is sturdy and durable, and the lining is easy-to-clean water-repellent polyester.
LUXE COSMETIC BAG
$225 AT ROYCE
If you wear makeup daily, sometimes you may need a midday touch-up. If such, you need a small makeup bag that is sufficiently capacious, yet the decent size is small enough to fit in your tote and accompany you throughout the day. It zips open to give you full access to your products without digging for that one thing you need. Opt for this cute makeup pouch if you are sick of organizational pockets and compartments.
Brushean Roro Sanitizing Travel Cosmetics Case
$138 AT URBAN OUTFITTERS
Are you searching for a great quality travel cosmetic bag organizer to separate your makeup brushes and other tools? Features the powerful UV-C light, this makeup bag is designed with ozone sterilization technology to purify your favorite beauty tools and prevent them from breeding bacteria. The UV-C light is non-battery operated, so you can breeze by security checkpoints.
Rock Star Grande Cosmetic Case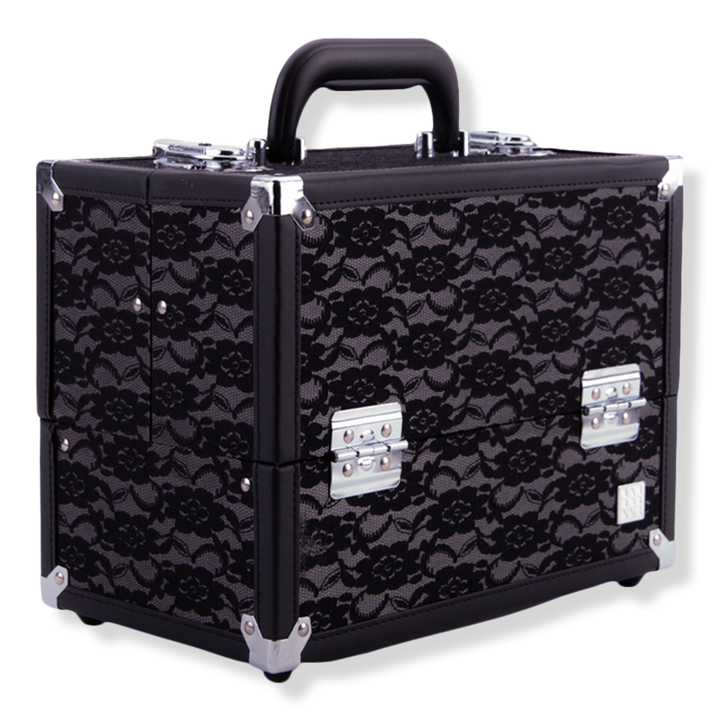 $59 AT ULTA
If you have got a ton of products, a purse size cosmetic bag will never satisfy your appetite. What you need is this large hard-shell cosmetic bag! It has one large interior space and four auto-open trays that is capacious enough for all your makeup items. Two locking clasps and sturdy, strong shells protect your belongings from being stolen and broken. If you are a professional makeup artist or need a stylish, roomy, and versatile container to keep your essentials safe and secure when traveling, this cosmetic case can easily get the job done.