Is there anything more versatile than a tote bag? Whether heading from the office to the gym or going on an impromptu grocery run, carry-all tote bags always have room for everything you need, plus extra handy pockets for your valuables.
The best tote bag is stylish enough to match your outfits, from casual daily wear like jeans and T-shirts to a professional women's suit. Also, it is a comparatively eco-friendly alternative to a single-use plastic bag, so you can reuse it to reduce environmental harm.
If you are looking to upgrade the tote bag, we have pulled together a list of our favorite totes that will help you find the items you are digging around for stowing your everyday essentials and keep your valuables secure, too — just keep scrolling.
Tennis Shoulder Tote for Women Men Badminton Sling Bag Laptop Handbag
We appreciate the outdoorsy and sporty look of Bosidu's everyday tote bag. It is sturdy and abundantly useful. Whether you stuff it into the luggage as a backpack bag, wear it for a daily workout, or rush to the local market to buy two cucumbers for dinner, it is always your reliable companion.
Falabella Tiny Tote Bag
$895 AT STELLA MCCARTNEY
If you are an animal lover who is looking for an eco-friendly handbag while stylish enough for heading out, look no further than this lightweight tote bag from Stella McCartney. The signature gold diamond-cut chain allows you to wear the bag over the shoulder for convenience.
Croccon Croc Detail Large Icon
$75 AT TED BAKER
This option is also great for those bold dressers who like to stand out or want an eye-catching color to complement their wardrobes. This green croc bag is as classic as it is, but still offers you spacious room for all your belongings without compromising style. Its open compartment is convenient for throwing things in the bag.
Lara Medium Tote Bag
$179 AT DKNY
This black leather tote bag is totally a storage machine! Premium lamb leather material, easy top zip closure, and well-crafted shoulder straps and seams make this tote bag elegant and ideal for work, travel, and shopping. We are sure this bag will elevate your outfits while holding all your cargo effortlessly.
Large Woody Basket
$725 AT CHLOE
Consider investing in Chloé's large tote shoulder bag if you want to chill out at a beach party again before the end of this summer. Nothing feels the summer vibe more than a woody basket. The main compartment is extremely spacious and the place for everything you need to be prepared for whatever the day throws your way.
Medium G Tote Shopping Bag in 4G Embroidered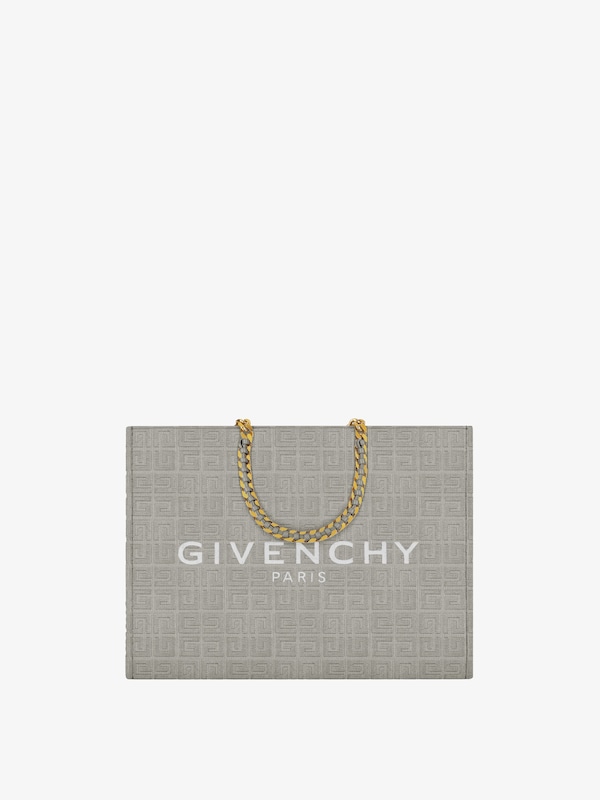 $2,390 AT GIVENCHY
No tote bag round-up would be complete without Givenchy. This classic G tote has metal chain handles, a detachable shoulder strap, and an interior flap pocket. You will be surprised at the number of things you can fit in this stylish tote bag. It is surely a tote that worth the splurge.