Staycation season is in full swing and if you're planning for your mini-break in country, you'll want to pack practically and stylish too, and a travel toiletry bag is the perfect answer to staying organised on holiday.
Whether you're heading off for a romantic break, flying to another part of (or a quarantine-free destination), or escaping on a camping trip that you've never tried before, toiletry bags are ideal for keeping your beauty, hair and skincare essentials in one place.
These travel toiletry bags for men and women range from large wash bags to fit your full-sized shampoo and conditions to toiletry bags with compartments - ideal for the super-organised traveller.
The key factors when choose wash bags ?
Traveling can be fun if you have everything well organized. You have to organize many things. It is important to select the best travel wash bags. The bag that you select should be comfortable to pack and carry. Before you buy your next travel bag, there are few points that you should consider.
Consider your travel type
1. The bag selection will change depending on your travel type. Some points can help you decide the right travel bag selection. Trolley bags may not be the best choice for all types of travel plans.
2. You have to focus on the travel duration. For short term travels, you can select the best backpack bags
3. Your travel purpose is also an important factor. For camping, you need a different type of bag
4. The contents that you will carry with you during travel will decide the volume and capacity
These are only four basics that can help you get started with the selection process. Your packing habits will also change your selection.
The list of the best travel wash bags
Paravel Cabana See-All Vanity Case
This vanity case is both practical and ridiculously chic; it's reminiscent of the retro cosmetics bags that Hollywood stars would carry onto planes back when traveling by air was actually an enjoyable treat. Yeah, we're not sure how that must have felt, either. Anyway, while Paravel's toiletry bag might be vintage-inspired, it's designed for the modern traveler, with a canvas top and bottom trim, but a clear body. It's also one of those travel accessories that's a very stylish home decor addition to your bathroom.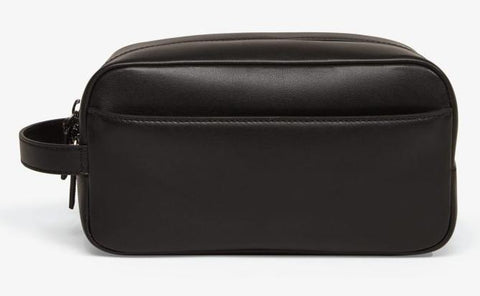 Waterproof Fashionable Striped Toiletry Bag
The Bosidu Waterproof Fashionable Striped Toiletry Bag features stylish practical design, to make sure it will meet all your needs during travelling, and at the same time, it also can show your fashion taste to others. Perfect for organizing your essentials, this expert travel pouch for makeup is with multiple compartments that can keep all your toiletries and cosmetics in place.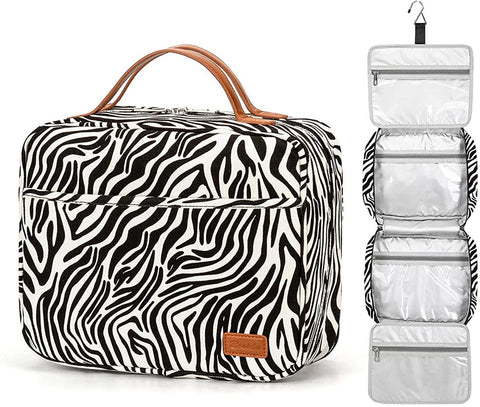 Calpak Clear Cosmetics Case
Calpak's cosmetics case will definitely appeal to those who prefer clear toiletry bags, as you get a full visual of all your products that you've brought along on your trip. It has two big, zippered compartments for those of us who to prefer to separate our toiletries, and the bag isn't aggressively structured, so it'll flatten into your suitcase.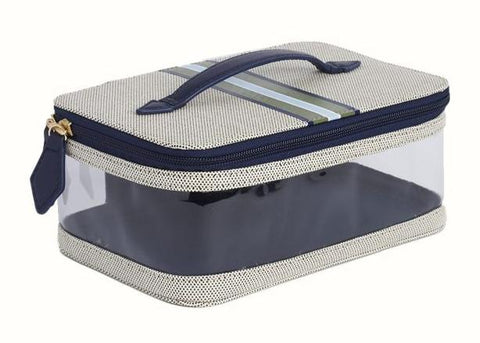 Fashion Women'S Striped Toiletry Bag
This foldable toiletry bag is with five outside pockets: there are two different size pockets each side and a back pocket. You can keep your makeup brush or eyeliner in the bigger side pockets and store small items in the smaller side pockets. And keep facial cleanser, toner, essence, emulsion, cream and so on in the main compartment, then you will organize all your cosmetics very well.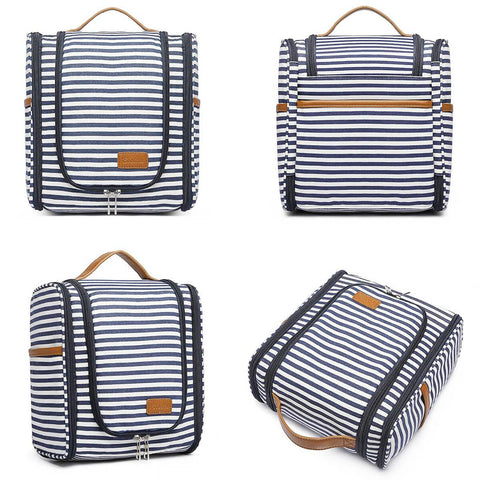 Best Toiletry Bag for Makeup and Skincare
Leave it to a major beauty brand to design the best toiletry bag for makeup and skincare. Safely transport your most expensive products via Glossier's Beauty Bag. The exterior is made from cushy, coated cotton to prevent bottles from breaking, while the tall sides help full-size cleansers, moisturizers and more stand upright. The Beauty Bag also includes a red interior pouch and zippered front pocket to organize your smaller items.