With the days getting longer and the exciting summer vacation around the corner, the travel daydreams have gotten intense. From trips to the beach and hikes in the woods to stays at fun-filled resorts, there are so many great options for enjoying your happy hour instead of just staring longingly at hotels. But before you embark on your next quick getaway, treat yourself to a good duffel or tote that is perfect for storing your essentials to bring along.
Shop Bosidu's Picks
1. Best Overall: Fashion Large-Capacity Canvas Travel Duffel Weekend Bag for Women
Material: Canvas, PU Leather | Dimensions: 19 × 13 × 9.5 inches | Weight: 2.3 lbs | Color: Beige
This female duffle bag gets our top spot for many reasons. It is spacious but not bulky and contains great features like a wide opening for easy access. The zip storage at the bottom of the bag is for your shoes to keep your clothes clean and prevent odor. An adjustable shoulder strap helps you carry all your stuff more efficiently.
2. Best for Business Trip: Landon Carryall Bag
$230 AT DAGNE DOVER
Material: Neoprene | Dimensions: 20.5 × 10 × 10.5 inches | Weight: 3.3 lbs | Color: Onyx
Made from stretchy, flexible neoprene material and with a laptop sleeve design, Dagne Dover's crossbody duffle bag is best for businessmen/ businesswomen who need to travel with their laptops for work. The roomy compartment allows you to stuff your gear into the bag quickly and grab it for rushing to the flight. Multiple interior mesh pockets help you store accessories, so you don't have to dive into the bag searching for small items.
3. Best for Adventures: Black Hole® Duffel Bag 55L
$139 AT PATAGONIA
Material: Polyester Ripstop | Dimensions: 26.7 × 15.7 × 11.8 inches | Weight: 2 lbs | Color: Black
This giant duffel bag is a rugged, versatile, and capacious bag to hold your gear. The recycled materials are super lightweight that they won't add an extra burden on your body. The two padded shoulder straps make this duffel also a backpack (you can detach them when out of use). The Black Hole folds down into its stuff sack, which turns into a storage pocket when you unfold the duffle.
4. Best Weekender: Canvas Weekender Duffle Bag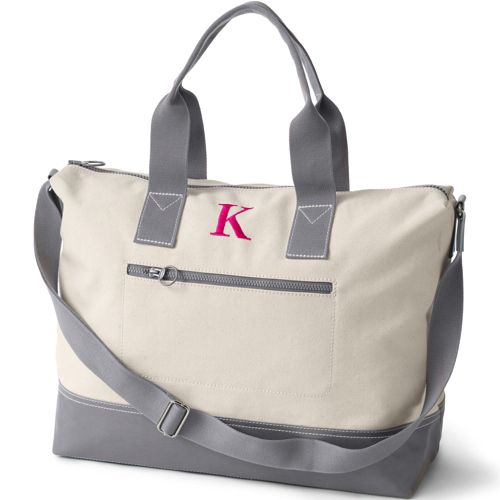 $51.06 AT LAND'S END
Material: Cotton Canvas | Dimensions: 18 × 8 × 14 inches | Weight: Unknown | Color: Natural/ Sliver graphite
The material of Land's End designer weekend bag is the durable cotton canvas that can withstand everyday use and abuse. The ample storage holds up to 200 lbs of contents, which is perfect for distant trips. It also has a bottom compartment that can accommodate three pairs of shoes. Multiple exterior and interior pockets provide extra organization for everything you need.
5. Best Budget: Wrangler Wesley Rolling Duffel Bag
$44.13 AT AMAZON
Material: Polyester | Dimensions: 30.1 × 13.8 × 3.8 inches | Weight: 6.2 lbs | Color: Black
What is better than a rolling organizer bag that can lug around heavy loads effortlessly? The retractable telescopic handle and in-line blade wheels make it comfortable to carry tons of travel supplies without weighing you down. Functional zipper pockets for extra storage to help you organize.