The best shower toiletry bag for travel is one that is small enough to live in your purse or day bag, so you will never forget to pack it.
It's also washable, so when accidents happen (as they will) a quick wash will fix them. It is lightweight and durable, and should be some kind of light or bright color or pattern so it is easy to spot inside your bag. And it zips closed so it holds your small items securely.
Having said all that, the shower toiletry bag I use is a small zippered bag from BOSIDU. But any smallish washable nylon zippered bag will do.
Carrying a makeup bag (and packing light) will help you hop, skip, and jump over anything. Just pick up and go! Keep reading and find out how to choose the best shower toiletry bag.
There are a few factors to consider when choosing a makeup bag:
Sizes
Traveling carry-on isn't just about saving money on baggage fees, it's also about packing light. Choosing a good shower toiletry bag that's smaller helps you pack less, which means you have less weight on your back and that ultimately equates to one magic word: convenience.
No one wants to pick up a bag that's bigger than them, is stuffed to the brim, and weighs a ton. Not only is it a strain on your back and a pain to carry when you're walking for miles searching for the cheapest accommodation, but it also makes the process of traveling less fun.
Depending on the length of your trip, you may be picking up your bag every other day or every other week. But at the end of the day, no one wants to carry a bulky, heavy bag.
If you're planning a long trip, this doesn't mean you need a bigger bag. Packing for a 12-month trip is the same as packing for 12-day trip. Here, we'll explore some options for shower toiletry bags.
Waterproof Fashionable Striped Toiletry Bag
When you first pick up a bag, you might think that there's no way you'll be able to fit all your belongings inside. However, by using packing organizers and choosing your contents strategically, you'll make it work.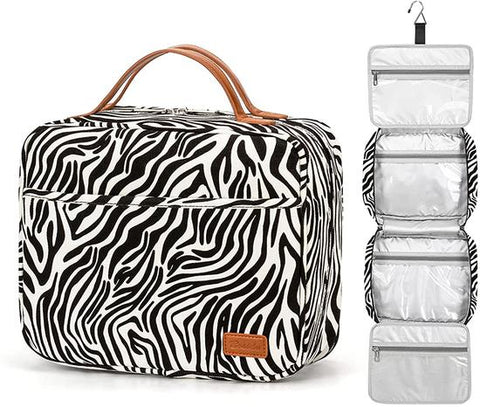 Women's Multi-functional Waterproof Canvas Toiletry Bag
This bag is one of most popular makeup bags of this year. It has multiple outside pockets which can help a lot to keep all your toiletries and skin products organized.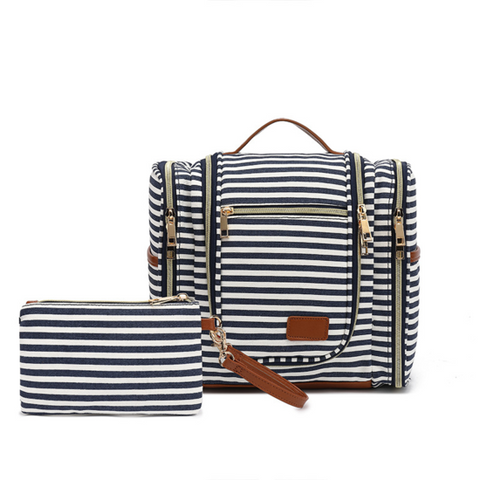 Large Capacity Cosmetic Travel Toiletry Organizer for Women
Sturdy Hook Design - Built-in hook allows hanging the toiletry kit from towel rack, coat hook or where-ever is available, making your toiletries and cosmetics displayed well for easy access and save space as well.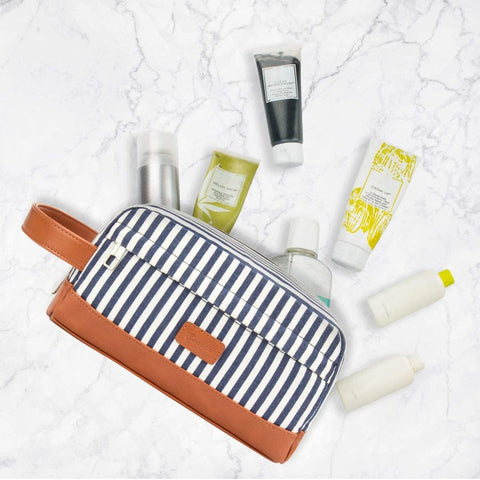 Fit 
Depending on the make and model, shower toiletry bags come in a variety of sizes. Some are available in small, medium, and large, while others are unisex (or one size fits all). You can also find backpacks made specifically for women.
If you're very petite or tall, consider getting a bag with sizing specific to your needs and avoid one size fits all.
Because everyone's needs and body types are unique, it's best if you test out the bags firsthand to determine what's most comfortable for you. 
Features
Reading all about a toiletry bag's cool features is great – if you know what they're for. Here's a quick guide to understanding what all these little things can be used for.
Water Resistant Materials: This is one of the most important features for a backpack because you don't want your belongings to get soaked in a sudden downpour or boat trip. Try drying your wet skin products and toiletries in freezing cold or ultra humid weather conditions – not fun.
Internal Frame: This is a bit of an "ancient" term as most makeup bag nowadays have internal frames. All you really need to know about this is to buy a bag with both an external and internal frame.
Air Space Ventilation: Proper ventilation helps provide your bag room to breathe. This is helpful when you carry your shower toiletry bag for a long time.
If you want to get more ideas about toiletry bags, visit here: mybosidu!