From a cute travel bag to a personalized work bag, every woman has a few collections of handbags in their wardrobe that will serve different purposes. If you are after something new, trendy, and functional to haul your stuff when you are on the go and look non-hideous to step foot in the office while stylish enough to transition into a date night for dinner, we are here to help.
Canvas Tote Shoulder Bag for Women Men Casual Reusable with Crossbody Strap
Let's start with this women's canvas tote bag from Bosidu. It is simple, but this tote still has a lot to offer. It is sturdy, spacious, and versatile. It comes with four inner pockets and a front pocket, along with an adjustable, detachable shoulder strap. We love its casual, sporty style that will take you to the trails.
Agave Triangular Tote | Beige
$295 AT SANTOS BY MÓNICA
Keep things simple with this vegan leather tote bag for work that embodies funky, slouchy vibes. It is only big enough for your go-to items like sunglasses or your cell phone. The triangular silhouette and color make it easy to match outfits from office dress code to casual jeans.
Braided Leather Bucket Bag
$169 AT & OTHER STORIES
With the green and white combo and a soft touch, this minimalist handbag made from 100% leather makes the perfect everyday bag. You can carry it via the adjustable shoulder strap or grab it in your hand with the tubular handle. It comes in a more classic color (black) as well.
Triple Zip Small Handbag for Women Lightweight Waterproof Crossbody Shoulder Bag
If you want a small, lightweight, simple solution to transport your necessities hands-free but also help you stay organized, consider getting the small everyday crossbody bag from Bosidu. It has three zipper pockets which are compact enough for your daily supplies. There are seven stunning colors to choose from.
The Sydney Shoulder Bag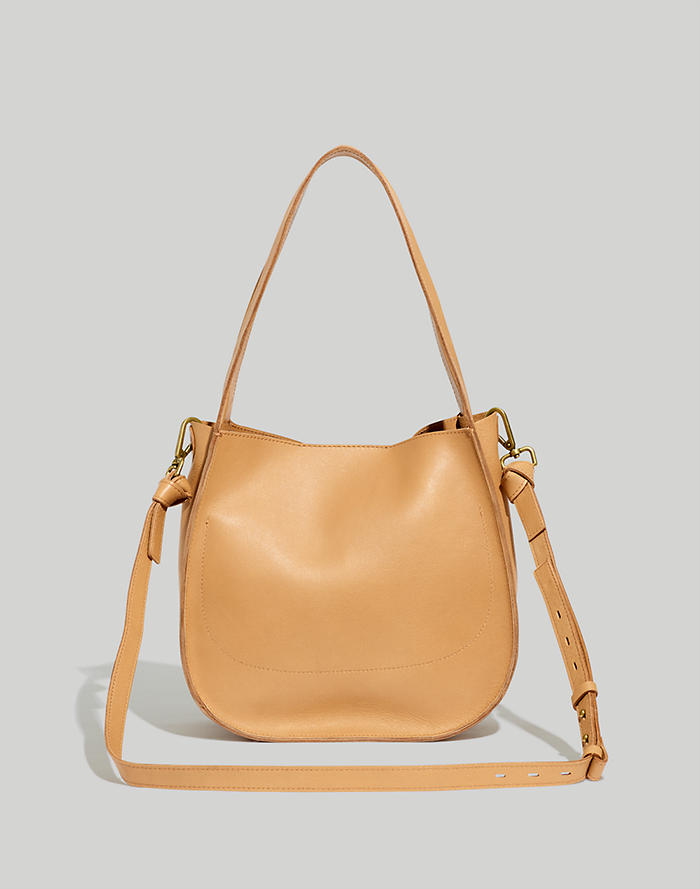 $178 AT MADEWELL
Available in four different colors, this leather shoulder shopping bag gives an equally vintage and modern look. The spacious compartment can fit bulky items like a tablet, notebook, or planner. The easy magnetic closure keeps your belongings safe and secure.
Leather Backpack
$478 AT CUYANA
This women's backpack laptop bag is an ideal option for city trips and everyday wear. The roomy interior compartment with a laptop sleeve can easily haul your work essentials for the day, and the built-in gold clasp closure adds a fancy touch. Two exterior patch pockets are made for quick access to small items when you are out and about.
Small Crossbody Purse Fanny Packs for Women Leather Sling Bag
On days when a carryall handbag feels clunky, a small fanny sling bag will do the job. This leather fanny pack is perfect for those women who have some essentials (but not that much) to carry around for impromptu shopping. It has a capacious compartment with a zipper pocket inside and four exterior pockets, making it convenient to take out your stuff instead of digging through the whole bag.