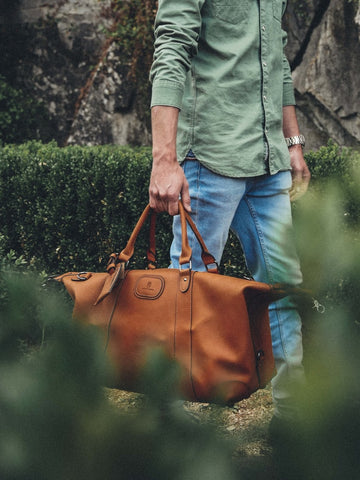 A duffel bag is an all-around must-have, and believe me when I say it's no less than a best friend. Buying one is worth it since it has sizable storage with a zip-top along with some exquisite and distinctive patterns. So, whether you're going on a business trip or to a gym class, you know who you'll be with! So, continue reading to learn more about the finest duffel bags for travel.

- Applicable Gender

The large travel duffel bags have been designed with unique features for both men and women. The bags vary depending on the needs. Here's how:

1. Women's Travel Duffle Bags:

Just because the ladies are all delicate, their bags are carefully designed to be lightweight while still attractive.

A variety of compartments are merged with some beautiful colors and patterns on the outside. Here is the most popular and useful women's travel duffel bag:

Overnight Bag for Women: A lower shoe compartment and a trolley carrying option are included in this classic pink-tinged bag. It's large and well-suited to fit everything in. Hey, thanks to the water-resistant Oxford fabric and the stylish additional compartments to fit everything in. Trust us, it's the best carry-on travel duffel bag.

2. Men's Travel Duffle Bags: We all know what it must be like for a man! Of course, it must be equipped with sturdiness and uniqueness. Isn't it all about having a sophisticated appearance? Well, check out BOSIDU, and you'll never go back without finding the best one as the choices are simply endless.

- Styles

There's plenty in these amazing bags. It's hard to believe, isn't it? So, here's the deal:

1. Sport Style: Duffel bags inside this category are all customized and spacious. The size varies according to the requirements. So, whether it's tennis or golf, name it and get one for it. Are you looking for an all-rounder option? Wait, here's an example of the best duffel bag you'll ever own:

Large Capacity Canyon Gym Duffle Bag: This has the ideal combination of anti-scratch, anti-tear, and anti-water-splashing properties. This multi-pocket bag features both tiny and large pockets, allowing you to pack practically everything you need for a gym excursion. Please hurry! Don't miss the opportunity to get it before it's gone!

2. Business Duffel Bags: They're well-designed to transport your belongings as cabin luggage. The multiple compartments will fit everything in a while, giving it a compact yet stylish look.

- Materials

Diversity appears in the substance it is created in, just as it does in the remainder of the domains.

1. Oxford Fabric: It's light yet durable at the same time. Furthermore, it is soft yet strong. Isn't it the ideal combination? Importantly, it's water-resistant and easily washable. The anti-scratch and pressure resistance features are bonuses. So make stress-free use of this cool bag.

2. Leather: Duffle bags like these never go out of style. Why do you think that ? Well, Their long-lasting quality and extraordinary flexibility set them apart from the competition. They're also extremely cool and fashionable. Do you want to get the greatest one? Well, today is your lucky day!

Large PU Leather Carry on Shoulder Bag For Traveling: BOSIDU did a fantastic job with this gorgeous leather bag. It is sufficient to transport goods for a one-week journey. What's more, it even has a separate section for damp items. So you won't have to be concerned about anything with this super fantastic purchase. It's all convenient and beautiful. Make certain you don't miss it!

What if I told you that BOSIDU has a lot more than this to offer to its users? Hey, don't miss out on this once-in-a-lifetime chance to get the best travel duffel bags. Buy it here: mybosidu!