If your toiletry bottles fail you, you will understand how important to have a nice toiletry bag when traveling. It works as an indestructible barrier to stop the liquids, creams, and pastes from leaking all over your luggage and save your favorite cashmere cardigan from being messed up. Toiletry bags for travel is an exponentially more comfortable and convenient way to transport your toiletries, cosmetics, and skincare products than cramming them randomly in your travel bag, or you could wind up wasting time digging through all your stuff every time you want some items. Besides, separating your hygiene products like toothbrushes, razors, and sanitary napkins from other belongings to keep them away from dirt, dust, and odor is crucial.
Now that you are aware of the importance of toiletry bags for travel, you can make an informed choice when choosing the best travel kit bag. Ensure that you choose one that suits your lifestyle perfectly and offers maximum functionality. Or you can keep scrolling to shop our favorite picks.
For Women:
1. Hanging Travel Toiletry Bag for Women
With four transparent compartments inside, this toiletry tote bag can keep your toiletries organized and separated. The waterproof PVC lining displays items perfectly, which you'll have no problem viewing through the clear interior compartments. Two main compartments with elastic bands keep bottles in position, and the metal hook allows you to hang the bag anywhere.
2. BOXFORD Toiletry Case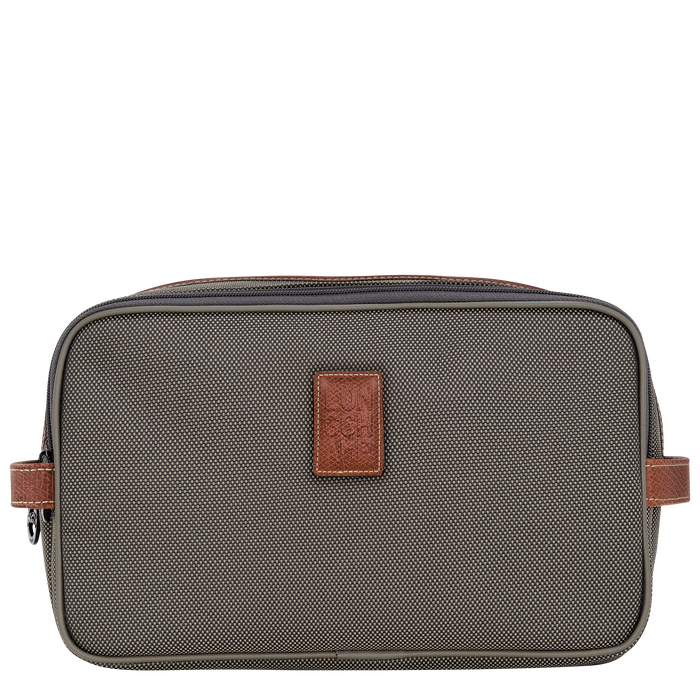 $120 AT LONGCHAMP
BOXFORD is Longchamp's iconic line, and this minimalist travel toiletry bag fully embodies its feature — understated elegance. Crafted from polyester canvas with cowhide leather trim, this toiletry case is waterproof, sturdy, and functional. It has two zipper compartments of different sizes and an exterior pocket. There are three colors to choose from.
3. Women's Casual Waterproof Toiletry Bag
We all know traveling lighter is better. But the thing is, sometimes we just want to take everything with us to avoid all the ''what ifs'', and a big toiletry bag is a must-have. Two zipper compartments will organize all of your toiletries, eyeshadow palettes, and perfumes in the most efficient and beautiful ways possible. You can carry it with two padded handles or fix it on the suitcase by the back trolley sleeve.
For Men:
1. Travel Pack
$65 AT FILSON
Made of nylon and reinforced with Rugged Twill, the Filson Dopp kit bag is not only lightweight but also strong and tear-resistant. It is simple yet still offers one exterior pocket and two interior stow pockets. Its decent size makes the travel kit bag portable and can be stored in your carry-on luggage.
2. Large Capacity Waterproof Travel Toiletry Bag
No surprises here, but leather can say a lot about who you are and tells everyone you are a person that values higher quality goods. Made out of water-resistant PU leather while offering structure and compact storage, this travel Dopp kit toiletry bag is as classic as it gets. We appreciate its dry and wet separation design which helps you keep everything tidy.