A travel toiletry bag is more than just a container that stores what you will need on a trip. If you don't want to arrive at your destination and realize you forgot to pack your sunscreen or open your suitcase in search of your brand-new dress but find it covered in busted shampoo or lipstick tubes, it is crucial to have a sturdy toiletry bag in tow.
Whether you are the type of traveler who stuffs their toiletry bags into their backpack or need a family-size toiletry bag that holds enough to supply multiple users, there is something for everyone.
Below are 5 top toiletry bags for taking your favorite products on the go.
Toiletry Bag Travel Organizer
$31.20 AT BAGSMART
Dimensions: 11.42 × 4.5 × 9.25 inches (Medium, Unfolded)
What We love:
1. Great design with multiple compartments for organization
2. Zippered mesh pockets are useful
3. Rotatable Hanging hook
We can't recommend this large toiletry bag enough! Crafted in premium water-resistant polyester material, this toiletry bag is spacious enough to carry your entire 10-step routine with you. It also comes with built-in organization: the main compartment with elastic straps to secure bottles, two side pockets separate dry and wet items, and two mesh pockets to help you see what's where.
Shower Bag
$17 AT HUCKBERRY
Dimensions: 6 × 10 × 4 inches
What We love:
1. Environmentally friendly, waterproof
2. Plenty of space
3. Super-lightweight and durable material
Unassuming in size and appearance, the bathroom kit bag from Huckberry is small enough to stash in a backpack or tote bag, but it holds enough to stash all your travel-size toiletries. What's more, the waterproof coating protects toiletries stored inside and is easy to clean if anything spills.
Large Capacity Cosmetic Travel Toiletry Organizer for Women
Dimensions: 10.2 × 5.1 × 5.9 inches
What We Love:
1. Waterproof, leak-proof
2. Excellent capacity
3. Packs down small for easy packing into other bags
If you want a toiletry tote bag that is compact enough to put all your skincare products along with travel-sized toiletry bottles, try this small toiletry travel bag. It is the perfect size for storing your essentials, and it won't take up too much valuable space in your travel bag if you take it on a backpacking or camping trip. Plus, it has a zippered front pocket for things like mascara and makeup brushes.
Steward Dopp Kit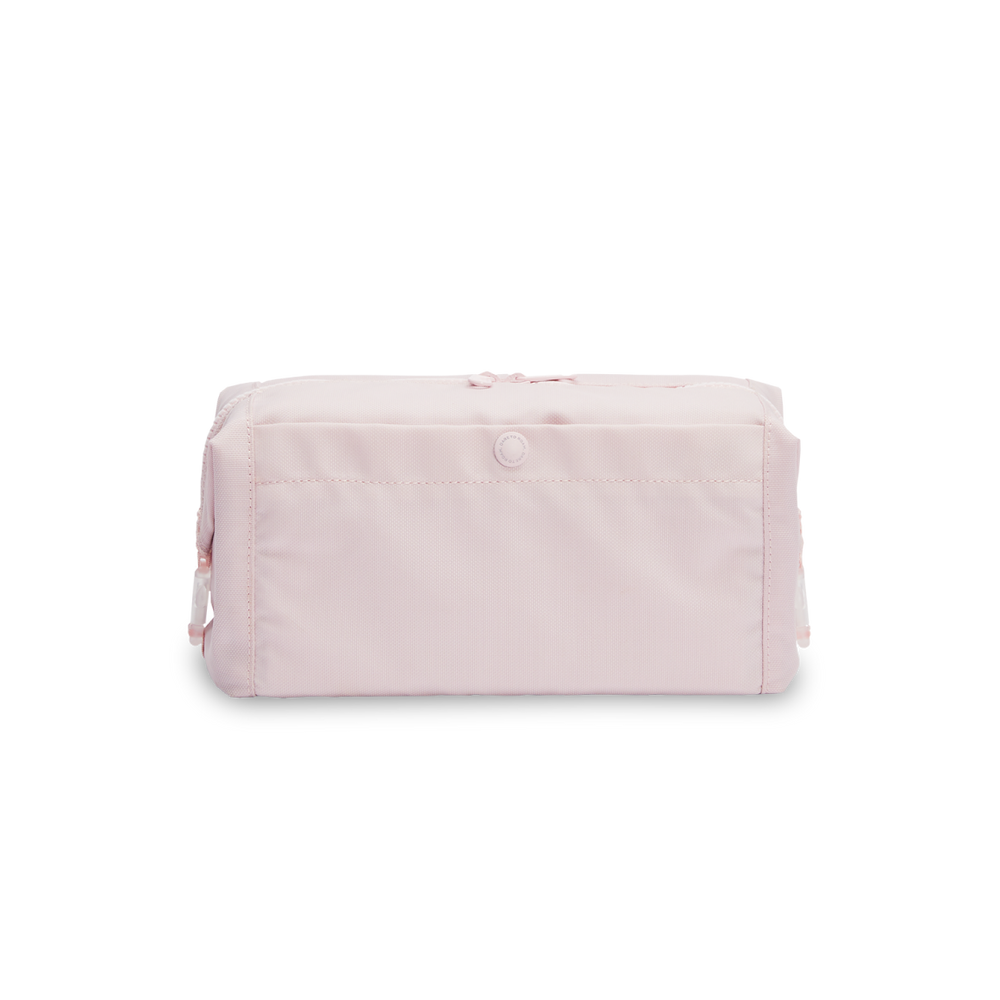 $48 AT DARE TO ROAM
Dimensions: 4.5 × 8.7 × 4.7 inches
What We Love:
1. Easy to clean
2. Antimicrobial, water-resistant materials
3. Compact
This Dopp kit bag features an ample compartment with two-way zipper closure, and it also has side clips and adjustable webbing straps that make the bag expandable — so you can size it down if you don't have a lot to pack. And thanks to the antimicrobial fabric, this practical travel Dopp kit toiletry bag is shaped to hold every one of your essentials and tools, keeping them free from bacteria, mold, and mildew growth.
Large Capacity Waterproof Travel Toiletry Bag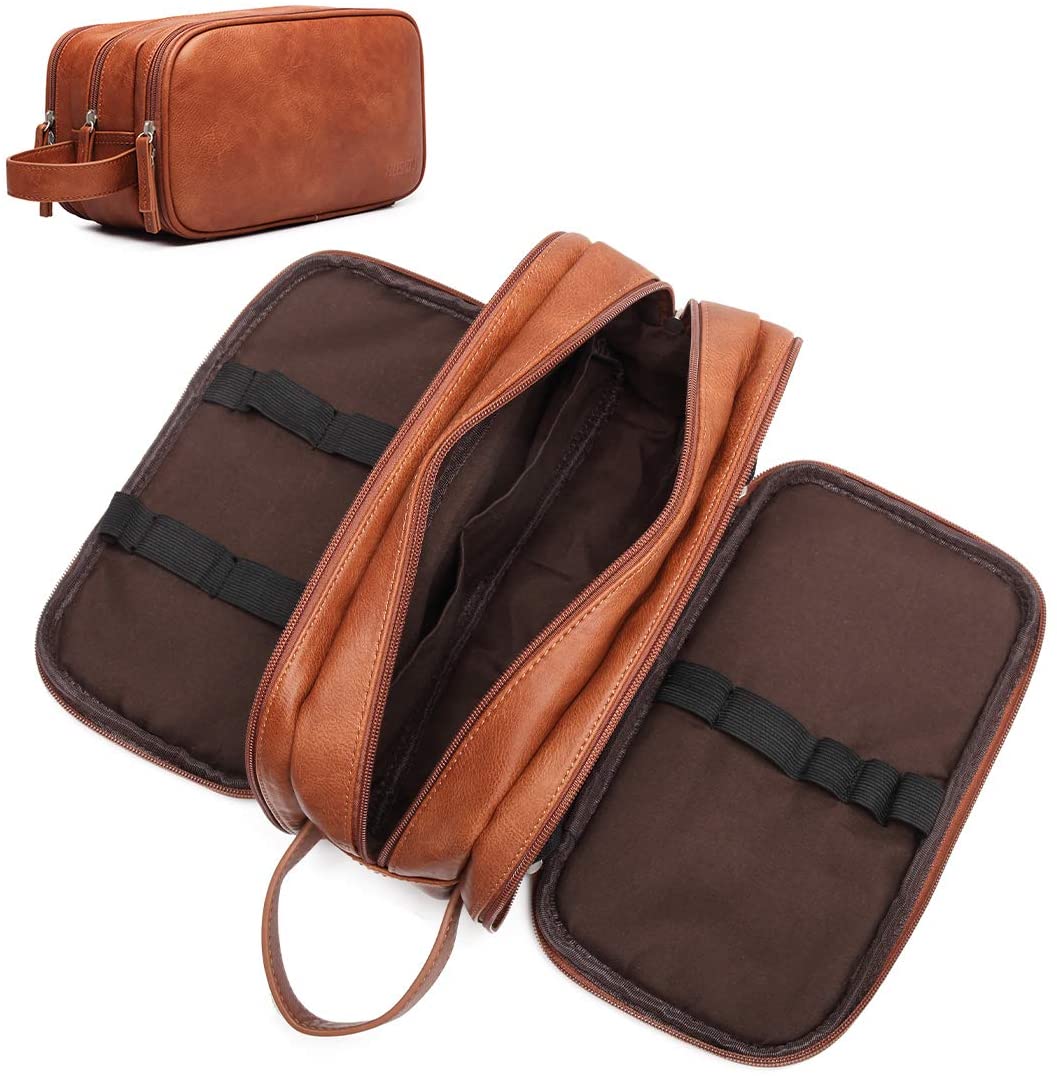 Dimensions: 11 × 4.7 × 6.3 inches
What We Love:
1. Compartments for brushes or other odds and ends
2. Ample space for products
3. Simple design
This men's travel kit bag is built to take on your travels with style wherever life takes you. Lightweight, elegant, and made with premium materials, this minimalist travel toiletry bag is geared toward travelers who prefer a vintage style. Unzip the bag, and you will find compact space to keep your bathroom essentials tidy. Plus, two side pockets with multiple elastic bands help separate your products from toothbrushes, razors, or tweezers for a no-fuss, clutter-free trip.