If you are anything like me, who doesn't have much stuff to carry around but still need a bag to transport daily essentials like sunglasses, phone, wallet, and keys, a compact crossbody bag is always better than a carry-all tote bag. Some men can't understand why women take their crossbody bags everywhere that seem too small to fit a notebook. But let's be honest, an everyday crossbody bag can fulfill many roles: it is an exponentially more comfortable way to transport your essentials than cramming them in the back pocket of your jeans, making them accessible when you are on the go, and keeping them secure and organized while shopping. And the best part? It is a crucial fashion accessory that can elevate your outfits. With a versatile function to easily hold everything while leaving your hands free and an aesthetic look to complete your ensembles, a crossbody bag is an important investment that every woman should own.
This small crossbody phone bag from Bosidu features only one compact pocket yet still excels in style and affordability. The main pocket can fit 4-6 absolute essentials, including your on-the-go beauty products for midday touch up. The long, adjustable straps ensure your stuff stays where you want it — either on your waist or hip.
Want something a little bit roomier than a small phone bag? How about this sling crossbody bag for women? It has three inner pockets making it perfect for carrying things like a water bottle, umbrella, chargers, and change. Three outer pockets are handy to grab frequently used items without digging through all your stuff.
3. Triple Zip Bagg
$49.95 AT BAGGALLINI
With triple different-sized pockets, Baggallini's everyday crossbody bag has ample storage for all your necessities without the bulk of a heavy purse. It features a removable, adjustable crossbody strap and belt loops on the back, which allow you to convert this extremely functional, versatile bag from a crossbody to a clutch and a waist pack.
4. Serpentine Pouch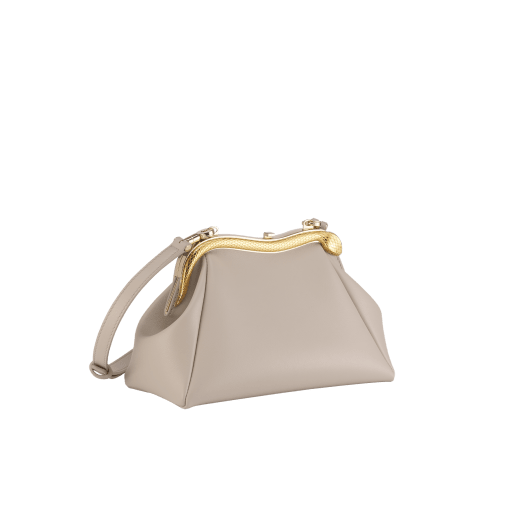 $3,100 AT BULGARI
Made from soft calf leather in Italy, this crossbody pouch bag features a single compartment outfitted with a gold-plated brass snake body-shaped frame, making the bag look more elegant with a casual attitude. The press button closure keeps your belongings safe and secure. It is an arguably go-everywhere bag that can accommodate and organize all your stuff and look chic while doing it.
5. Micah Crossbody
$110 AT DAGNE DOVER
Made from super light materials, this ladies' crossbody bag has three pockets to store your essentials without feeling like it is weighing you down. You can go for the street style by wearing it with a casual T-shirt or spicing things up with black knee socks. It sits comfortably on your waist, so you can easily embark on an adventurous day trip or weave your way through the milling crowds.