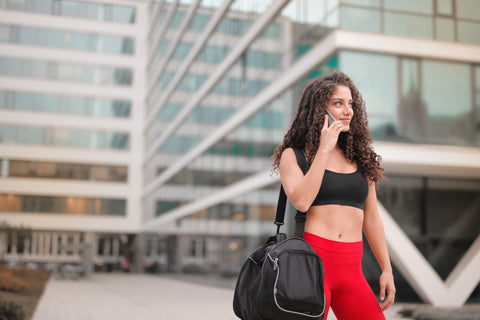 Why do women need gym bags?
Wherever you go, appearance is the first thing that matters. Being simple and classy takes nothing but an accessory that brings an elegant look. Whether hitting the gym regularly or whenever you get a chance to go there, a decent women's gym bag has a massive impact on workout sessions. You'll be more inclined to go to the gym first thing in the morning or after work if you have the best gym bag you're happy to carry and flaunt.
Key Consideration for Gym Bags Selection
An organized gym bag is important for women because it keeps their clothes, fitness equipment, makeup, and hair products easily accessible. Besides all the must-haves for a gym bag, every woman has preferences for accessories, especially when it comes to something as practical as a gym bag. After you've made a list of the essential products your bag must contain, you'll know which ones are the best.
For finding a women designer gym bag, you should consider some important key points described below.
Capacity:
Your bag should have the capacity to hold all the important stuff. Some mandatory care products to keep in gym bags are towels, hair care products such as shampoo and conditioner, hair ties and bobby pins, perfumes or body spray, deodorant, hairbrush or comb, toothbrush, toothbrush, toothpaste or mouthwash, and shower caps. As we discussed, the gym bag should bring comfort to you, which varies from woman to woman. However, some of the most common stuff should be packed into a gym bag.
A fresh change of clothes

A pair of shoes and inners

Undergarments

A hat for or during the workout
There should be pockets in a bag to keep the extra and sometimes wet stuff. Sometimes we have to take a yoga mat or block, bathing suit, goggles, and swim cap. So the best gym bag should have the capacity to fit in all the stuff so you can go and kill the waves.
Multiple Uses:
Fashionable gym bags are quite adaptable. Whether you choose canvas, nylon, or leather duffle bags, you'll find that they're ideal for any occasion where you need a bag that can hold more than your keys and wallet. The top uses for gym bags are shown below.
Traveling: A women's gym bag is a must-have whether you're going for a weekend, cross-country, or even overseas. Gym bags make it simple to reach items that have been properly placed inside. They're also lightweight, making them convenient to transport. Because these are so useful for traveling, several manufacturers even make gym bags on wheels.  
Business: If you travel for business frequently, a women's gym bag that fits everything you need for your trip will come in handy. Specially designed duffle bags with protective sleeves and pockets for computers, files, and other business materials. These bags allow you to keep everything you need for work in one convenient location without checking some luggage.
Sports and Recreation: If you love sports or extracurricular purposes, you most likely have a rising gym bag in your collection. Small gym bags are the ideal size for carrying all of your essential goods and extras. You can effortlessly put the bag on your shoulder and be on your way to the gym, ball field, or sports complex once it's filled with everything you need to stream your favorite sport.
Fashionable Gym Bags:
The gym bag must be super comfortable but fashionable too. We can't carry a bag that looks ugly. So a uber-cool bag adds value and confidence in your appearance and gives you the energy to work like a pro. So always carry a cool and comfy gym bag.
The Women Gym Bags in BOSIDU Online Store
So here was a proper guide to check in the bag for gym and go like a pro. This blog will help you choose the best women's gym bag as it has the best collection of bags. Here you will find the best gym bag with all the standard features to meet your requirements exactly. Be elegant Be stylish by choosing the women's gym bag from our store.