A traditional backpack is better for carrying heavy loads or all-day trekking, but a work messenger bag can improve your daily commute by providing convenience, ease, and comfort while holding most (if not all) of your everyday needs. It is a less formal option to replace your beloved briefcase and is small enough that it will not hit your fellow commuters on a crowded train. In addition, the crossbody strap that allows you to put it over your shoulder will keep the bag in place as you bike to work or take the subway a lot for daily commutes.
To help you find the best messenger bags for work, we found the four best options for anyone. Keep scrolling.
Vitesse Musette Plus
$139 AT WATERFIELD DESIGNS
Dimensions: 16 × 4 × 11.5 inches | Material: Waxed Canvas
Available in three neutral colors, this minimalist messenger bag is great for lightweight everyday carry. The main compartment with a dedicated protective sleeve pocket for inserting your laptop up to 14.5 inches. And a metal buckle keeps your belongings safe and secure. Durable, rugged, yet still lightweight materials will never make you feel like a regretful purchase.
Rothco Vintage Unwashed Canvas Messenger Bag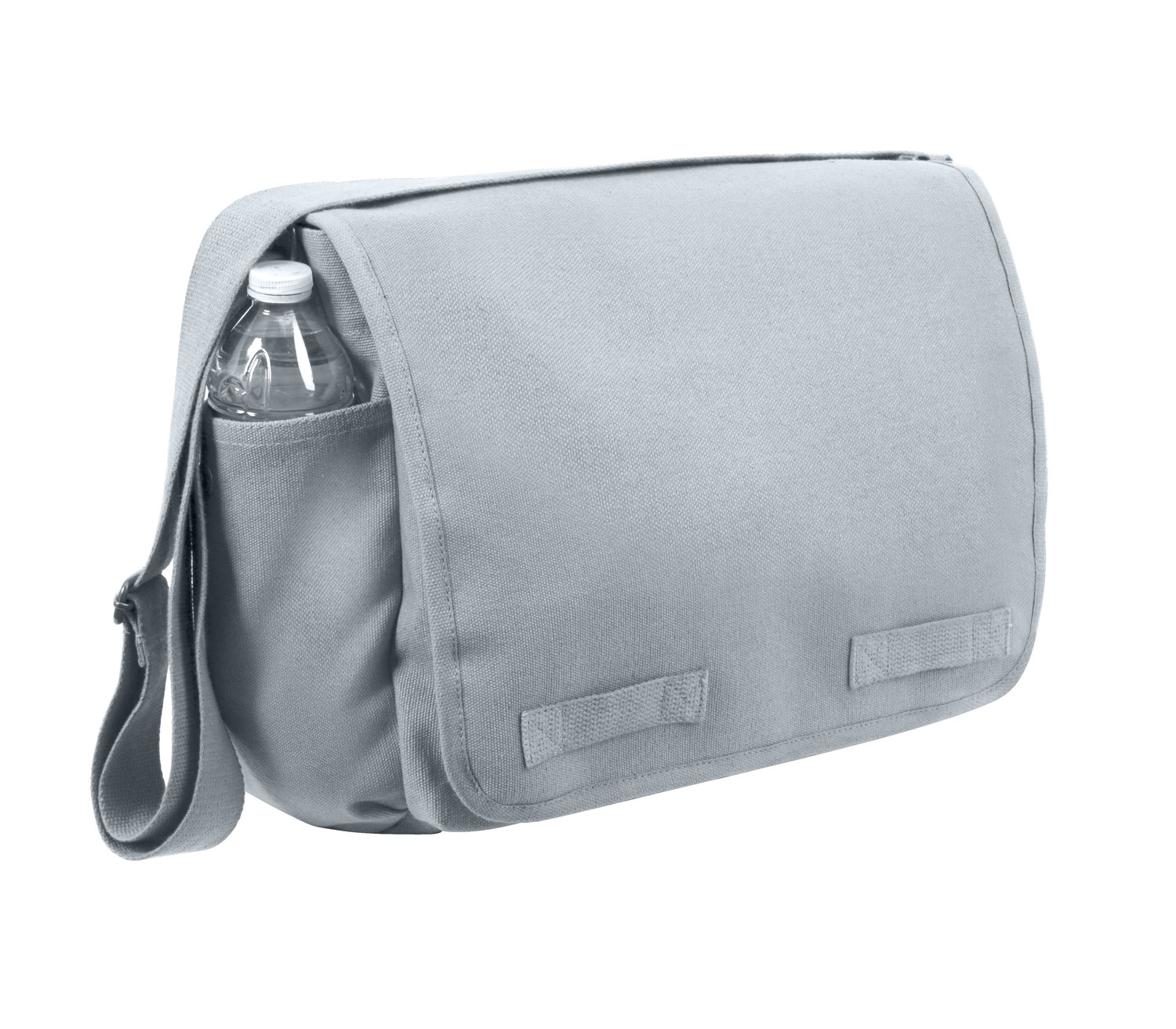 $37.99 AT ROTHCO
Dimensions: 15 × 11 × 6 inches | Material: Cotton, Canvas
At just under $50, this is the best messenger bag with water bottle holder. This simple, sturdy messenger bag is surprisingly spacious. It features a large compartment that offers ample space for bulky work essentials like folders, tablets, and planners, two front open pockets that make for keeping the items you need quick and easy access to without disrupting the rest, and the snap button side pockets store your water bottles or umbrellas. Stay worry-free about the contents inside since they will stay secure with a large hook and loop flap closure.
Women's Nylon Crossbody Bag Multi-Pocket Travel Shoulder Purse Messenger Bag
Dimensions: 13 × 4.7 × 11.4 inches | Material: Nylon
Another affordable option for you. This cute messenger bag for women is strong, lightweight, and great for toting your everyday carry items. Inside, you will find four pockets to house all of your essentials and five exterior pockets to keep you organized. Your work days will be much better with this messenger bag stocked with all your stuff. It is a go-everywhere option that can take you from work to the coffee shop. It comes in eleven different colors, so you have more options to add to your wardrobe.
Waterproof Retro Business Travel Messenger Bag
Dimensions: 16.5 × 13.2 × 5 inches | Material: Leather
No surprises here, but leather has a unique look. This laptop briefcase messenger bag from Bosidu is made from durable, thick, and waterproof leather that can stay with you for years to come and will not cramp your business style. Its three roomy compartments with organizational pockets and holders do not only add to the design but keep your stuff in order. The back trolley sleeve, well-crafted handles, and padded shoulder strap make it easy to travel with you.