When it comes to toiletry bags, the options are virtually unlimited. Can't believe it? Just give it a try! Do you want one with a lot of storage? Well, that's possible. A minimalist? Well, there's one for you too.

- The Styles of Hanging Toiletry Bags

Toiletry bags are a necessary part of life. So whether you're going on a getaway or getting ready for work, all of your cosmetic essentials are only a bag away. Isn't it cool? Here's a selection of hanging toiletry bags to consider!

1. Large Hanging toiletry bag

2. Clear and simple

3. Transparent toiletry bag

4. Leather toiletry bag

5. Old school satchel

Let's unveil our best selection:

- Best Hanging Toiletry Bags on Sale in Our Store
Don't just go with the flow, choose the best! Here's a list to help you out:
1. Waterproof Fashionable Striped Toiletry Bag: This high-end hanging toiletry bag comes in various forms, not just one or two, but five different patterns to choose from. The colorful notes and the fascinating designs are sure to win your heart. The high-quality canvas material is not only super soft and comfortable but also scratch-resistant and extremely long-lasting. The bag has various compartments, including the ones for brush storage. Yup, it can easily contain all of the essential stuff concisely. Just go for it!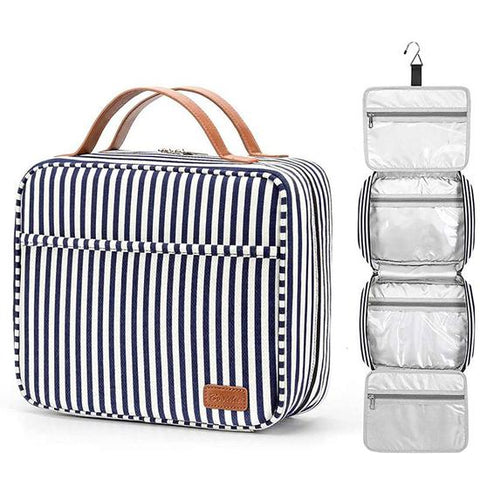 2. Women's Multi-functional Waterproof Canvas Toiletry Bag: Isn't the best hanging toiletry bag just the one that has the glamour like gold? Guess what? This bag is made of the finest canvas quality. The waterproof material not just helps you to carry your stuff securely but also allows you to hang it out in the bathrooms near water splashing zones. Hey, you don't have to worry even a bit. The blue and white stripes, as well as the sleek zipper, add to the overall appeal. You can purchase it right now!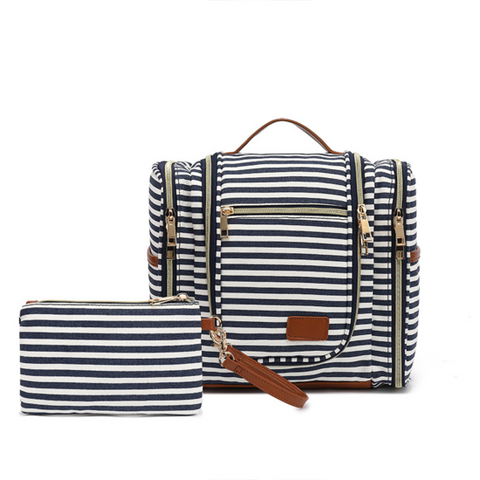 3. Large Capacity Cosmetic Travel Toiletry Organizer for Women: This bag is a traveling must-have since it is fully waterproof and weather resistant. With this great companion, you will never be concerned again. The roomy internal compartment and the front zipper are more than capable of handling it all beautifully. What's more, the built-in hook design allows you to hang it on your wall. You'll adore it. Isn't it ideal for your requirements? So, why don't you go ahead and buy it right now?

4. Small Casual Ladies Waterproof Canvas Toiletry Bag: Do you consider yourself to be a minimalist? Do you always keep what you need? Do you despise messes? Well, this small hanging toiletry bag is exactly what you need. The waterproof canvas and large pockets make it easy to keep all of your belongings. That's not it. There's even a back pocket and, guess what, the side pockets, in addition to the usual standard compartments. Have you decided on buying it? Great!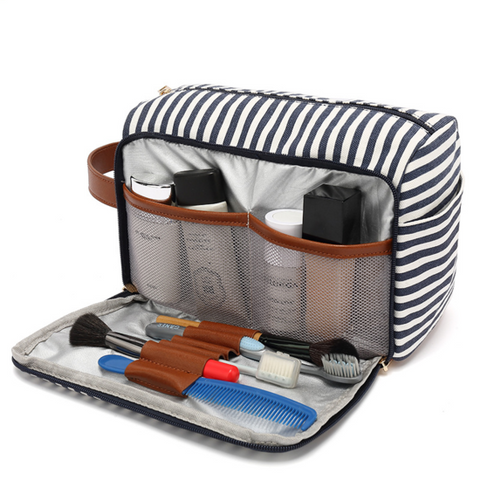 5. Fashion New Women's Striped Toiletry Bag: This fantastic bag features two side pockets as well as a little purse to store all of your essentials. The inside compartment even contains many slide compartments to keep your belongings from getting mixed up and provide you with a stress-free experience. It is, without a doubt, the ideal option for any weekend trip and, of course, business travel. The handle is made of elegant leather. Hey, why not purchase this leather hanging toiletry bag? Get going and don't waste any more time.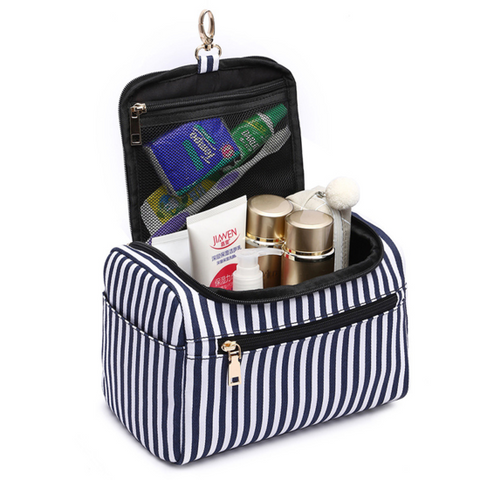 Dude, whatever your needs are, the fulfillment is all just a few clicks away. So go ahead and order the best hanging toiletry bag. Get the ultimate chance of living a hassle-free and easy life. Remember, it's a good deal, and spending on this is worth it. Buy it here: mybosidu.com!