Are you one of those people who thinks travel toiletry bags are useless? Well, well, well! It's time to make a permanent change in perspective. Do you disagree? Wait till you conclude this article. Hold on tight because this is going to be a lot of fun.

- Need Travel Toiletry Bag

On your marks, get set, go. That's how easy life is when you have a toiletry bag. Put all of your hygiene and styling tools in one bag, and guess what? You'll live a completely stress-free life. Not only will you have a smooth morning and a peaceful evening, but you'll never have to worry. Guess what? You'll deal with any urgent situation that arises along the way. That's still not it. It will make your trips more pleasurable and exciting.

- How to choose the right travel toiletry bag?

You can't just go out and choose one. That's not the case, buddy. Have faith in me!

Well, well. Before you choose your buddy, keep these things in mind. You'll end up choosing the best!

- Size: Note down your needs! Are you a minimalist or someone who has a lot of stuff? Well! Choose the one that's ideal for your belongings! Choose the one that can easily fit them all.

- Materials and Fixtures: The transparent material, with its high visibility, is unquestionably the go-to bag. Isn't it like having double the fun? Well, wait till you get it.

- Strive for resiliency: Splashes of water and the bathroom environment are the focus of a toiletry bag. Aren't they? So pick one that's as tough as you are. Thanks to advancements in waterproofing technology, we now have a variety of waterproof choices.

- Ratings and reviews: User experience is the best and the easiest method to find out the best products. Yes, that's correct! Before making a purchase, read the reviews.

- Our Best Selling Products

Here comes the best part. We're here to help you. Hey, you're about to make the best choice ever!

1. Large Capacity Leather Toiletry Bag: This is a fantastic, high-end bag ideal for men. It's not only light and robust, but it also has a separate waterproof space for delicate items. It is unquestionably a more versatile alternative. You'll be proud of yourself for purchasing this.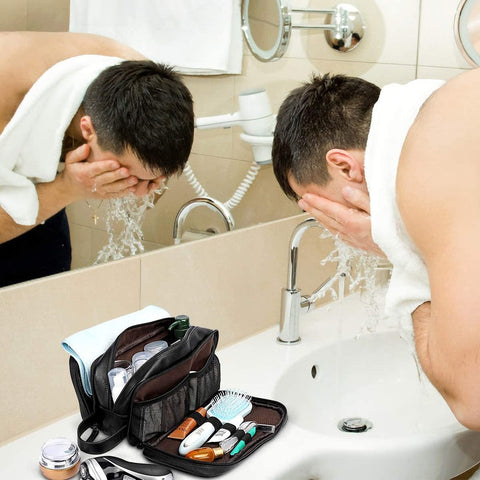 2. Fashionable Stripped Toiletry Bag: With several compartments and a waterproof structure, all of which are brilliantly coated with beautiful black and white patterns. Gosh! This is the best women's toiletry bag. Do you know why? Because it can be the one's best friend. The best aspect is that it comes at a very low price. Don't miss out on this opportunity.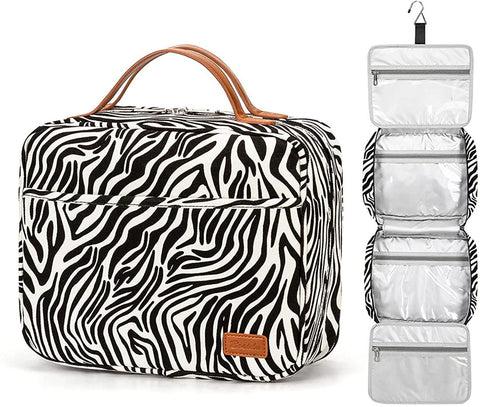 3. Fashion Women Stripped Toiletry Bag: The elegant blue and white striped bag. From the exterior, it appears to be a single big entity. Don't go on the outside look. Inside, there are various chambers. The canvas stuff is cool. What's more, it comes with double-sided pockets. From the outside, it appears to be a small toiletry bag, and however, on the inside, it is spacious and roomy. It will undoubtedly be a reasonable purchase.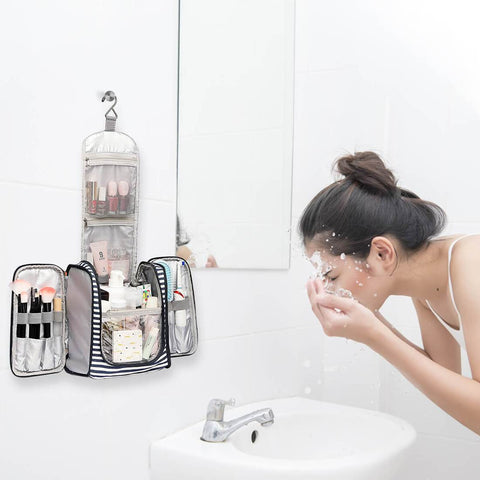 4. Large Capacity Cosmetic Travel Toiletry Organizer For Women: Who can resist the robust built-in hook design, which is excellently complemented with an outer zipper? It's a challenge, indeed! This high-quality women's travel toiletry bag is specifically designed in a way that it can easily be washed. It's not only water-resistant, but it's also leak-proof, making it an incredible combination. Check out this multi-compartment setup now!
Hey, that's not it! We offer a variety of additional choices. Each one is a one-of-a-kind piece. Just name your needs and make an investment that will pay off handsomely. Find out about the rest on our website, and yes, the more you purchase, the more you would save. You'll also get free shipping on your travel toiletry bags as a gift. It's a lot of fun, isn't it?