Whether you are planning a short or long-term trip, it can be exciting but also overwhelming. On the one hand, there is always too many travel stuff (toiletries and beauty products) have to pack, on the other hand, there are also too many options for your toiletry case.
The toiletry bags are more than just a random accessory for your trip, but a great helper that can organize your travel stuff in place. So, if you are confused about choosing the a toiletry bag that suits your style, a small but functional toiletry case is the one you need as it's unbeatable in design and functionality.
Even if you find the perfect bag that goes with your style, sometimes you'll get bored of that too and want to change things. Keep reading. Below we have some great suggestions for your small toiletry cases.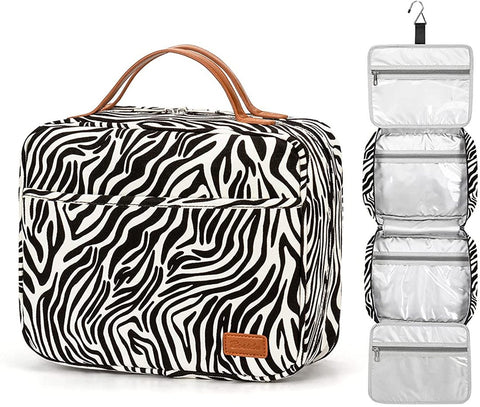 Waterproof Fashionable Striped Travel Toiletry Bag for Women
You have to consider many things before buying a perfect toiletry bag that doesn't only hold every single item you own, but also stands the test of time and goes with everything you wear during your trip.
A aesthetically pleasing and functional makeup pouch has been a true favorite over the years and is ideal for women on the go. Many women prefer to choose a toiletry bag that can be easily used for their travel activities. For them, style or color is just one thing to consider, but apart from that, small size and the ability to store as many things as possible is essential. But, you also don't have to worry too much about your bags' style or color. What is important is that it can not only organize everything that you have to pack, but also help to pack light.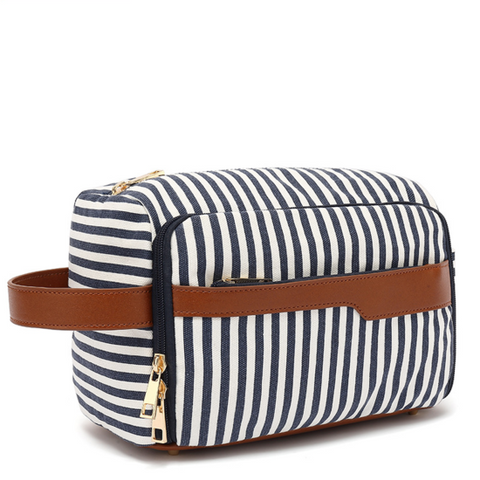 Small Casual Ladies Waterproof Canvas Toiletry Bag
A perfect small toiletry case not only be built for modern travel and also contain big compartments and pockets that can easily accommodate everything you need for your day.
Especially if you are looking for simplicity with quality. Apart from its big compartments, a small toiletry case should also features some small pockets that are spacious enough to store your small belongings, from carrying lipsticks, tissues, keys, and mobile, to chargers.
Large Capacity Waterproof Leather Toiletry Bag for Men
Some toiletry bags are not only aesthetically pleasing but also with a functional shoulder strap. Its comfortable design, detachable shoulder straps, and spacious room to fit all the essentials make this an excellent choice for every travel woman out there and probably the best travel partner available in different colors. 
Well, after reading the above content, you should probably know how to choose your small toiletry cases, so come and see how much you have learned. Check it here: mybosidu!