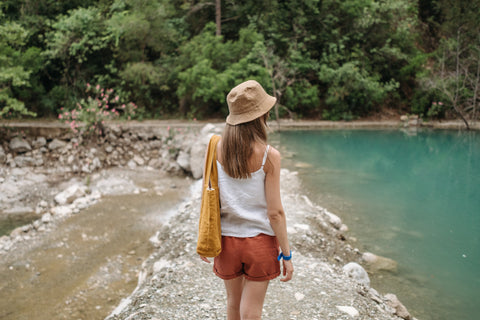 The mention of toiletry kit will remind everyone of travel, and it seems that toiletry bag have become synonymous with travel.  A aesthetically pleasing and functional travel toiletry kit is a combination of youth and personality.
What's the best travel toiletry kit suitable for?
Some people may think that the toiletry bag is only for young people who love to travel, but that is simply not true. Wash bag are stylish and practical for all ages and travel of various terms. If you are arranging a extended trip or across continents, you can choose a big travel toiletry kit to organize all your toiletries and beauty products that you have to use on the way. If you are staying overnight, pulling a weekender, or going to the gym, then a small travel kit is a good choice.
How to choose the best travel toiletry kit ?
It goes without saying, the practicality and portability of a travel toiletry kit are much important than its color and design. The multi-functional bags can be used for a shave kit, makeup storage, or larger bottles of shampoo and conditioner (in the middle section). A mesh pocket makes it easy to see what's inside and the separate side pockets are great for storing additional items such as chargers or headphones. 
Travel toiletry bags are essential for carrying your makeup, skincare, and beauty products when you're on the go. Not every trip requires the same amount of gear. Some waterproof wash bags features a finest quality PU leather handle on top, plus a hook for easily displaying items when open. Some toiletry bags also come with beautiful patterns that are perfect for match your clothes during your journey.
Other key factors to consider for your journey and bag
In terms of your travel style, it means the time of your trip to a certain degree. You can choose your bag according to how much stuff you want to bring for your journey. If you move about your makeup during the trip, then you might need a large-capacity wash bag to organize all kinds skincare products and toiletries. But if you are a minimalist, then you might need a simple and light toiletry kit.
In terms of bag size, it means the capacity of your wash bag. A big and light-weight wash bag is suitable for your long-term trip. A small but with multiple compartments and pockets wash bag is good for your short-term travel.
When talking about the season, summer is more suitable for toiletry kit which features cotton or canvas materials and looks more refreshing. And PU leather and PVC wash bags are good ideas for winter travel.
Did you learn it? Come take a look at your favorite toiletry bag here: mybosidu!