Traveling can be fun, but there is also one thing we can not deny: Traveling is full of components beyond our control. The weather, traffic, the guy in the seat next to you, lists can go on and on. Fortunately, one thing we can control to help us explore the world further is preparedness.  We believe everyone can be a good packer as long as they have appropriate travel gear.
A travel backpack is an ideal companion. Whether you are seeking out rough-edged adventures or joining an enjoyable city tour, it forces you to travel smarter and think carefully about what you bring since you are physically limited to what you can fit in it.
Every traveler has their personal preference and requirements for travel gear, but if you checked this article, you are considering investing in a backpack for your next trip. So, below, we've cherry-picked four travel backpacks for your perusal.
Dimensions: 12.5 × 6.5 × 15.7 inches | Material: Genuine Leather, Canvas
If you plan to travel with your photography equipment to record the happy moments in your trip, it deserves a place where it provides complete protection for your gear. Bosidu's camera bag travel backpack is designed to carry cameras and accessories. It has a removable inner partition to house lenses and cameras and the anti-theft design keeps everything inside safe.
2. Metro Backpack
$200 AT MONOS
Dimensions: 11.5 × 16.5 × 6 inches | Material: Nylon
Made from premium nylon with a sleek profile, this backpack handbag can take you everywhere — from the everyday busiest commute at subway stations to weekend getaways. It doesn't just have a minimalist, chic style, but it is also water and scratch-resistant. And you can store your laptop in the 15-in laptop sleeve for quick and easy access without opening the whole bag. If you add an interchangeable kit from Monos, you can have extra space for small items like passports, keys, and pens.
Dimensions: 11.8 × 5.5 × 16.5 inches (Medium) | Material: Nylon
With nine colors and two sizes to choose from, this women's backpack laptop bag is a storage machine that can satisfy all your travel needs and stylish desires. It features two roomy compartments and plenty of zipper pockets and open pockets to keep you organized. The USB charging port frees you from being a hassle for dead phones. And a review says, "It has deep pockets and lots of smaller ones for storing tiny things. Padding in computer pocket. Comfy straps. Overall great backpack."
4. Never Still Flap Backpack Large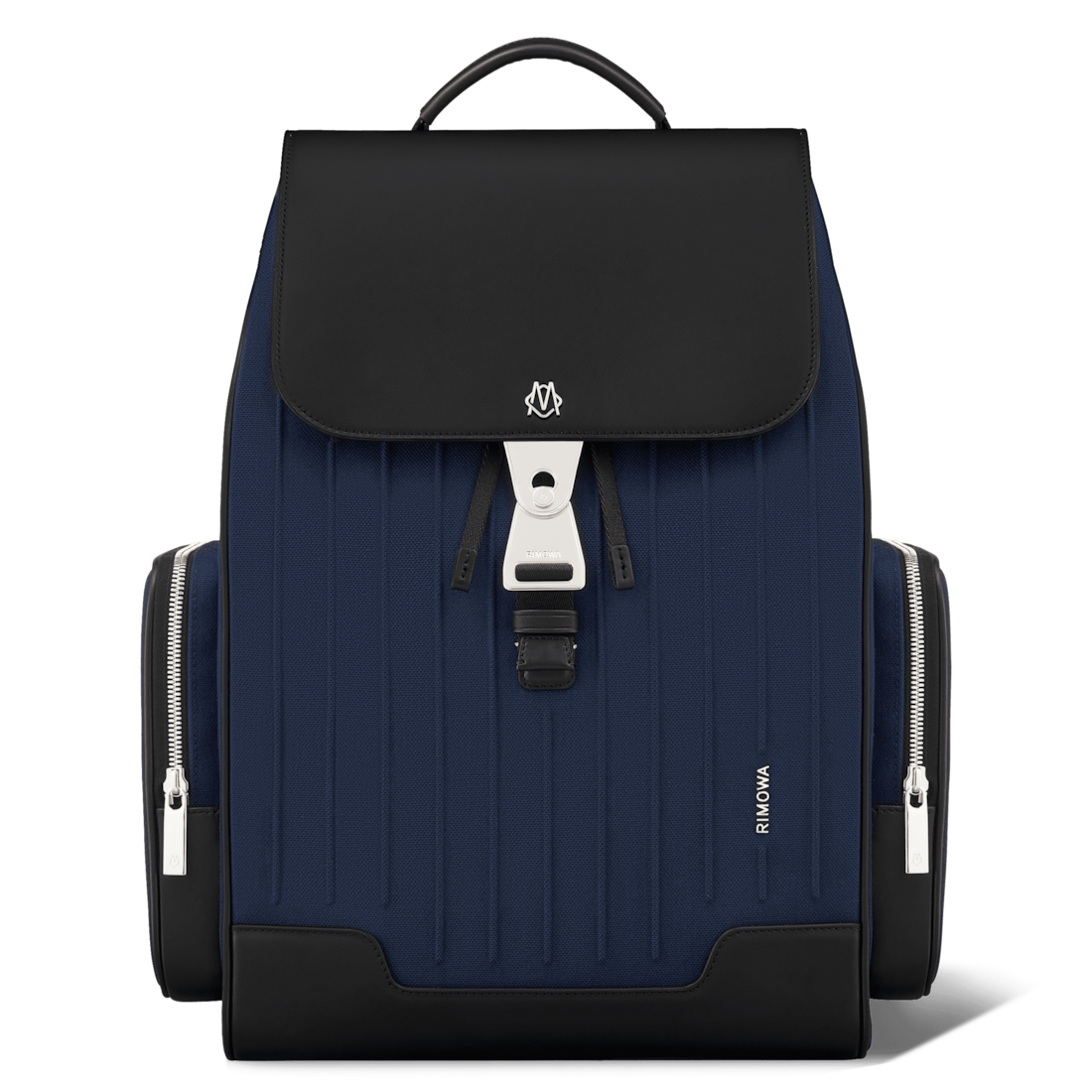 $1,700 AT RIMOWA
Dimensions: 17.32 × 14.6 × 6.3 inches | Material: Canvas, Full Grain Leather
RIMOWA's Never Still collection is designed with flexibility in mind. This daybag backpack features a flap-top closure secured by a magnetic buckle, a comfortable padded backpack, and a back trolley sleeve for easily pairing with a suitcase for travel. It has a spacious compartment, a padded pocket for laptops up to 16 inches, and two side zipper pockets, making it perfect for accommodating daily essentials and travel supplies.