If you are the type of traveler who stuffs all your belongings into your travel bag without much organization, a duffel bag is a better option for you. Duffel bags feature a large compartment and can be squished, tossed, and stuffed into just about any place. But look a little closer, and you will find some details that make some duffle weekender bags better than others, such as a separate shoe compartment, handy outside pockets, or a detachable shoulder strap.
Whether you are a newbie or looking to upgrade or replace your existing travel bag, we are here to help you find the best travel duffle bags online for your needs. Just keep scrolling.
1. Freefly Packable Duffle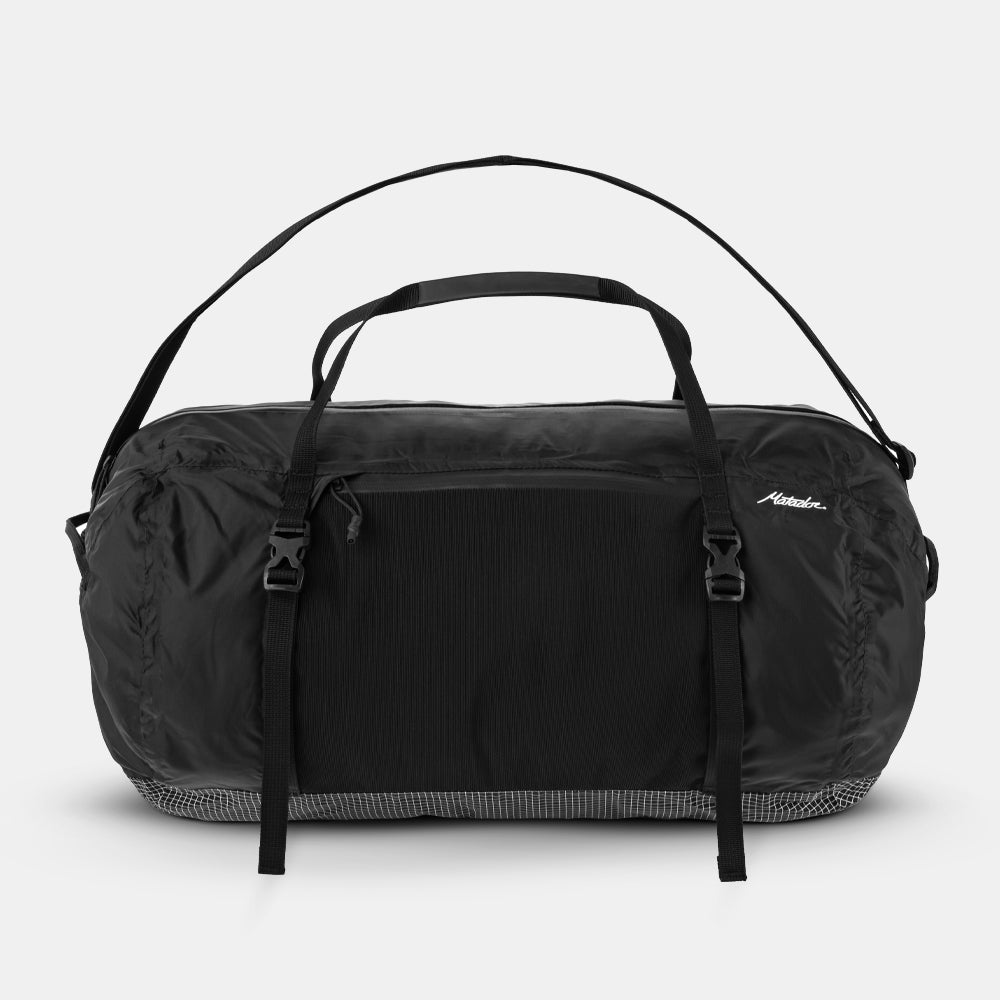 $84.99 AT MATADOR
The large black duffle bag from Matador is designed with accidents in mind. The bag features a weatherproof design with sealed seams and ample space to store all your travel supplies without the fear that your valuables will be ruined in any outdoor scenario. Plus, the sealing zippers for weatherproofing offer double protection for your items inside. You can grab the bag via the sturdy handles on the sides and ends, or put it over the shoulder with the adjustable shoulder strap.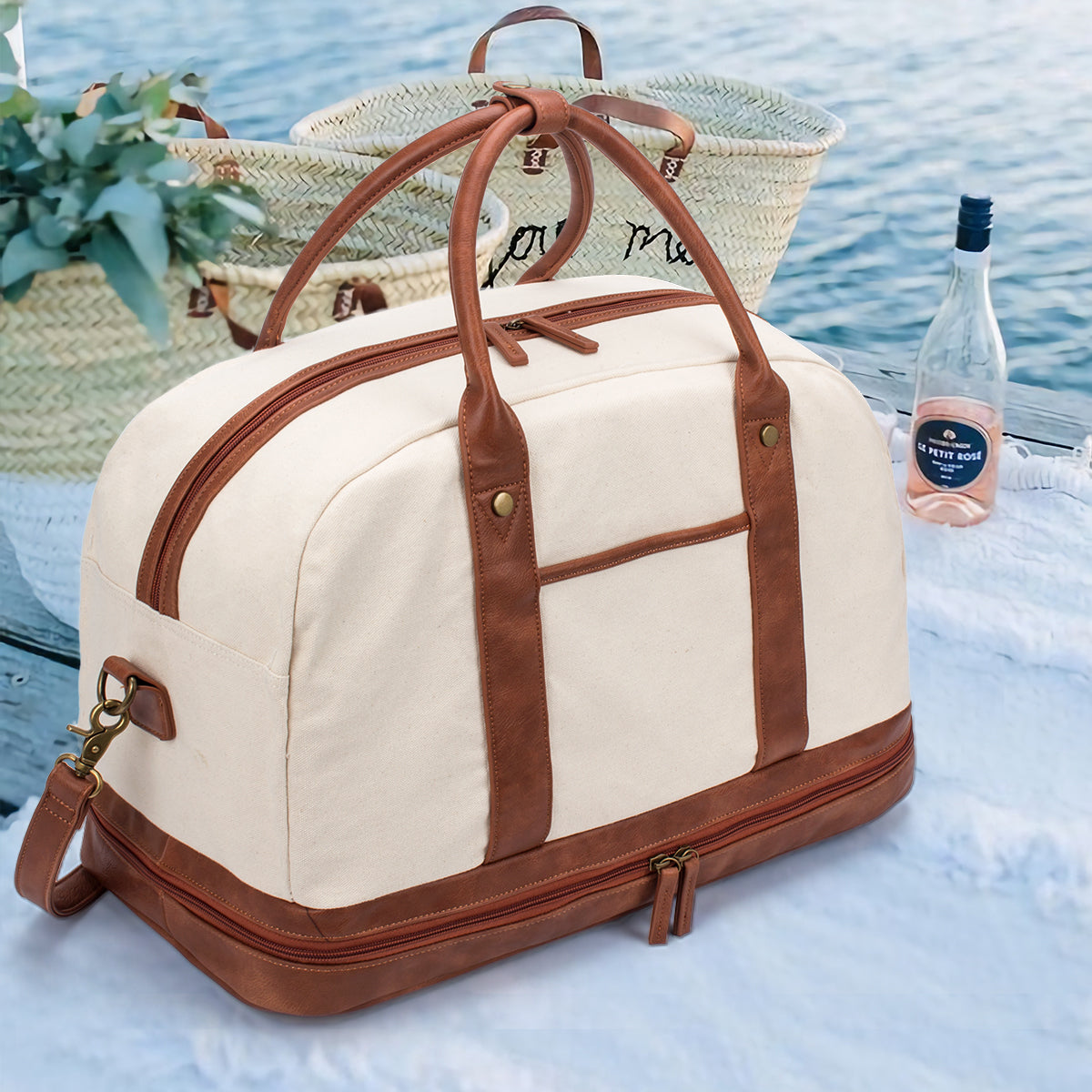 Female travelers are obsessed with this women's carry-on duffel bag, and it is not difficult to see why. Mixed with canvas and PU leather, this crossbody duffle bag comes with a spacious compartment to accommodate your clothes neatly. The zipper compartment at the bottom of the bag separates your dirty clothes or footwear to ensure other belongings are clean and spiffy. Also, it has an adjustable shoulder strap and a back trolley sleeve, which make carrying your duffel a breeze.
3. Migrate Duffel Bag 90L
$119 AT EAGLE CREEK
If you are a one-bag traveler who plans to go on a lengthier trip, consider this large athletic duffel bag. Made from 100% recycled materials, this duffel bag is eco-friendly, water-resistant, and incredibly spacious. Its ample storage with a wide-mouth opening makes it easy to throw gear into and keeps items quick and easy to access. The duffel doubles as a backpack - thanks to the tuck-away backpack straps for maximum versatility.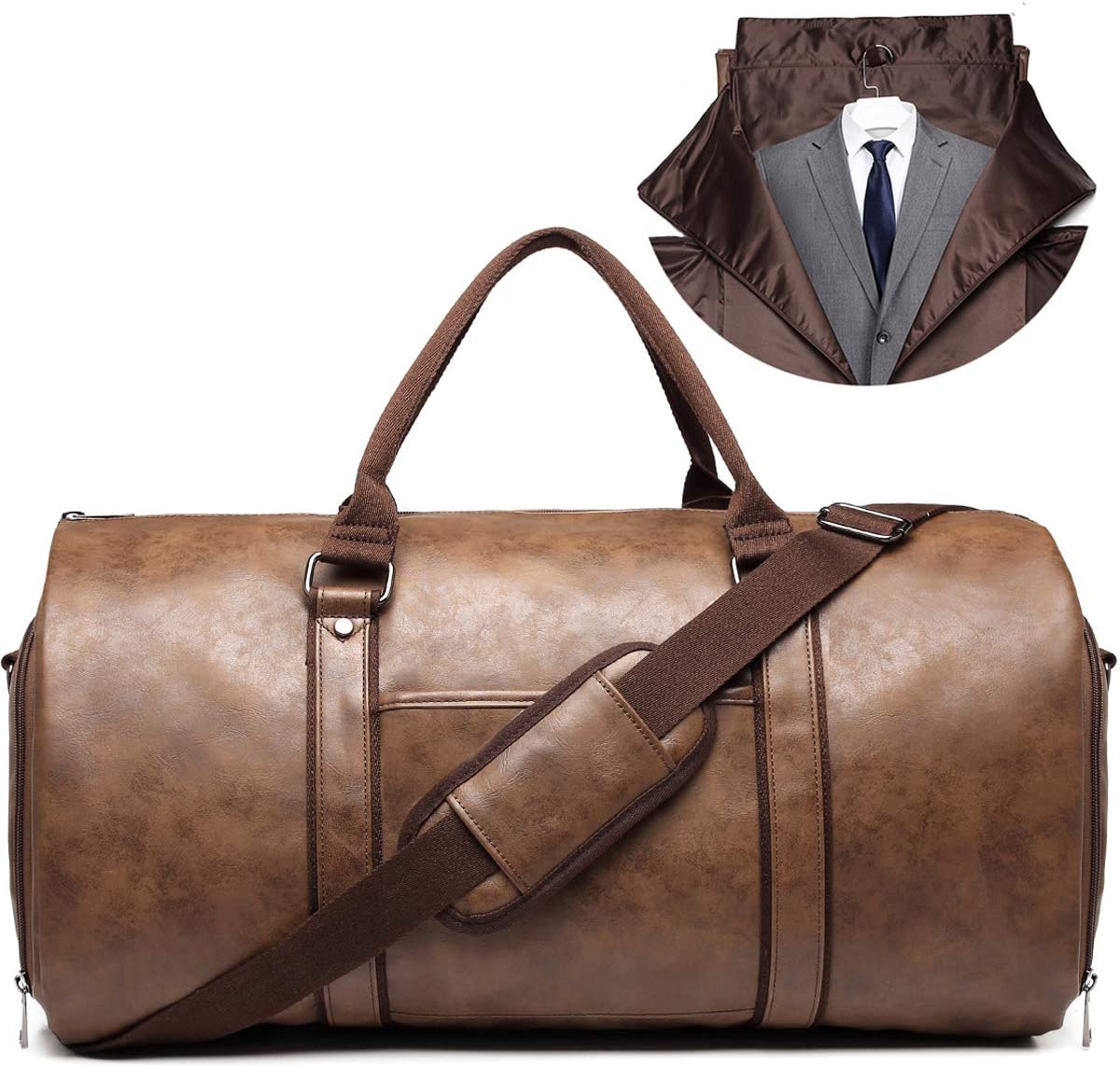 If you need to travel with your uniform and clothes and want them to stay neat clean, and well-ironed when you open your bag, what is better than a garment bag for hanging clothes? Made from waterproof and scratch-resistant leather, Bosidu Suit Storage Bag looks more luxurious than utilitarian. It has special storage that allows you to hang your suit and keep it from crumbling or destroying the underlying structure. Plenty of interior pockets hold your phone, passport, and neckties. It is an ideal companion for businessmen.
5. Stonehauler Pro 45L Duffel
$199.95 AT BLACK DIAMOND EQUIPMENT
This duffel bag with laptop compartment is a perfect go-to travel bag because it is super durable, comfortable to carry, and amazingly versatile. With two foam shoulder straps, you can wear it as a convenient backpack to free your hands when your trip involves some adventurous activities. It is packed with organizational pockets - two interior pockets, one exterior pocket, and a roomy compartment.