Office life calls for a refined and work-friendly accessory to transport all your daily basis. For some minimalists, a small mobile phone purse bag or a cross sling bag will be sufficient. But those professionals whose contents include sophisticated electronics, such as a laptop, need more than that to protect it well during commuting. There are many available vessels out there, and which one to choose from depends on your personal preference. But make sure your bag can provide you with secure storage for your valuables and documents, and is lightweight and comfortable enough so it wouldn't be a burden to your body.
Looking for a laptop bag — or a backpack requires a keen eye — that focuses on clean, crisp, and functional design, plus sharp functionality, rugged toughness, and trendy enough to take to the office. Ahead, we are sharing the four best laptop work bags at accessible prices to offer you a safe shelter for your working essentials and fashionable for social activities.
A Brief Guide to Buy the Best Laptop Bag
1. Best Overall: Waterproof Large Capacity Classy Business Tote Bags
Laptop Shoulder Bag Ladies, $39.99
Bosidu's vegan leather work bag is the well-deserved best laptop bag for daily commutes. The perfect size (16.8 × 5.8 × 13 inches) makes it incredibly spacious for storing your laptop, lunch box, and other work essentials. One of the reviews says: "It's deep so it holds a lot without making the bag look bulky. I use it as a gym bag, work/laptop bag, and a diaper bag when I'm out with my daughter." There is nothing more to be said, such a practical and versatile bag is today's winner for sure!
2. Best Backpack Work Bag: Waterproof Vintage Large Capacity Camera Backpack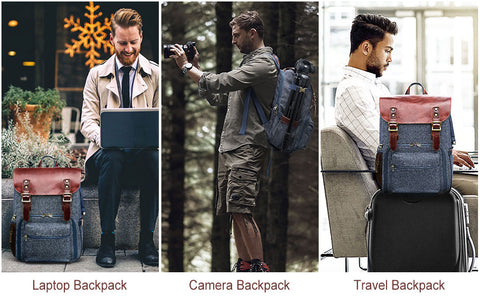 Leather Backpack Laptop Bag, $69.99
Made of genuine leather and canvas, this backpack is perfect for a casual working environment. It can be converted from a camera bag to a lightweight everyday backpack as long as you remove the inner partition when out of use. The back zipper pocket can fit a 15.6 inches laptop. You can put other files and documents into the main compartment, which is super roomy enough. It also has a protective anti-thief design to keep your stuff safe in the bag.
3. Best Stylish Budget Bag: Laptop Tote Bag Casual Briefcase Handbag for Travel, Office, School
Canvas Tote Bag for Work, $36.99
This gorgeous canvas work bag is an ideal option for those on a limited budget. It is super affordable for even students. But don't worry about the quality because it is crafted from premium canvas with PU leather trim. You have enough space for a 15.6 inches laptop, though there are multiple inner and exterior pockets for keeping you organized.
4. Best Expandable: Water-Repellent Shoulder Messenger Bag
Laptop Tote Bag, $39.99
For the businessman, a slim briefcase looks decent but doesn't have enough room for other belongings. This environment-friendly canvas laptop briefcase can solve this problem with its large compartments. It provides separate space for bulky contents, like your 17.3 inches computer, files, and notebooks, to small items, such as pens, small purses, and business cards. The expansion zipper will significantly extend the main compartment space, giving more space for your clothing and files.