Whether you're planning an extended traveling or arranging a short weekend getaway, choosing a great wash bag is a essential and vital step for your trip as it can keep your toiletries and beauty products organized and accessible. Especially for men, a hanging travel toiletry bag will be a much greater choice.
Keep reading and find out how to choose men's hanging travel toiletry bags.
Why should choose a (men) hanging travel toiletry bags ?
Convenience: The travel wash bag works well as a carry-on for most travelers. Bosidu men's toiletry bags are built specifically to be carry-on compatible, they are great for travelers who are looking to travel carry-on only and need a little help with organization. It features a ton of easy-to-access compartments that make packing for travel easier, including a outside compartment for easy access to your toiletries, and even somewhere to store your travel documents!
Portable: Carrying a travel toiletry bag (and packing light) will help you hop, skip, and jump over anything. Just pick up and go!
Backpackers don't stay at nice hotels with shuttle service to and from the airport. We go off the beaten path and that usually means there may not even be a path at all – literally. Imagine rolling a suitcase around on dirt roads, streets with gaping holes in the cement every few meters, and climbing up and down stairs at train stations lugging around a wheeled monster. It's not pretty.

Quality: Whether you're a leisure or business traveler, a great men's hanging travel toiletry bag is not only a great companion for your carry-on only adventures, but also an investment.
If you have a long hike planned and still want to feel good at the end of the day, then a hanging travel toiletry bag is a good choice and well worth it.
What should keep in a men's hanging travel toiletry bag ?
Disposable face masks

Soap and Facial cleanser

Sunblock and Hand Moisturizer

Toothbrush, toothpaste, mouth wash, dental floss

Razors and shaving products

Nail clippers and nail files

Brush and comb

Multiple sets of towels (hand towels, face clothes)

Band aid

Bug spray (only if traveling in jungles, forests, or anywhere bugs might be or malaria may be present)
Key factors to choose your travel toiletry bag
Superior Fabric: I love the lightweight ripstop fabric. It's easy to clean, repels dirt and stains, and is water resistant. 
Lightweight: Because the fabric used in a Bosidu men's hanging travel toiletry bag is so thin yet highly functional, it's also incredibly lightweight. This is super important when you're trying to pack light.
Durable: Travel backpacks like the some brand designs are pretty expensive, but the bag price of Bosidu is reasonable. The bags are also portable and can last for years, which makes sense considering long-term travelers.
Minimal Design: Bosidu has minimalist design options for people who want to "backpack" around the world without looking like a hiker. The color pallet is also minimalistic, with nice, inoffensive colors (like the subdued greys and blacks I love). But if you're looking for something a little more feminine, they have pretty but non-flashy colors, so you can show your personality but not stand out like an amateur.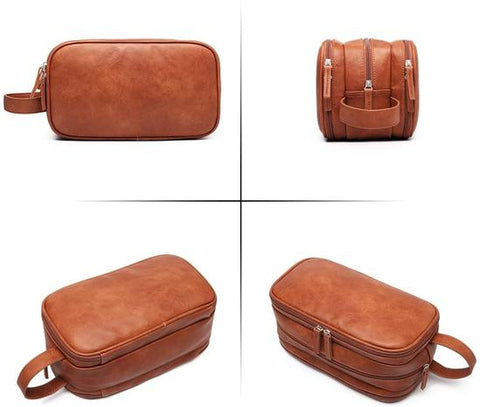 Travel tip(less is more): We made the mistake of bringing way too much stuff. It's a pain in the ass to haul around during move-in and move-out and is generally just not worth it. People often overestimate the number of clothes and number of nostalgic items they need. I promise you, it's so much nicer to just have the essentials of living with a few comfort/nostalgic/fancy things. You don't need to bring your entire shoe or book collection. Buy it here: mybosidu!