A portable cosmetic bag that your skincare essentials, favorite mascara, and the best concealer go into may be the most neglected beauty purchase. Just think about it: if you treat yourself to great makeup collections, why would you stuff all your beauty products into an old boring bag? And what's more aggravating than trying to find your favorite lipstick only to realize that you left it in the car?
A good makeup bag keeps all your beauty goodies organized and ready to grab for last-minute trips and makes life and travel a bit easier. If you are looking for a travel cosmetics bag to accommodate your prized beauty possessions, below are the four best options.
1. Hanging Travel Toiletry Bag for Women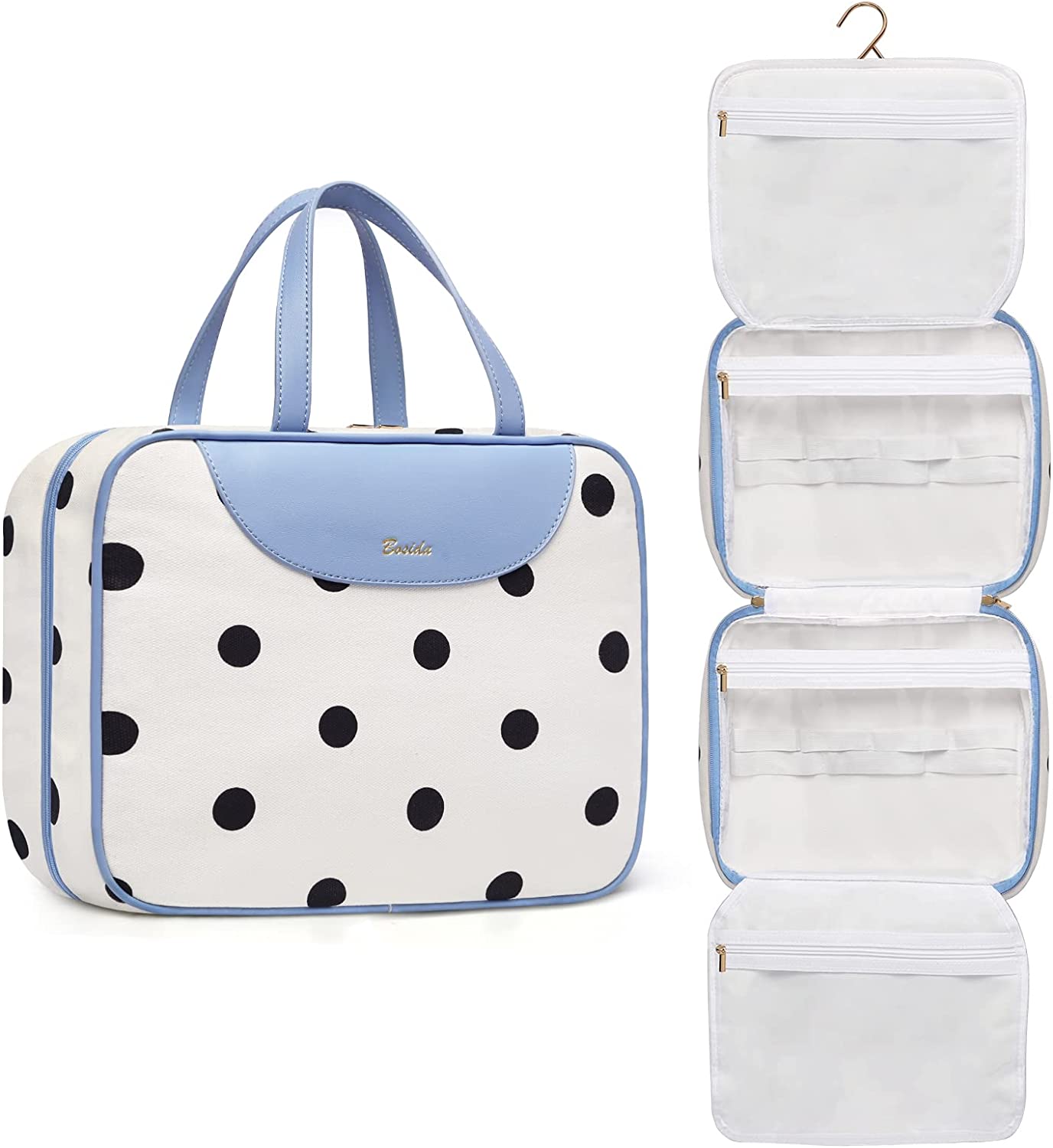 A travel hanging makeup bag will save you time and messes. Bosidu expandable cosmetic bag comes with a sturdy built-in hook, so you can open it and hang it from a towel rod or shower curtain instead of dumping out all of your makeup products into the hotel sink. It has four compartments to keep everything organized and accessible but packed down incredibly small when the bag is closed, which makes it easy to stow in your carry-on luggage.
2. Duo Vanity Case: Lilac
$80 AT ETOILE COLLECTIVE
Traveling with your liquid eyeliners, foundation bottles, and tubs of moisturizer makes some makeup lovers nervous that one bout of turbulence could break bottles and lead to catastrophic spills and leaks, but having this double-layer cosmetic bag for your products will ease your worries. Its bottom compartment contains a removable flexible divider insert to sit bottles upright and help you organize. The top section is spacious enough to hold large palettes, and a fold-out mirror is ready for your midday touch-up.
3. 4-in-1 Train Case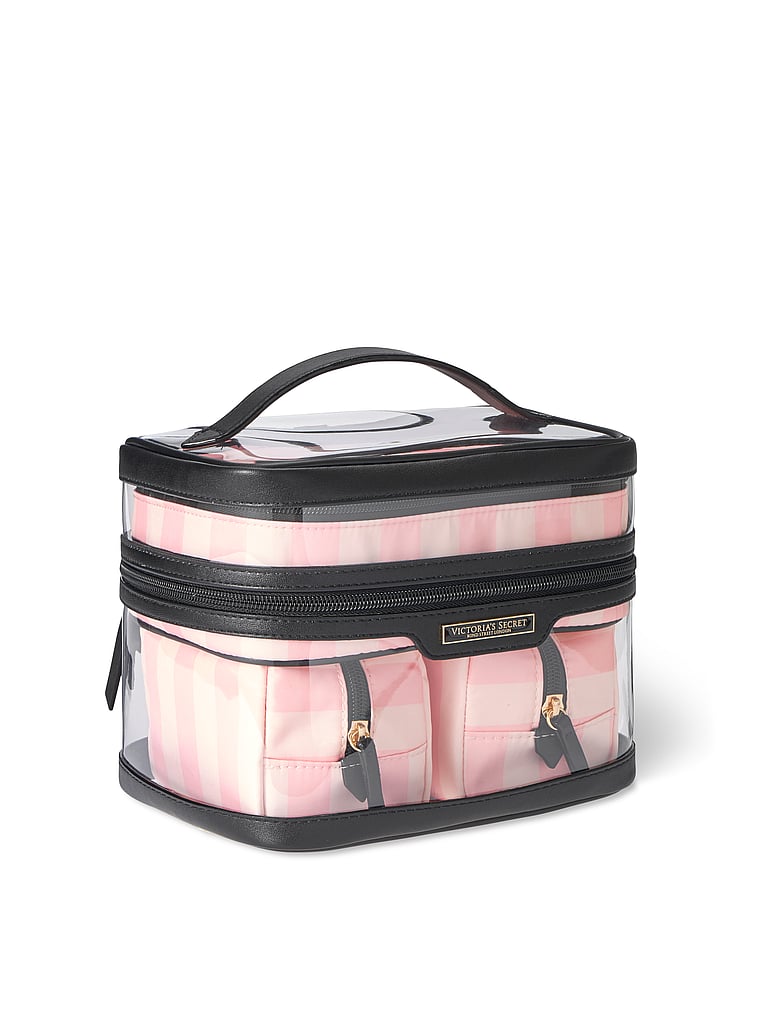 $49.95 AT VICTORIA'S SECRET
Yes, your eyes do not deceive you. For under $50, you can get four cosmetic bags for traveling! Two smaller floral lace makeup bags are perfect for most on-the-go makeup goodies and nail products. And the medium one carries anything you can fit in and need for the trip. The clear zip makeup bag organizes the three makeup pouches so you don't have to stuff them in your suitcase, or it doubles as a large cosmetic bag to store your hair products and all the intense beauty collections.
4. New Ladies Fashion Canvas Handbag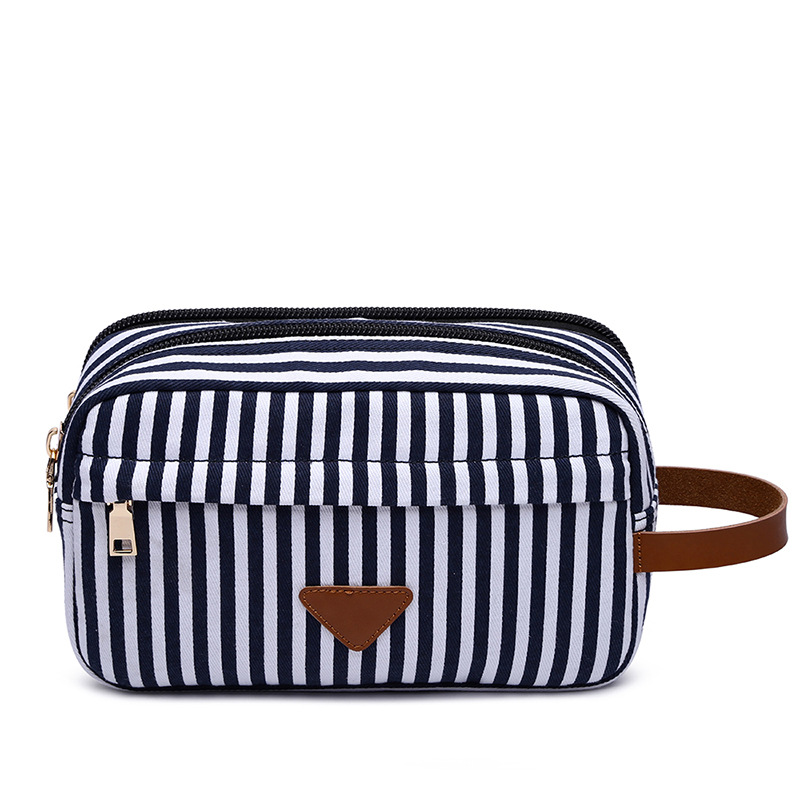 Made of top-quality and waterproof canvas, this small toiletry travel bag is rigid enough to keep all your goods safe and sound and protect toiletry items from leaking onto the rest of your luggage, yet petite enough to be slotted into a women's travel tote bag. The carry-on toiletry bag includes two different-sized compartments to easily separate makeup tools and beauty products. The sturdy PU leather handle is comfortable to tote your essentials and makes it a breeze to transport them from one place to another. For less than $30, we think it is an affordable, convenient option to take on vacation.