Whether you travel to attend a wedding or for formal events, you will need to pack a few suits at some point. However, wrinkled clothes are inevitable during the trip, whether you are a folder or roller. If you want to look yourself best and preserve overall neatness upon arrival, consider investing in a suit protector bag. It is an exponentially more comfortable way to transport your precious pieces of clothing and keep them well-maintained until you reach your hotel room. But the right one can be notoriously hard to find. To save you an excruciating amount of time, we have pulled together the five best suit storage bags to travel with you.
1. Garment Bag Tri-Fold Carry-On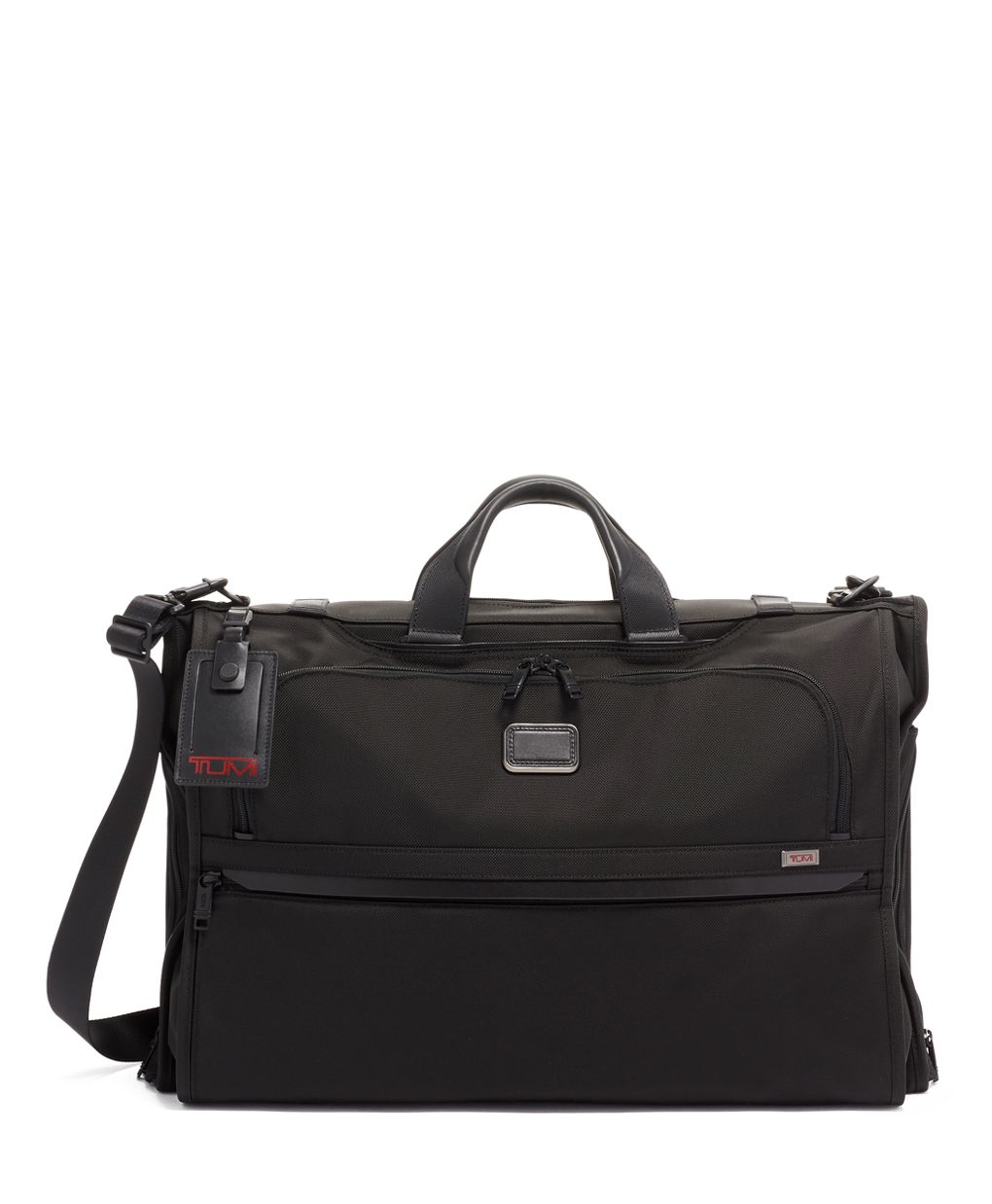 $695 AT TUMI
Dimensions: 15 × 22 × 6 inches | Material: Nylon
Features a roomy compartment with a hanger bracket, compression, and wrinkle guards, this carry-on garment bag can fit up two suits and maintain them in good condition during travel. There are also multiple interior pockets to secure other belongings. A removable padded shoulder strap gives you different carry options.
2. ExB 2.0 Ultra Valet Garment Bag
$159.99 AT SAMSONITE
Dimensions: 23 × 22 × 3.5 inches | Material: Nylon
This personalized suit bag from Samsonite has a nice mix of spacious compartments for business attire and handy pockets for accessories. You can not complain about the rugged materials because they are lightweight, abrasion-proof, and durable. It is a must-have when you have to grab and go that delivers the perfect combination of functionality and durability.
Dimensions: 21 × 12 × 12 inches | Material: Leather
There is no reason why a suit traveling bag can not also be a stylish duffel bag that shows your business style, and Bosidu's leather weekender duffel bag is the proof. The suit storage allows you to hang your apparel and keep them intact during travel. We also appreciate the separate shoe compartment where you can store your footwear without getting other stuff dirty.
4. 48" Deluxe Tri-Fold Travel Garment Bag with Three Pockets
$99.99 AT WALLYBAGS
Dimensions: 48 × 22 × 3 inches | Material: Polyester
With a WallyLock® hanger clamping system that can hold up to six hangers, Wallybags' long dress garment bag is perfect for transporting suits, uniforms, and even gowns. It also has three spacious pockets that offer extra storage for other changes of clothes and shoes. And the best part? Its tri-fold design makes it meet carry-on requirements for most airlines and is great for fitting in overhead compartments.
5. The Garment Bag
$195 AT AWAY
Dimensions: 22.5 × 3.35 × 20.5 inches | Material: Nylon with Leather
This suit protector garment bag from Away is also an ideal option for wrinkle-hating travelers. It can accommodate two to three full-length garments, shoes, and accessories. One that is always overlooked, but it can be super useful. This garment bag has an exterior secure zip pocket that is made for easy access. It could be convenient to store your passport and airline tickets and just grab them to take out instead of digging around inside your bag.