Although the pandemic may have sidelined most of your travel plans, if you are the guy who is fond of outdoor activities or even takes advantage of your lunch break to head to the gym for some workout, then you probably want to invest in a sturdy, durable, and reliable Dopp kit bag to help you organize your grooming, skincare, and hygiene products.
Keeping all your grooming essentials in place is vital, especially when you are on the move. It will act as a barrier between the mess and your clothes to protect your belonging safe and dry. Also, it makes all your stuff easy to access. You don't have to spend time rummaging through too many pockets, nooks, and crannies for a balm lip. Don't be the man that throws brushes, toothpaste, and all that kind of stuff into your suitcase or duffle weekender bag, because that would be a disaster waiting for you when you reach your destination.
The best men's travel kit bag should be roomy enough to hold everything you need to keep your skin, hair, and body in top shape throughout your trip. A small toiletry bag that allows you to see everything at a glance is better, which means you don't need a lot of pockets and compartments. And the size makes it easy to stash in your suitcase.
Pro tip: All (or let's say, most of) your contents should be travel-size. Try not to bring full-size bottles if you don't want your arms to sore.
Speaking of the material, that seems to be the most crucial factor to consider when buying a travel Dopp kit toiletry bag. Premium waterproof or water-resistant material can deal with any accidents. It ensures your Dopp kit won't be ruined by sitting on a wet countertop or splashing with water drops. The material inside is important as well. It should be wipeable and leak-proof, which is easy to clean and protect the rest of your luggage from leakage in case of any spills.
It is a bonus if your toiletry bags for travel have a sturdy handle or built-in hook. It gives you back some counter space for other stuff. And it also ensures your toiletry bag is wide open, which is convenient when you do your daily skincare routine.
5 Top Men's Travel Kit Bags You Shouldn't Miss:
Travel Kit Bag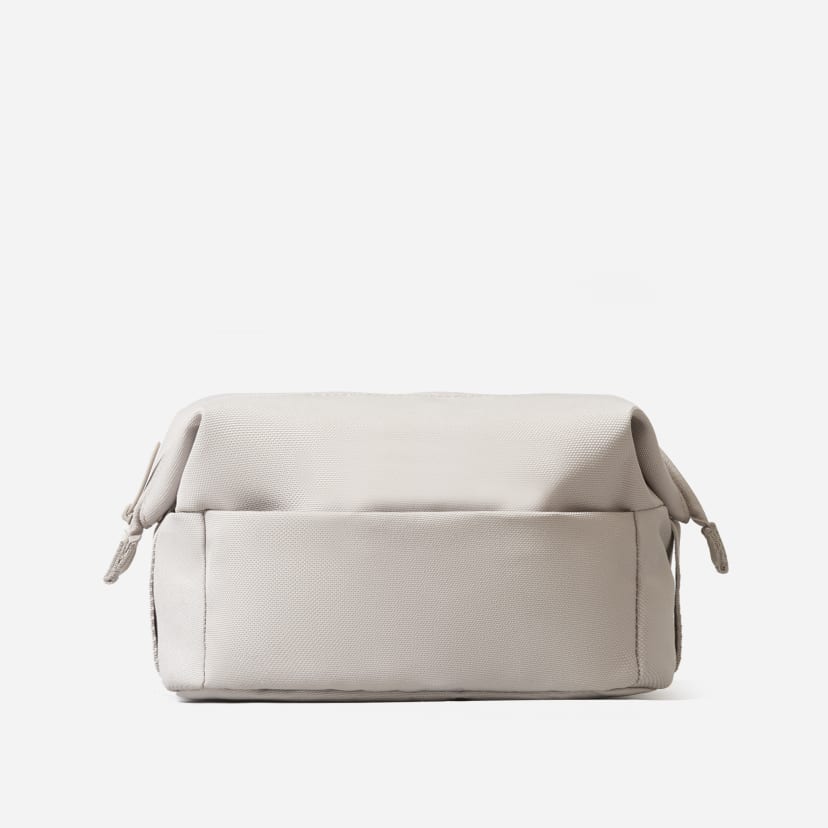 $30 AT EVERLANE
Size: 9" × 6.5" × 4.75"
Material: Recycled Polyester Lining
What We Like:
1. Small yet still offers five pockets for organizing toiletries.
2. Recycled materials are safe for the environment.
Size: 11" × 4.7" × 6.3"
Material: PU Leather
What We Like:
1. Water-resistant leather
2. The sturdy handle allows you to carry comfortably and hang up on door handles.
Hanging Toiletry Bag
$75 AT AWAY
Size: 9.6" × 3.74" × 6.6"
Material: Nylon
What We Like:
1. Mesh pockets
2. An internal small hook
Toiletry Bag with Handles
$49 AT AER
Size: 9" × 5" × 3.75"
Material: 900D Ecoya® eco-dyed polyester
What We Like:
1. Dual compartments for spacious storage
2. Side and back carry handles
Dopp Kit Bag for Men
$115 AT LEATHEROLOGY
Size: 8.9" × 4.9" × 4.7"
Material: Full-grain Leather
What We Like:
1. The water-resistant fabric prevents leaks and spills.
2. Multiple pockets and compartments