It is hard to receive any respect from your boss or clients if you walk into the office with an old, tattered work bag. And that is why we need something sophisticated, refined, and dressy to carry our work essentials. Of course, we could default to a sensible backpack or classic messenger bag, but if you don't want to look out of place in a well-tailored suit-and-tie environment, we recommend investing in a professional briefcase that will show you mean business.
Below we bring you our pick of the four best briefcases for men that are durable, commute-friendly, and super gorgeous.
1. Zip-pockets Pebbled Tote Briefcase
$89.99 AT MANGO
Dimensions: 5.75 × 1.97 × 11.81 inches | Material: Polyurethane
Simple yet efficient is the best way to describe this briefcase tote bag, which is slim, rectangular, and sized to fit a laptop up to 14.1-inch inside. Made out of 100% polyurethane, the briefcase offers multiple interior pockets to help you organize and is structured enough to stand on its own without falling over. A long strap to put it over your shoulder will not slow you down when dashing between client meetings, or you can carry it by its grab handles to avoid crumpling and destroying the shoulder of your coat.
2. Leather Laptop Briefcase 15.6 Inch Business Messenger Bag for Men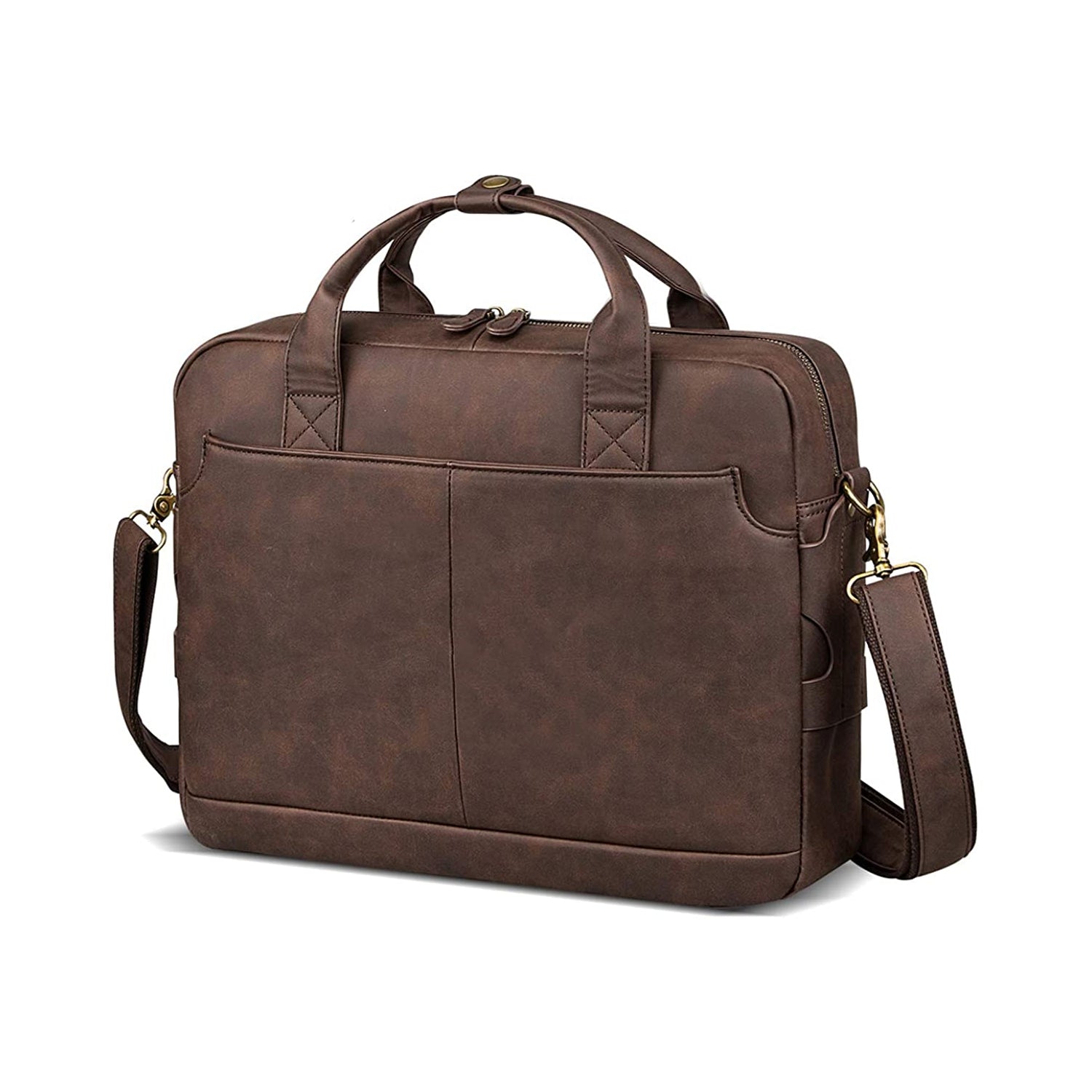 Dimensions: 16.5 × 4.5 × 13 inches | Material: Leather
For those guys who have a strict workplace dress code and need a good-looking briefcase that pairs well with their business casual, try this Bosidu waterproof briefcase. The bag uses premium leather to ensure quality and durability but still gives off casual, functional vibes. The waterproof leather protects your laptop and papers whenever you need to bring them out. A back trolley sleeve frees your hands when you're plane-hopping in the name of business. And plenty of rooms and pockets bring you loads of space for all your work essentials.
3. Leather Briefcases for Men 15.6 Inch Business Computer Bag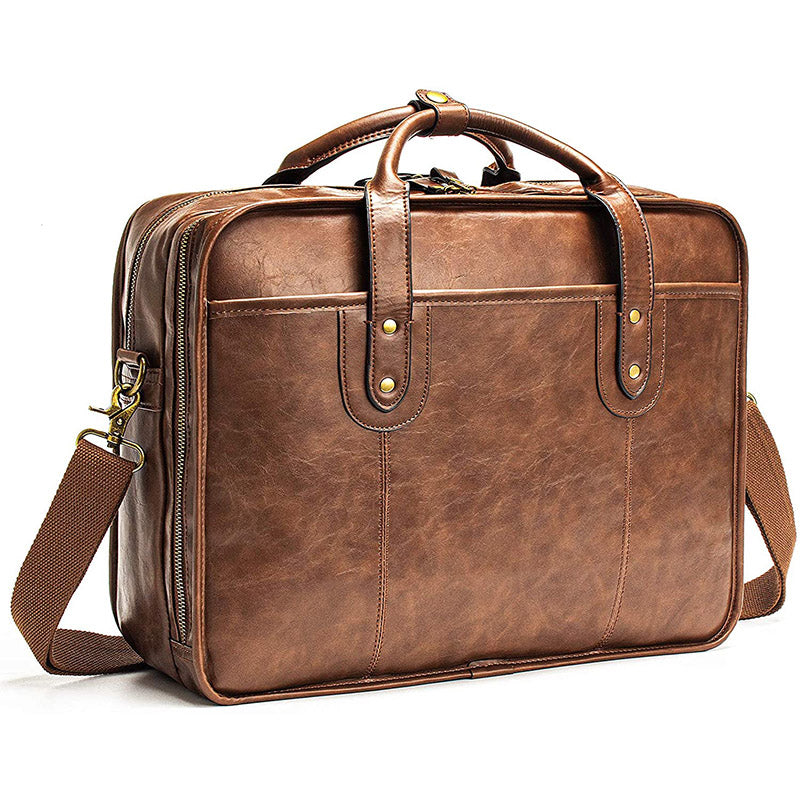 Dimensions: 17.5 × 3 × 14 inches | Material: Leather
It is critical to match the color to your shoes or belt. If you usually wear brown shoes, you should go for a brown briefcase. This briefcase laptop bag has a nice mix of large and small spaces for storing your daily essentials without much fuss, including two spacious main compartments, one front pocket, and one back zipper pocket. Also, it comes with a shoulder strap that you can detach when not in use.
4. Leather Briefcase in Black
$330 AT REISS
Dimensions: 11.02 × 15.94 × 3.15 inches | Material: Leather
The leather briefcase travel bag has every function you'd need for transporting your work essentials. It features comfortable shorter handles, an adjustable and removable shoulder strap, secure zip closure, and spacious compartments. With a clean, minimalist shape, it is fit to pair with your sharpest suits and will improve your back-and-forth office trips.