In the inimitable words of Blink 182, "work sucks, I know." Or maybe you love your job (we hope you do), but let's be honest: After five consecutive days of nine to five work, we urgently need to "recharge" our tired bodies at the weekend. This could be watching a long-awaited movie on a lazy afternoon or a relaxing girls' talk, but there is nothing better than an impromptu Saturday-to-Sunday getaway. From hikes in the woods to stays at fun-filled resorts, there are so many options for weekend getaways without making detailed travel guides and staring longingly at flights and hotels.
Before you embark on your next thrilling adventure, do yourself a favor to ensure your every travel supply is ready, including a duffel weekender bag. Is your old one worn out and ends up gathering dust at the back of your wardrobe? Then, treat yourself to a new female duffel bag to bring along that will make your life on the go easier.
So, without further ado, we have cherry-picked five nice women's duffel bags, keep scrolling and get ready for your next trip.
1. Black Travel Duffle Weekender Bag for Women with Trolley Sleeve
Dimensions: 21 × 9.4 × 11.8 inches | Material: Canvas, PU Leather
This large athletic duffel bag from Bosidu is worth every penny. It features spacious storage, a removable padded shoulder strap, and a trolley sleeve. We appreciate the water-resistant canvas material, meaning you can lug this through all sorts of weather and travel activities without it or your items inside getting ruined.
2. Large Summer Weekend Duffel-handbag
$153.98 AT S-ZONE
Dimensions: 19.7 × 5.9 × 9.8 inches | Material: Genuine Leather
Do not let this attractive handbag travel bag fool you: This weekend duffel handbag is designed with the perfect balance between style and functionality. It brings you loads of space within soft genuine leather. The long strap is detachable, so you can convert the bag to a tote bag for daily use.
3. Go-Bag— Mini (32L)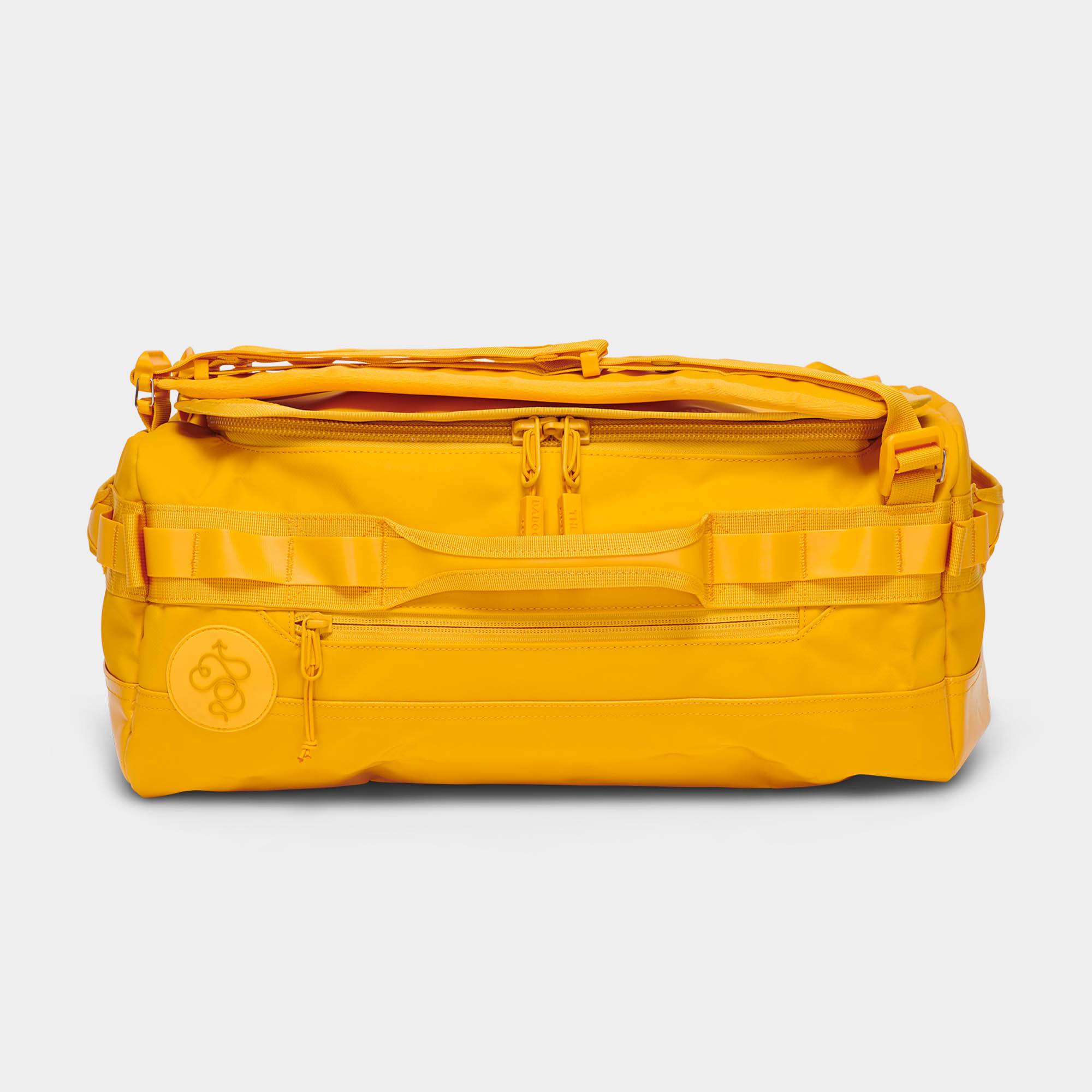 $159 AT BABOON TO THE MOON
Dimensions: 9.5 × 18.5 × 12 inches | Material: PVC Fabric, Polyester
Designed for overnights and short weekend getaways, this duffel bag organizer is an ideal choice for short trips. It is spacious, waterproof, and durable. You can carry it with its briefcase handles or backpack straps. It comes in more than 10 vivid colors and prints.
4. Canvas Overnight Large Travel Bags with Shoe Compartment(Blue Striped)
Dimensions: 19 × 13 × 9.5 inches | Material: Canvas, PU Leather
Bosidu is always committing to making life easier and travel more convenient. This women's carry-on duffel bag comes with a zipper shoe compartment at the bottom of the bag, so you never have to worry about getting dirt or odors on your clothing and other belongings after a weekend of travel. We also love its waterproof material, protective bottom metal feet, and adjustable strap.
5. Hue Laptop Duffel
$168 AT CALPAK
Dimensions: 18 × 10 × 9.5 inches | Material: PU Leather, Polyester
Want to travel with your laptop and need something to protect it during the trip? This computer duffel bag with a padded laptop pocket is your lifesaver! With a capacious main compartment and multiple interior pockets, the bag will be a favorite for frequent travelers. It is also a great option for the gym, business travel, and beyond.