Whether it is a romantic country wedding or an expedition you are venturing for a weekend break, you will likely need an organizer travel bag that is spacious enough to stow all your travel supplies and look super chic in the process, regardless of the final destination.
A duffle weekender bag is an essential part of your grab-and-go bag wardrobe since whether it has wheels or detachable shoulder straps, it is always a durable, lightweight, and roomy option to pack plenty of things and is comfortable to lug around.
The head-scratching feeling of not knowing which one to choose when facing millions (approximately) of options available can be frustrating, but we are here to help you out. Keep reading to check them all out and snag the one you can't wait to fill up.
Duffel Bag Packable Weekender Overnight Bag with Wet Pocket Shoe Compartment
Dimensions: 15.8 × 8.7 × 12.6 inches | Material: Oxford
With a thoughtful compartment for shoes and a pocket to separate dry and wet items, there is no sacrificing function for style with this packable weekender bag by Bosidu.
Lorenzo - Travel Bag in Vintage Cowhide Leather Color Natural - BDU010
$1,075 AT IL BISONTE
Dimensions: 16.54 × 11.81 × 9.45 inches | Material: Vintage Cowhide Leather
Ease your nerves when traveling for a really important business meeting, and leave a good impression with the help of this leather weekender duffel bag. Its vintage style and premium material will surely accompany you for years.
Classic Duffle Bag
$208 AT STONEY CLOVER LANE
Dimensions: 12 × 22 × 8.5 inches | Material: Nylon
Available in twenty stunning colors (including three seasonal colors), this female duffle bag from Stoney Clover Lane brings you loads of space and immediately elevates your outfits no matter what your style.
Firenze 22" Cargo Duffle Bag - Cream
$650 AT BRIC'S
Dimensions: 13 × 22 × 10 inches | Material: Polyester
Handcrafted from 100% polyester with vegetable tanned leather trimmings, this nice women's duffle bag is sturdy, waterproof, and extremely spacious. This bag is ready for an overnight jaunt or a relaxing road trip.
Large Travel Canvas Tote Duffel Bag With Shoe Compartment for Women (Brown Leopard)

Dimensions: 19 × 13 × 9.5 inches | Material: Canvas, PU Leather
Leopard print is a timeless classic, and it also can go with basically all outfits. The clever compartment for footwear and a detachable, adjustable shoulder strap make it ready for any trip.
Catalina Deluxe
$150.5 AT LO AND SONS
Dimensions: 18 × 8.5 × 16 inches (Small) | Material: Canvas
This duffel bag organizer is made of soft, light, and flexible canvas that makes it easy and comfortable to carry everything you can imagine — gym attire, toiletries, a worth of clothing, etc.
The Monogram Duffle Bag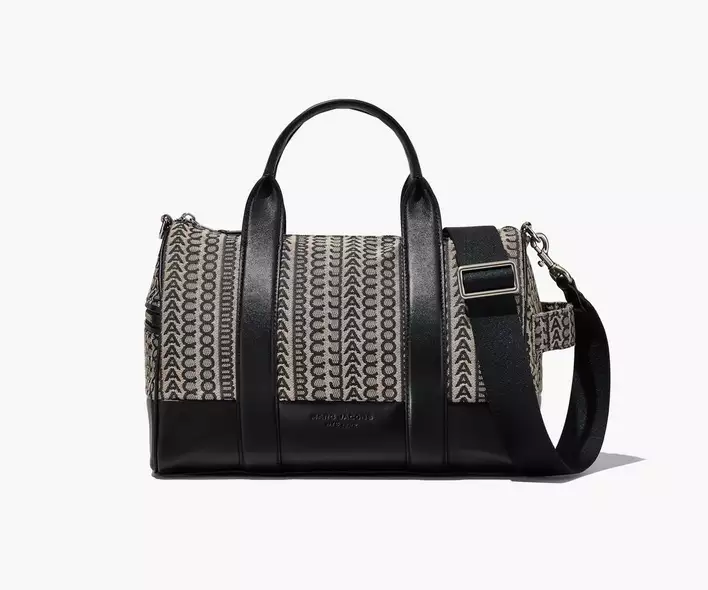 $395 AT MARC JACOBS
Dimensions: 12 × 7 × 8 inches | Material: Woven Jacquard, Leather
This duffle shoulder bag from Marc Jacobs is well-designed, roomy, and as elegant as it is practical: there are multiple pockets to store all your belongings but will not cramp your style.