Anyone who keeps daily workouts on track to relax stress intrinsically and extrinsically — whether attending a group fitness class, visiting the local gym, or doing outdoor exercise, knows how crucial a great gym bag is. And the gym bag needs to do only one thing: hold stuff. Because unlike the tote bag you carry for work, the best gym bag is designed to make life easier and more convenient, which can be reflected in a separate compartment to store your sneaker, a waterproof pocket for your iPod and cell phone, or dry and wet storage to separate wet towels and sweaty gym clothes. The best sports gym bag should accommodate all your workout ensembles but also works great on your commute from the office to the gym. If you are looking for such a bag for your daily routines, we round up four of the best travel gym bag which will improve your commute to the office, gym, and beyond.
1. Medium Metro Tote Deluxe
$275 AT MZ WALLACE
Dimensions: 11.6 × 9.4 × 12.7 inches | Material: REC Oxford, Leather
There is no doubt this sports tote bag is a worthwhile investment. This bag is sturdy, lightweight, and travel-friendly thanks to the lightweight technical fabric.
Its main compartment is capacious enough to fit a 13 inches laptop. This bag features six interior pockets, one detachable pouch, and a comfortable crossbody strap, making it ready for your work-to-gym routine or an overnight jaunt.
2. 4-Way Gym Sports Duffle Bags with Shoe Compartment & Wet Pocket for Men
Dimensions: 22 × 11.4 × 11.4 inches | Material: Polyester
This large gym duffel bag is a low-cost option yet gives you an absolute surprise. With a capacity of up to 50L, it is spacious enough for an impromptu spelunking trip, let alone the commute from the office to the gym.
It features a nice mix of multiple interior and exterior pockets for storing your gym clothes, a small toiletry bag, and a water bottle. And the separated shoe compartment with two air venting holes prevents dirt, dust, and odors.
You can carry it as a tote, backpack, or crossbody bag.
3. Legacy Duffel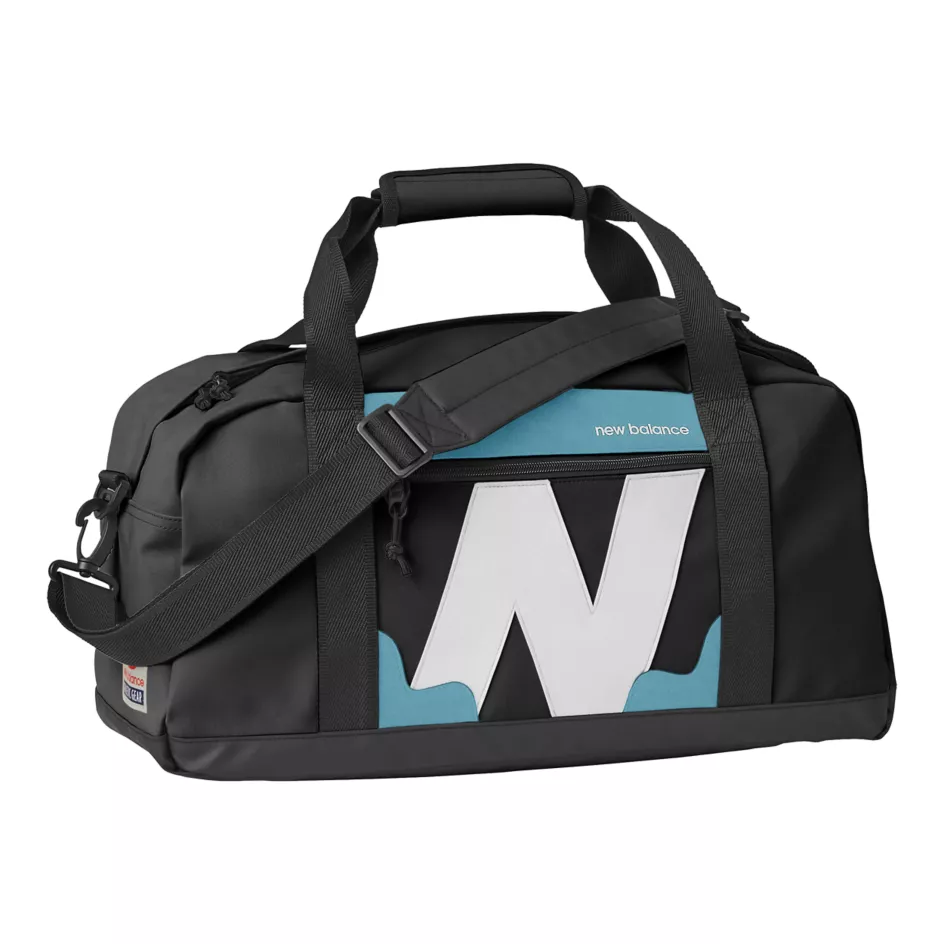 $69.99 AT NEW BALANCE
Dimensions: 9.65 × 19.29 × 9.06 inches | Material: Polyurethane
If you need a duffle gym bag to take you everywhere from work to a quick class, then this New Balance duffel bag is it. A clean, minimalist shape meets sports style, this bag will surely get you plenty of compliments.
It is built from sturdy, premium materials with embossed PU materials, which means it is bound to last you many years with proper care.
4. Women Weekend Bag with Shoe Compartment & Wet Pocket (Pink)
Dimensions: 17.70 × 9 × 12.90 inches | Material: Oxford
Do you want a sports gear bag that can tote around your change of clothes and all the essentials but also looks good to head from one point to another? Bosidu's sports tote bag is for you.
It comes with a large compartment and lots of small pockets to hold and safely separate your essentials. The water-resistant materials feature nicely to keep what's inside safe and dry.