It seems like we can work anywhere because laptops or other working devices can be easily carried in bags in modern society. No wonder laptop bags have become a crucial element in an individual's daily business life. However, there are millions of options out there offered by different brands, making choosing the best laptop bag requires much thought and research. Unfortunately, we can't simply tell you which bag is the BEST to choose from through a bunch of them. Because everyone has their views on the "best". Therefore, what I mean by the title is that we try our best to recommend you various laptop bags so that you can pick one of them in accordance with your different needs and unique preferences.
What can You Expect from a Laptop Bag?
Of course, according to the literal meaning of "laptop bags", the most obvious and extensive use of it is to hold a laptop. Is the laptop bag useless except for transporting the laptop from one place to another then? The answer is certainly NO! Generally, laptop bags include the main compartment and interior pockets to keep every stuff organized, which means it has enough room to pack in clothes for an overnight trip or you can use it as a maternity bag to shove all your baby stuff into the bag. It's quite versatile and practical to use on different occasions.
The Best Laptop Tote Bag Recommendations are as Below:
1. Large Capacity Canvas Waterproof Laptop Tote Bag for Women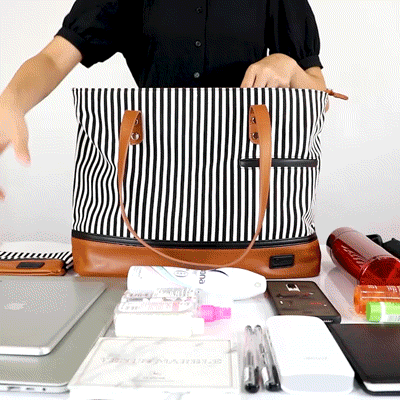 This large laptop bag for women is quite popular among office ladies because it resembles a large-size tote bag. It comes with plenty of compartments and pockets for all your belongings. And it is made of premium PU leather and canvas fabric to keep your valuables from damage. This package includes a laptop bag and a small purse.
2. Water Resistant Canvas Women Briefcase for Work, Business, Travel (Pink)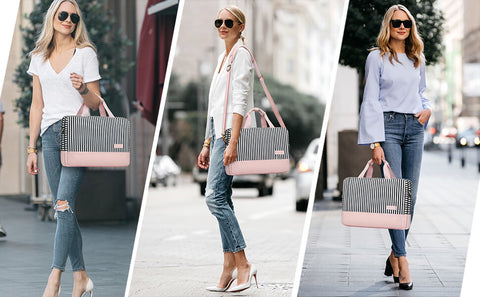 This pink laptop tote bag can be styled with various ensembles and give a classy finish to any formal outfit. If you are looking for a 2-in-1 bag to accommodate your laptop, clothes, or other toiletries, this bag is a great choice. It has a removable and adjustable padded shoulder strap to allow you to be hand free, in which case you don't feel like it's weighing you down. Most importantly, it provides extra protection for laptops and other gadgets with EVA foam. An ideal bag for students, teachers, and colleagues.
3. Water-proof Large Canvas Work Tote Bags for Women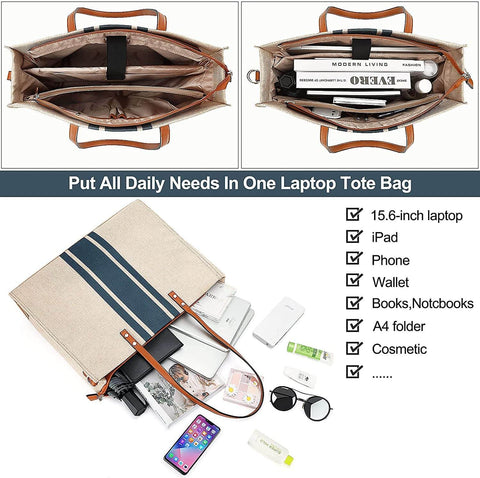 This laptop tote bag features a minimalist but elegant design. Whether you are looking for the best laptop bags for business travel or daily commuting, trust me, you wouldn't want to miss this bag that will offer your stuff optimum protection. It comes in a suitable size which means that it can hold all your daily supplies. It is comfortable to carry all day long thanks to the soft leather handle. Where this bag really excels is in organizing a lot of large and small items, saving your time from rummaging through too many pockets.
If you are looking for more versatile laptop computer bags for women that are light, durable, and stylish to travel with, check out BOSIDU. I believe you will find your best option here. Contact us if needed.