From the very first day of establishment, the core vision of Bosidu is to help you express yourself. We respect every passion and interest, therefore we appreciate your uniqueness. From toiletry bags to duffel bags, there is always one for you to help express yourself with confidence and authenticity. And we believe all the bags we offer can help you get to a place where you can be comfortable with yourself.
But you can always find something in common when it comes to good bags. Despite of the variety of style, texture, and capacity, we recommend this waterproof toiletry bag for travel to you.
Whether you are planning a quick weekend getaway, family vacation, honeymoon, or road trip, you need a way to transport your bathroom toiletries. The picks differ for a variety of travelers: a versatile bag for most travel situations, a luxury leather bag, a toiletry bag with loads of organizational compartments, an open-style toiletry bag with plenty of space, and a compact hanging bag for light travelers.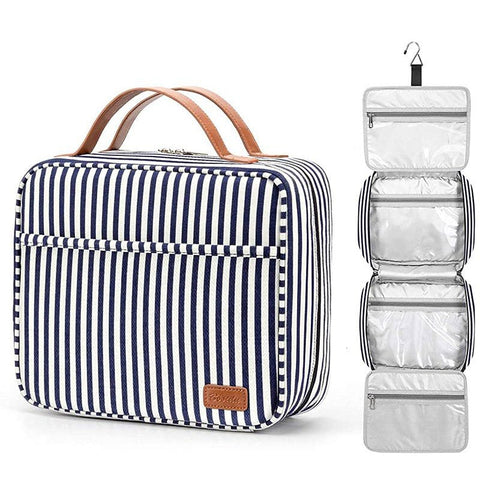 The most popular choice: 
Large Waterproof Fashionable Striped Travel Toiletry Bag for Women - a versatile bag for both long and short trips.
Though it's not the top-end bag for every type of trip, the Large Waterproof Fashionable Striped Travel Toiletry Bag for Women is a good option for more scenarios than any other common bag. It's also a great choice for travelers who need a versatile bag that can hold enough for long trips as well as keep small, travel-size items organized.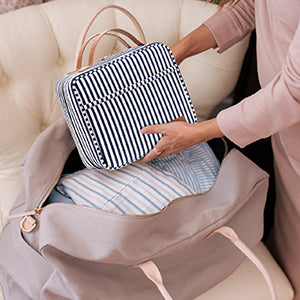 This bag with a large capacity can be used to stash anything from your makeup must-haves to travel-size toiletries. It unzips flat like an open scroll (11.4 by 35 inches) instead of simply opening at the top, like a traditional brick-shaped toiletry bag. While the compact design will also come in handy when you need to pack it into a backpack or suitcase. We love that you can easily unsnap it to drop it into a carry-on bag or for an overnight trip. To keep your gear organized, there are four interior main compartments and an extra front zipper pocket for your toiletries and cosmetics in total.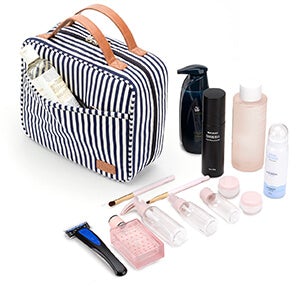 Furthermore, the hook design makes it perfect when the countertop is not big enough. It does not only save space but also makes it super easy to grab whatever you need in the bag when it's hung on the doorknob, towel rack, or coat hook. Even used in the shower room, the water-resistant canvas fabric material will save you from wet bottles and ensure long service life. No need to worry even if the bottle gets wet, the waterproof interior PVC pockets will keep different items separated and organized.
With a brief look at the bag, you may find this waterproof toiletry bag for travel is almost perfect for most people. Or maybe it's a lack of uniqueness for you? Check what we have here at Bosidu and get the one that express yourself to the fullest.