Have so many things you want to bring with you but only find that your bag is not roomy enough to hold everything in? I believe most of you (especially those who love traveling around the world) might have experienced this dilemma. If so, then it's time for you to buy a new bag that will meet all your needs. The wonderful summer is coming, stop struggling with which bag you should choose. Trust me, you are going to love the following travel duffel bags I recommend to you.
Personalized Travel Bags for Women
Ladies always find it annoying while packing their luggage. Because they have too much stuff to pack into the bag, like make-up products, skincare, toiletries, accessories, you name it. Also, they are strict with the style of their bags. Since they think a bag should match their outfits because it shows their taste to others. So, having versatile and personalized travel duffel bags is vital for women.
1. Fashion Large-Capacity Canvas Travel Duffel Weekender Bag for Women
It is so versatile that it can be used on different occasions, like commuting, business travel, or camping. And the best part? It comes with an adjustable shoulder strap to make you carry it with ease. There are 6 different colors to choose from. You can pick one following your fashion style.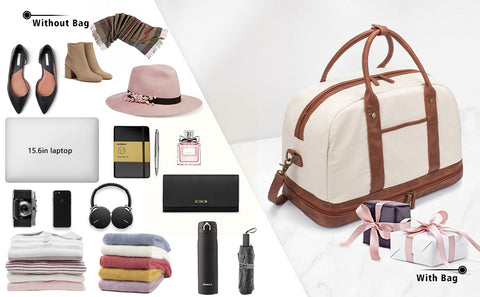 2. Zebra Stripe Travel Duffel Bag For Ladies
This stylish travel bag for women is made of durable water-resistant canvas and PU leather, tear-resistant, and easy to clean. It helps you organize all your must-haves with a large capacity. Don't worry about the weight after packing your luggage because it is equipped with a wide sturdy shoulder strap and a cushion cover to help reduce the pain in your shoulder.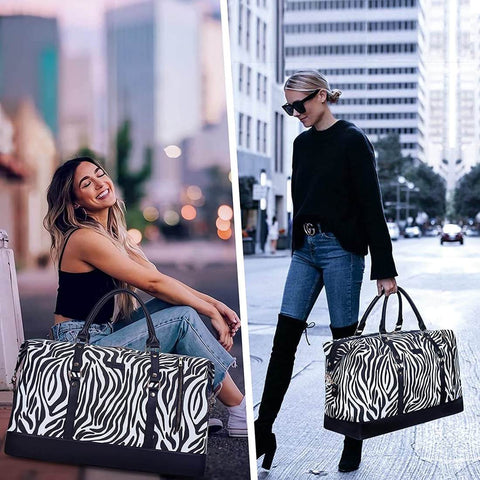 3. Ladies Printing Weekender Bag Overnight Carry-on Duffel
I have to recommend this bag to you for its glorious floral printing. It has one interior main compartment, interior zipper pocket, interior compartments, side zipper pockets, side pocket, and back zipper pocket, which means that you can not only put your clothing into its large compartment but also can store your tiny things (lipsticks, nail clippers, keys, etc.) into the pockets safely. It comes in 8 more different colors.
Travel Duffel Bags for Men
Imagine that if you or your husband is going to have a business journey for a few days, and the travel duffel bag is so small that makes all the uniforms and clothes crumple, wouldn't that will leave a bad impression on others? The following bags will perfectly solve these problems.
1. Large PU Leather Carry on Shoulder Duffle Bag
It is without saying that it can be used as a travel bag, weekender overnight bag, or beach bag. What I want to emphasize is that its large capacity design provides enough storage space to allow holding all necessities and accessories. It is comfortable to carry on and doesn't burden your shoulder. It is absolutely a great present for your husband, teenage son, or your dad due to its timeless design.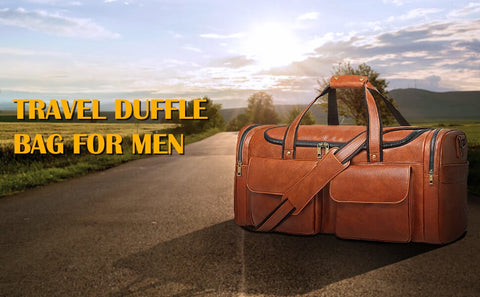 2. Large Capacity Carryon Gym Duffel Bag
This durable travel duffel bag for men is made of top genuine layer leather and retro waterproof canvas. It includes a detachable shoulder strap, so it can be a shoulder bag if you need it. I have to mention that there is one shoe compartment designed to separate your shoes from clean clothes. No more smell and dust on the clothes again!