You are thrilled about your upcoming vacation, and the best recreation to spend your holiday is no doubt to travel, whether a quick weekend escape or a long trip over the world.
The first step to plan your trip is budgeting. It is vital if you don't want to run out of money halfway through the trip. For transportation, activities, hotels, and food, you need to set a budget that is as detailed as possible to ensure everything is under your control. I know it is hard for those travelers who don't like to do research and plan in advance. But trust me, this process will make your trip closer to reality and give you peace of mind without much stress during the trip.
With outfits, activities, and meals all planned, then you think of your same old plain organizer travel bag. Don't make it a buzzkill. Here is a list of inexpensive travel bags that suit every budget and style.
The Best Affordable Travel Bags:
Large Leather Carry on Shoulder Duffle Bag
Dimensions: 22.05 × 11.42 × 12.6 inches | Material: PU Leather
What We Like:
1. Separate shoe compartment
2. Waterproof, durable, and tear-resistant faux leather
Can you believe it? You can get a refined leather bag for under $100. Bosidu's leather weekender duffel bag is a must-have that can show your men's fashion style. The large capacity can accommodate supplies for three to five days. The separate shoe storage and a wet pocket keep your belongings clean and dry.
Hardside Carry On Spinner Suitcase - Made By Design™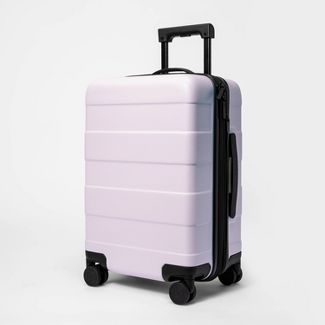 $90 AT TARGET
Dimensions: 21.75 × 14.25 × 9 inches | Material: Polycarbonate, ABS
What We Like:
1. Lightweight
2. Expandable design
Rolling suitcases are the most common and traditional luggage that you can see most people pulling behind them at an airport. With a mesh pocket, zippered compartment, and cross straps, Target's hard-side luggage helps you compress your stuff for efficient packing. It is made from polycarbonate and ABS, which are durable, lightweight, and strong.
4-Way Gym Sports Duffle Bags with Shoe Compartment & Wet Pocket for Men
Dimensions: 22 × 11.4 × 11.4 inches | Material: Polyester
What We Like:
1. Large capacity (50L)
2. Four options to carry it
3. Plenty of compartments and pockets
If you are an adventurer and want to embark on a multiple-day journey, a 50L or large backpack is an informed choice. This men's backpack travel bag features two backpack straps that can be hidden, one detachable shoulder strap, and a sturdy handle, giving you more carry options. It has three compartments and eight pockets to keep you from mess and chaos.
Xenon 3.0 Small Backpack
$72.99 AT SAMSONITE
Dimensions: 15.5 × 10.5 × 5 inches | Material: Polyester
What We Like:
1. Three large zipper compartments
2. A laptop compartment
Heading to a new place and want to travel with your laptop to keep the information updated? You need a travel laptop backpack to protect your devices. Samsonite's small backpack work bag has a modern, contemporary silhouette. It features a laptop compartment that can fit a 13 inches laptop. A back trolley sleeve can slide over the luggage handle to help you transport it effortlessly. If you plan to have an urban trip or need to travel for work, this backpack will be your best companion.