Whether you tend to travel light or embark on a multi-day excursion aboard, toiletries are an indispensable item on your packing list. But simply throwing those liquids, creams, and pastes into your travel bag haphazardly will surely make a mess of things. After all, you will never want to reach the destination but only to find that your shampoo bottle leaks all over the clean clothes on day one of your trip, right? And that's why you need a travel toiletry bag to transport them.
If you are still using the old beauty kit, it is time to change for something well-designed, delicate, and aesthetically pleasing. From mini toiletry bags for further embracing the minimalist lifestyle to the best large toiletry bags with different pockets for legit everything, we've pulled together a list of the top toiletry bags based on consumer reviews.
Our Top Picks for the Best Toiletry Bags in 2022:
1. Large Capacity Waterproof Travel Toiletry Bag
Choose this small men's travel toiletry bag if you want something of high quality. It is compact enough, so it is easy to fit plenty of grooming products. And some travel-sized bottles, toothbrushes, and toothpaste can place in order in the two-sided storage.
2. Build Your 6
$76 AT CADENCE
If you are a one bagger and need something that can really cut down on space in your luggage, this is what you are looking for. It has six reusable, small containers to decant toiletries. Each body, top, and tile is magnetic, so it clings to the other capsules, which helps carry everything together.
3. Personal Organizer Toiletry Bag, Medium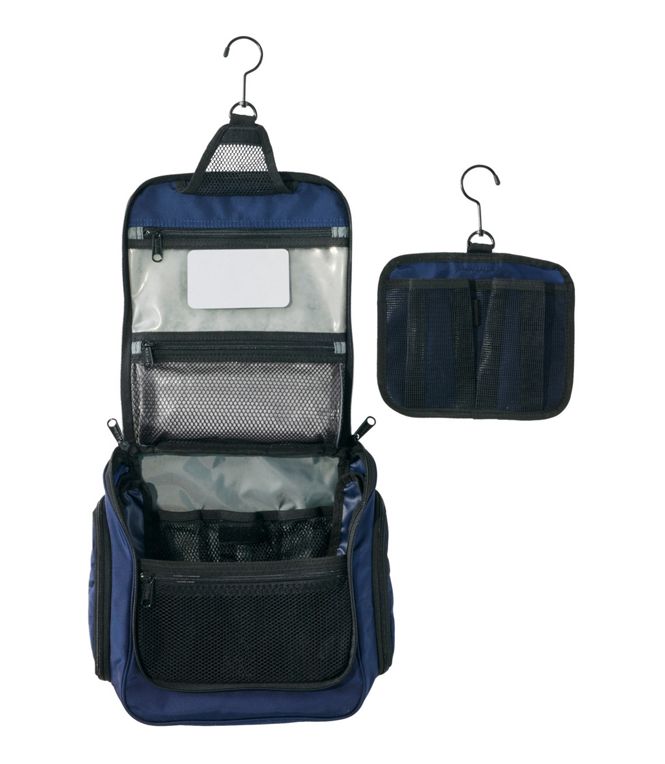 $34.95 AT L.L.BEAN
Who doesn't love the convenience of a hanging toiletry bag? This one comes with a built-in hook that allows you to keep it wide-open and hang it anywhere for easy access. With 6 liters of capacity, L.L.Bean's large toiletry bag has multiple interior compartments and mesh pockets to store your full skincare routine and favorite hair products.
4. Small Casual Ladies Waterproof Canvas Toiletry Bag
This toiletry tote bag from Bosidu is cute, super practical, and sturdy. It has two front pockets, one back pocket, and two side pockets. Inside the bigger front pocket are two mesh pockets and brush holders, where you can keep your toothbrush and makeup tools separate from other stuff.
5. WASH POUCH
$59.95 AT PEAK DESIGN
With the perfect balance between elegant simplicity and thoughtful functionality, it comes in a network of interior mesh pockets, a zippered pocket, and a magnetically-sealed toothbrush pocket to keep everything organized and clean. You can have total visibility and easy access to your stuff thanks to the UltraZip that allows the bag to open up extra wide.
6. Black Hole® Cube - Small
$35 AT PATAGONIA
You can't go wrong with this travel kit bag from Patagonia. It is got a single compartment with interior organization for your basics. Made with 100% recycled body fabric lining and webbing, this bag is lightweight, strong, sturdy, and of good quality. It surely is a reliable organizer that can last for a long time.