Spacious and larger than an average daybag backpack but smaller and streamlined than a wheeled suitcase, a packable weekender bag is a handy option that can hold all your supplies but is still comfortable enough to toss over your shoulder without steering too bulky. It is the kind of bag that possesses a little more leg space to securely keep your travel outfits and accessories while still looking stylish ad elevating your plans.
If you are in the market for a new one that can make your future journey much easier, we are here to help. Keep scrolling to check our favorite picks.
1. Barbour Wax Holdall
$149 AT END CLOTHING
If you are heading off on a really important business trip, consider investing in a holdall bag that has the multi-faceted ability to accommodate all your belongings but does not cramp your style. This duffel-style travel bag for men offers travelers a masculine look but still holds plenty of space with a secure two-way zip closure. It has two interior pockets, along with a detachable shoulder strap and two carry handles.
2. X-Series Duffle Bag
$34.40 AT GYMSHARK
This duffel bag with backpack straps can double as a holdall and a backpack, making it an ideal up-for-anything bag. Made of 100% polyurethane, this lightweight waterproof duffel bag is geared toward travelers who prefer adventure activities like hiking and trekking. With plenty of interior compartments, pockets, and organizers, it can fit everything from your sneakers to charger cable, toiletries and more. Plus, that price is hard to beat.
Designed to keep all your belongings organized, this duffle weekender bag features a large main compartment for a change of clothes with small exterior pockets to keep items in place and within easy reach while you are on the move. Bonus! The duffle shoulder bag also comes with a totally separate shoe compartment for storing dirty footwear or sweaty clothes, which is your lifesaver to keep your clean clothes and accessories from getting dirty or stinking up.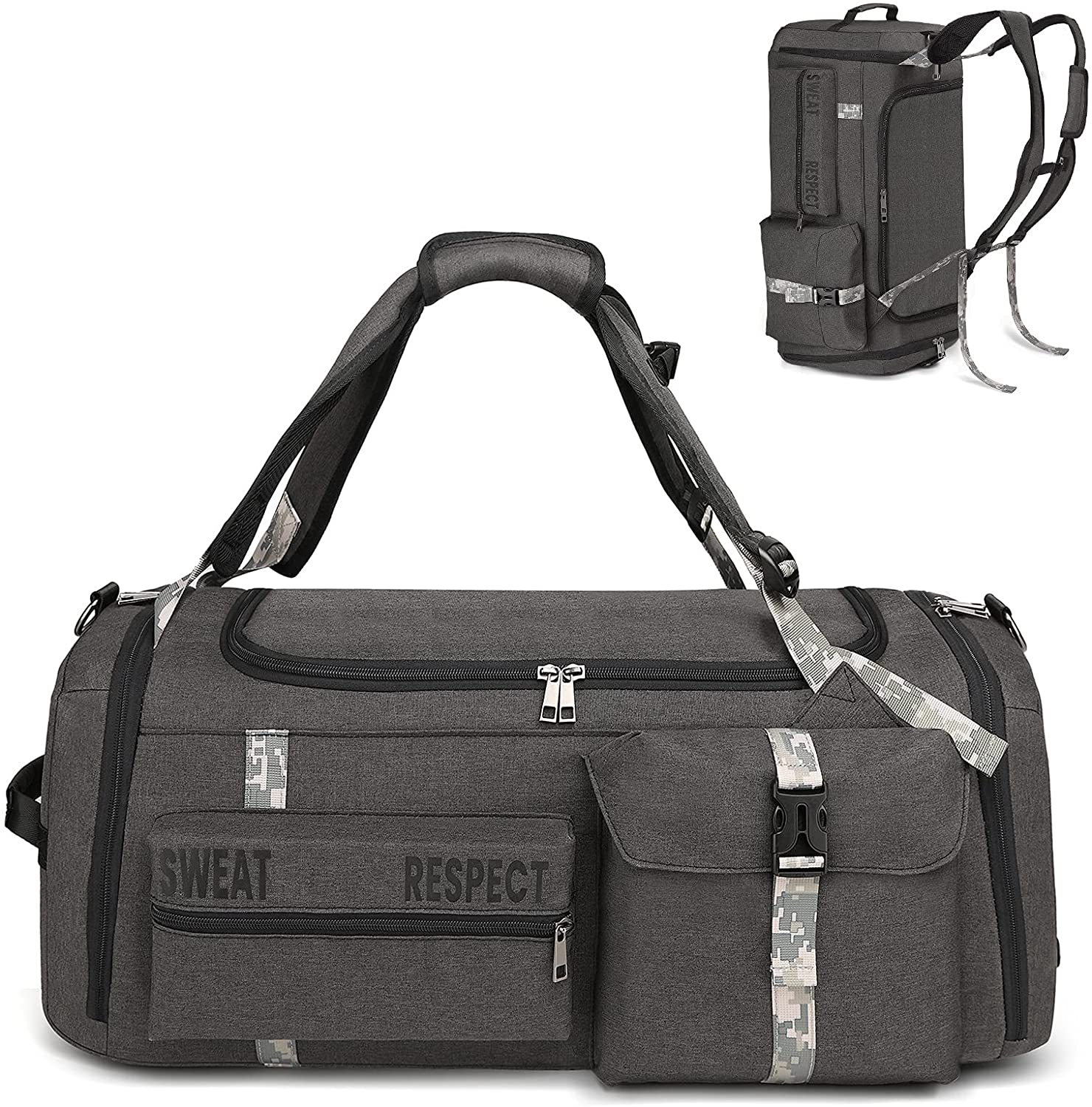 Are you on the hunt for a multi-functional travel bag that can take you everywhere from the office to workout classes, mini weekend escapes and beyond? Then this three-way backpack handbag is it. It comes with two padded backpack straps and a removable long shoulder strap, meaning you can either simply grab it in your hand and carry it, put it over your shoulder, or wear it as a backpack to spread the weight. With a separate shoe compartment, water-resistant wet pocket, and multiple organizational pockets, the bag can work for many different needs.
5. 72-Hour 3-Way Duffle Bag
$209 AT ARKET
Designed with outdoorsy travelers in mind, this carry-on duffel bag is built to optimize the maximum permitted carry-on size on international aircraft. Its compartments and pockets are specifically customized to fit standard travel items. It is spacious, and it includes a laptop compartment, two interior hanging pockets, and two exterior zip pockets to fit all your essentials.