Makeup lovers know how vital it is to keep beauty products organized on the go since trust me, you will never want to open your luggage only to find that your favorite eyeshadow palette is cracked and there are chunks of eyeshadow floating about all over.
As essential makeup accessories, makeup brushes also need extra protection. If you don't have separate storage for them when traveling or squash them into the crannies and nooks of your designer weekender bag, they can end up at the bottom of your travel gear and then waste your time rummaging through your travel bag for a powder brush. And the worse part? Sticky or leaking makeup bottles can quickly soil your brushes, and bacteria can build up and then transfer to your hands and face.
So let's face the fact: You need a makeup bag that holds brushes!
The 5 Top-rated Makeup Brush Organizer Bags
Mila Toiletry Organizer
$55 AT DAGNE DOVER
This toiletry tote bag comes in a removable interior divider that makes it convenient to store your products in different ways. And because of its cylindrical shape, everything inside keeps standing upright.
Dimensions: 5.5 × 5.5 × 7.5 inches (L) | Color: Watercolor | Material: Polyester
What We Like:
1. It is cylindrical in shape.
2. It is eco-friendly.
Fashion Women's Striped Toiletry Bag
Bosidu's large makeup bag with brush holder is a perfect organizer for professional makeup artists or makeup lovers who tend to overpack. It has multiple main compartments to store all your belongings and two side holders for makeup brushes, hair products, and toiletries.
Dimensions: 10.24 × 9.45 × 5.12 inches | Color: Blue and White Stripes | Material: Canvas
What We Like:
1. Waterproof material prevents leaks and spills.
2. Capacious compartments
Travel Cosmetic Makeup Bag Organizer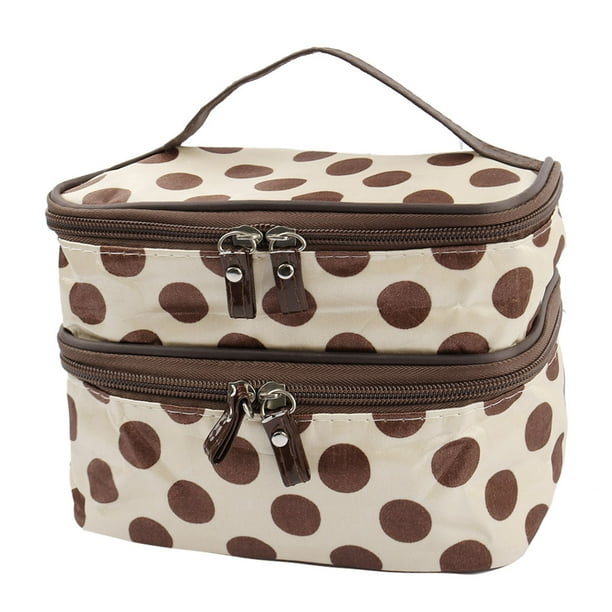 $8.89 AT WALMART
This large cosmetic bag is definitely the best-budget accessory you must have for travel. It has double-layer compartments that provide roomy storage for your toiletries, cosmetics, and skincare products. The polyester materials are water-resistant.
Dimensions: 8 × 4.3 × 5.5 inches | Color: Beige Color with Brown Dots | Material: Polyester
What We Like:
1. 100% high-quality polyester materials
2. Unique double-layer design
Joligrace Makeup Box Train Case
$36.99 AT AMAZON
Another professional makeup artist bag! This travel train cosmetic bag is an ideal organizer if you have tons of products to travel with you. It featured three-tire trays, a mirror, and a detachable holder inside. The marble pattern is easy to clean and strain-proof. There are six colors to choose from, but we think the white marble is much more elegant.
Dimensions: 3.94 × 3.64 × 2.76 inches | Color: White Marble | Material: ABS Material
What We Like:
1. Tons of organizational compartments
2. Can protect your things well
Small Casual Ladies Waterproof Canvas Toiletry Bag
If you want to travel light and just a few beauty products to bring, a large makeup bag is clunky and unnecessary, while this bag is perfect for you. It has two front pockets, one back pocket, and two side pockets to hold your basic items. The decent-sized is easy to stuff in your luggage or tote.
Dimensions: 5.5 × 9.8 × 7.1 inches | Color: Blue Stripes | Material: Canvas
What We Like:
1. Tons of organizational compartments
2. Can protect your things well