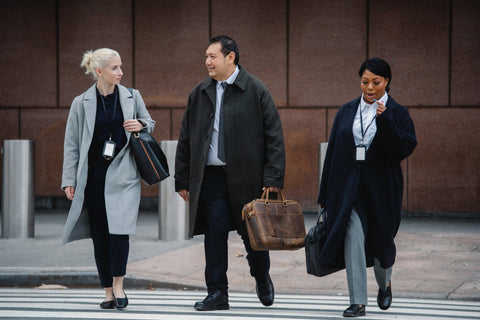 Something to know before buying a new briefcase is very important. It goes without saying, it will be help a lot if have a place to keep items, but finding suitable and portable storage is not that easy. While women have handbags, males are typically forced to cram their belongings into their pockets and make the most of their limited space. Investing in a good briefcase is one of the finest ways to expand your carry-on capacity.

A wide variety of briefcases are available on the market, each of which has a different power and a varied set of functions to offer. This briefcase purchasing guide provides all the information you need to pick the best briefcase for your requirements.

Why do you need a briefcase?
All kinds of bags are used to carry the daily requirements of males in Midtown Manhattan around 9:00 am on Tuesdays—briefcases and tote bags among them; the paper shopping bag is also seen. A suitcase, not a paper grocery bag, is what you should be taking to work, even if you're carrying your nut butter and 19-cent bananas in it. After you make the switch, you'll wonder how you ever survived without a briefcase.

The kinds of a briefcase
You can get a leather briefcase, laptop briefcase, cheap briefcase, and briefcase for men when shopping for a new briefcase, keep these points in mind:
According to the materials
To begin your search for a new briefcase, you need to decide what material you want to use. Briefcases come in a wide range of materials, from soft leather to strong plastic and metal.
A leather briefcase is a good alternative if you're seeking a robust bag to transport critical items. Metal briefcases are long-lasting and secure, making them ideal for storing important papers or other valuables. An alternative to the weight and bulk of metal briefcases is a plastic one. You can sum up most of the drawbacks of a plastic briefcase in one word: unattractive.
According to the function
A briefcase is for your work documents, not your transportation to and from the office. If you're a high-ranking executive, your suitcase should be slimmer and more focused on your work documents. Determine what you need to bring to work and what you don't need to bring. Just pack a second bag for grocery shopping, shopping sprees, and other activities that require a lot of weight.
According to the applicable gender
Intriguingly, the man bag is available in a wide variety of styles and maybe a fashion statement. There is a chance that the traditional rectangular men's briefcase will be transformed into an oblong shape, with the business-like exterior replaced by an eye-catching pattern or bright color. The leather briefcase by BOSIDU has sometimes been seen making briefcase hybrids smaller but sometimes also large enough to contain important papers or a thin laptop briefcase.

The fold-over bag is a more casual take on the briefcase. Leather and synthetic materials are available in the form and color of butterscotch brown, oxblood, olive, and other austere shades. Because of its hold-all style, it's perfect for everyone on the go, male or female.

Best Selling List of a Briefcase from BOSIDU
You can choose from our recommended collection from BOSIDU: