There's nothing more happy and sweet than spending time in outdoor activities with families, like have a picnic, Spring outing and Autumn outing, short to medium-length vacations and so on. After you've arranged your everything for a outdoor activity or travel, the next and necessary step is how to pack your suitcase and make sure to keep your stuffs clean, tidy and organized.

Packing gives many people a headache. I get it! It's tough to remember everything you need to bring with you, especially all of us don't want to arrive at our destination and realize we forgot to pack our sunscreen or something super important. In this case, as essential travelling companions, toiletry kit items are playing important role.

There is a question might cross some people's mind: what's are toiletry kit items use for since they are so important for the travel and outdoor activities? Next, we will talk about this.

First of all, toiletry kit items are portable containers to hold body hygiene and toiletry. Apart from that, they also can help to decide which things are necessary to bring for travelling and which are not can be tough in advance too.

Here is a list of the things that are always in our toiletry kit items when we travel, which is to help you make sure you don't forget anything at home. Check it out, print it, and use it when you're packing for your next trip!

The Necessities:
Toothbrush and toothpaste
Hair brush and/or comb
Shampoo and/or conditioner
Soap or body wash
Razor
Deodorant
Sunscreen
Bug spray (only if traveling in jungles, forests, or anywhere bugs might be or malaria may be present)
Moisturizer and/or aloe (travel can dry your skin right out)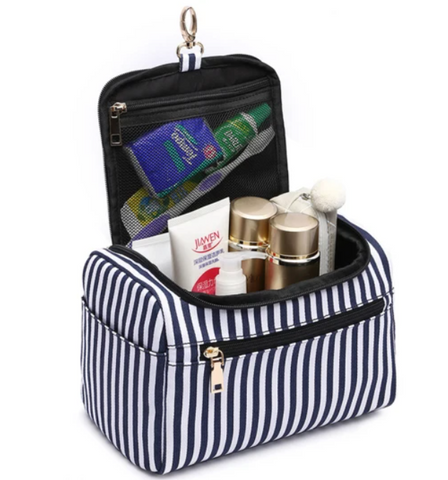 Fashion New Women's Striped Toiletry Bag
Next, the toiletry kit items which are with multiple compartments are super useful to keep your toiletries and cosmetics separately in place, whether you are more of a minimalist or like to carry your entire ten-step skincare routine with you.

For some of you:
Eyewear (glasses, contact lenses, contact lens solution and case if applicable)
Makeup (remember you don't need all your makeup, only the necessities)
Hair styling products (try to skip the hair straightener and curling iron if you can)
Face wash and moisturizer (for some people face wipes and soap is enough)
Feminine hygiene products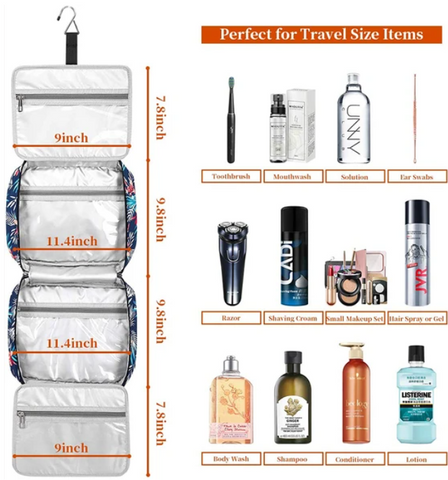 Waterproof Fashionable Striped Toiletry Bag
The last not the least, some of toiletry kit items which are with multiple outside pockets for keeping your keys, lipsticks and other smaller items, it is a great choice for traveling.

For Your Pocket:
Hand sanitizer
Toilet paper or Kleenex (especially in countries that aren't known to have this in their restrooms)
Eye drops (for those long haul flights)
Face wipes (whether you're sweaty, dirty or traveling for hours it's always nice to wipe off the scum from your face)
Band-aids
Lip balm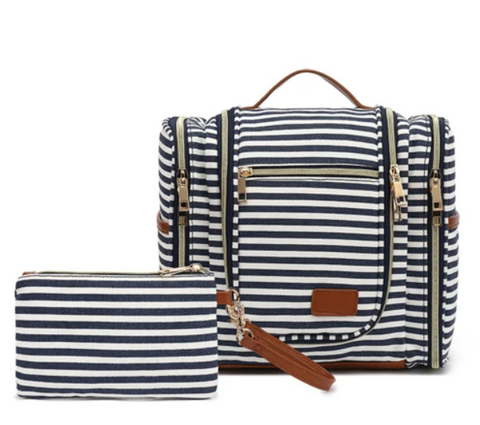 Women's Multi-Functional Waterproof Canvas Toiletry Bag