Hanging wash bags almost are the must-have in every traveler's closet, especially for those girls who love to travel and wear makeup. Here is a list for women's best hanging wash bags, that might help you with choosing your toiletry bags.

The Waterproof Fashionable Striped Toiletry Bag has four clear zippered compartments which are with same size and shape. It is easy for you to get the stuffs you want as they can easily be visible through the bag.

As one of the best hanging wash bags, this bag also has an anti-bacterial inner lining and water-resistant fabric to protect your personal items from moisture or bacteria. It is a great choice for travelling!
 Waterproof Fashionable Striped Toiletry Bag
Keep your personal toiletry and cosmetic items neatly organized and easily accessible with this Fashion Women's Striped Toiletry Bag, saving you the chore of uprooting everything just to find your toothbrush.

The best hanging wash bag has several outside pockets like back pocket and two side pockets where is perfect for you to keep smaller items, then you can find what you're looking for with ease.

There is also a extra small top-quality canvas bag (free gift) for you to keep those stuffs you want to keep separately.
         Fashion Women's Striped Toiletry Bag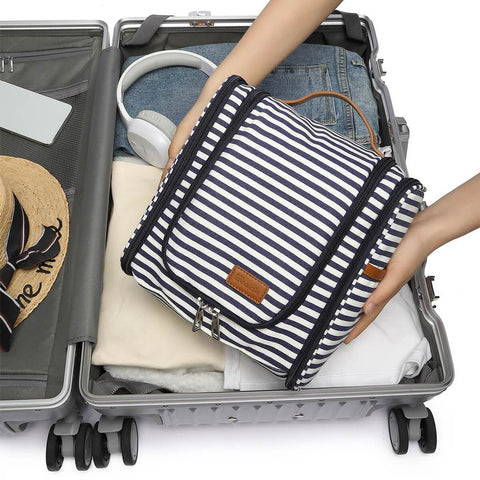 The Fashion New Women's Striped Toiletry Bag is one of best hanging wash bags for families, short to medium-length vacations, or for those who don't like to be too far from all their cosmetic products.

This toiletry bag not only features a large main compartment that can hold full-size bottles of skincare products. But also its large hanging metal hook can hook on towel towel rack, coat rack and any places that make all of your essentials easily accessible.

Main Compartment:
● Shampoo
● Conditioner
● Shower Gel
● Face Wash
● Toothpaste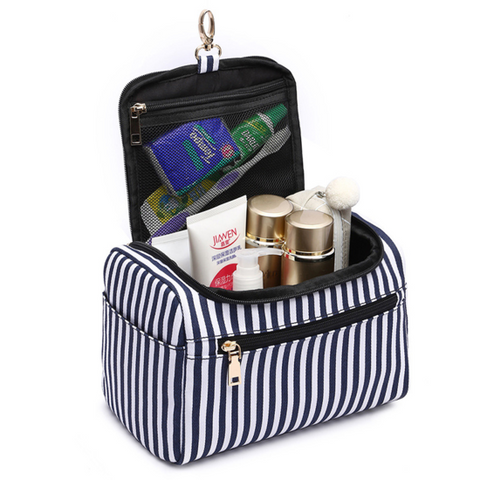 Fashion New Women's Striped Toiletry Bag