As we return to work in the office, there are times when you may need to carry your laptop during your commute. It is vital to keep your tech safe from damage while you are on the go. Therefore, no professional wardrobe is complete without a functional and great-looking laptop work bag.
Whether you want a backpack, laptop tote bag, or a work messenger bag, ensure you opt for one that not only offers you maximum functionality but also teams effortlessly with your outfits for a day in the office.
So, to help you save an excruciating amount of time, we have rounded up a list of the best women's laptop bags that will satisfy your everyday needs and stylish desires.
Large Capacity Shoulder Bag Fits 15.6 Inches Laptop
Dimensions: 16.1 × 12.6 × 5.9 inches | Material: PU Leather, Canvas
What We Like:
1. Roomy size
2. Affordable
Designed with businesswomen, students, and corporate employees in mind, Bosidu's black computer bag features four spacious internal compartments, including a laptop compartment for computers up to 15.6 inches. Premium materials, easy zip closures, and well-crafted handles and seams make it sturdy and ideal for work.
Sweet Pea Frame Wheeled Backpack
$135 AT CATH KIDSTON
Dimensions: 29 × 41 × 18 cm | Material: Polyester
What We Like:
1. Options to use wheels
2. Compact design
Say hello to this women's backpack laptop bag from Cath Kidston that works as hard as you do. Whether on the way to the morning commute or an impromptu spelunking trip, this backpack has thought of everything. The zipper flap on the back covers the wheels. You can wear it as a backpack or a wheelie case according to your needs.
The Seville Tote
$289 AT LO & SONS
Dimensions: 12.5 × 18.5 × 5 inches (13″) | Material: Leather
What We Like:
1. Travel-friendly
2. Interchangeable shell design
Made in Saffiano leather, this leather laptop tote bag is scratch-resistant, water-resistant, durable, and appropriate for the office. You can seamlessly switch up its shell by moving the inner bag from one shell to another. The handy suitcase-handle sleeve is convenient for lugging the tote around when traveling. It comes in two different sizes, one fits a 15 inches laptop, and the other is for 13 inches.
Laptop Bag 13″/14″
$95 AT RAINS
Dimensions: 9.8 × 13.8 × 1.6 inches | Material: Polyester
What We Like:
1. Waterproof outer
2. Fashionable design
If you are looking for a women's messenger bag for work, then the Rains laptop bag that fits laptops up to 14 inches is a great choice. The main compartment with a soft lining can protect your tech avoid from damage. The design of the bag is to withstand light to moderate weather conditions, so it can keep your items safe and dry even if you are caught on rainy days.
Rogue Brief in Regenerative Leather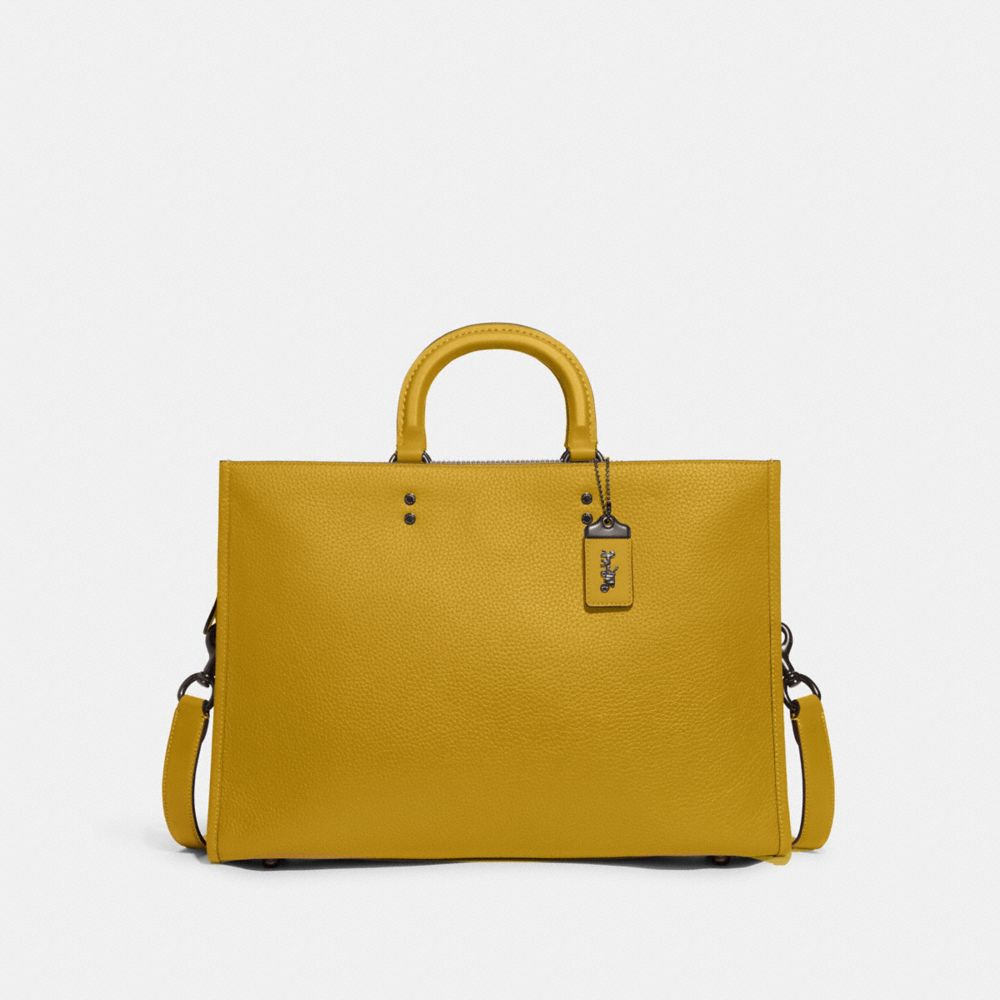 $695 AT COACH
Dimensions: 16 1/4 × 11 × 4 inches | Material: Leather
What We Like:
1. Option to carry crossbody
2. Stylish design
A clean, elegant shape textured with premium leather, Coach can always be trusted for bags. It has two outside compartments, multiple pockets, and a center zip compartment to hold all your essentials. The detachable strap allows you to wear it as a crossbody or over the shoulder. We have no doubt they will improve your commute to the office, café, and beyond.