Spoiling ourselves a little to have a quick escape or long beach vacation at the weekend is always a good idea. But before heading off to your destination, you've got to pack your travel bag to ensure you are well-prepared for it. And here at Bosidu, we take our bags very seriously since they, as one of the fashion accessories, can really say a lot about your personality (particularly when there might be a photo opportunity involved). So instead of lugging your worn-out duffel bag around, it is time to upgrade your wardrobe with an exquisite duffel bag, because that is an instant conversation about who you are and how you dress.
A structured packable weekender bag is a game changer for those over-packers because duffels are way roomier than you might think, and also a great organizer to keep everything in order — and still look stylish.
Flit to and from all of your future adventures by slinging one of the options ahead over your shoulder. Whether traveling for one night or three, these are nice women's duffle bags to help you do it in style.
Designer Weekend Bags for Women:
1. Women Weekend Bag with Shoe Compartment & Wet Pocket (Pink)
Meet your chic work-to-gym-to-weekend hybrid bag. This weekend tote bag with shoe compartment is incredibly capacious. With the capacity of 35L, it is perfect for any traveler who likes to add another outfit just in case. The zipper storage at the bottom of the bag is for shoes, where it can store one to two pairs of footwear to match your outfit.
2. LE PLIAGE CUIRTravel bag L - Grey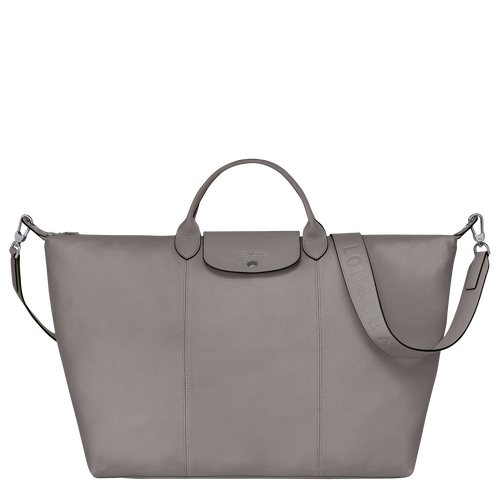 $840 AT LONGCHAMP
Folding a leather bag sounds like crazy talk? This leather weekender bag has an ingenious design that makes it foldable when it is not being used. It features a subtle design with a zipper closure to keep your belongings protected, and the removable shoulder strap makes you feel comfortable carrying it.
3. T302 Travel Duffel Bag 18 Inch (30L)
$18.99 AT WANDF
Are you looking for a lightweight waterproof duffel bag at an affordable price? Durable, lightweight, and sturdy is the best way to describe this duffel bag for women. It can be fast folded into itself with a compact size while having up to 40L capacity to be used as a backup bag. It has the trolley sleeve to attach to your carry-on rolling luggage and a handy outside pocket for quick access to your passport. It is absolutely a perfect bag for over-packers.
4. Black Travel Duffle Weekender Bag for Women with Trolley Sleeve
If you are browsing around to invest in a large athletic duffel bag that is modern, sturdy, and stands the test of time, try this new arrival from Bosidu. It features a capacious compartment and multiple interior pockets to help store and organize all your essentials. The back trolley sleeve with a zipper pocket makes it easy to access your ID card, ticket, and cell phone.